Cambridge Spark /
June 26 2023 /
7 minute read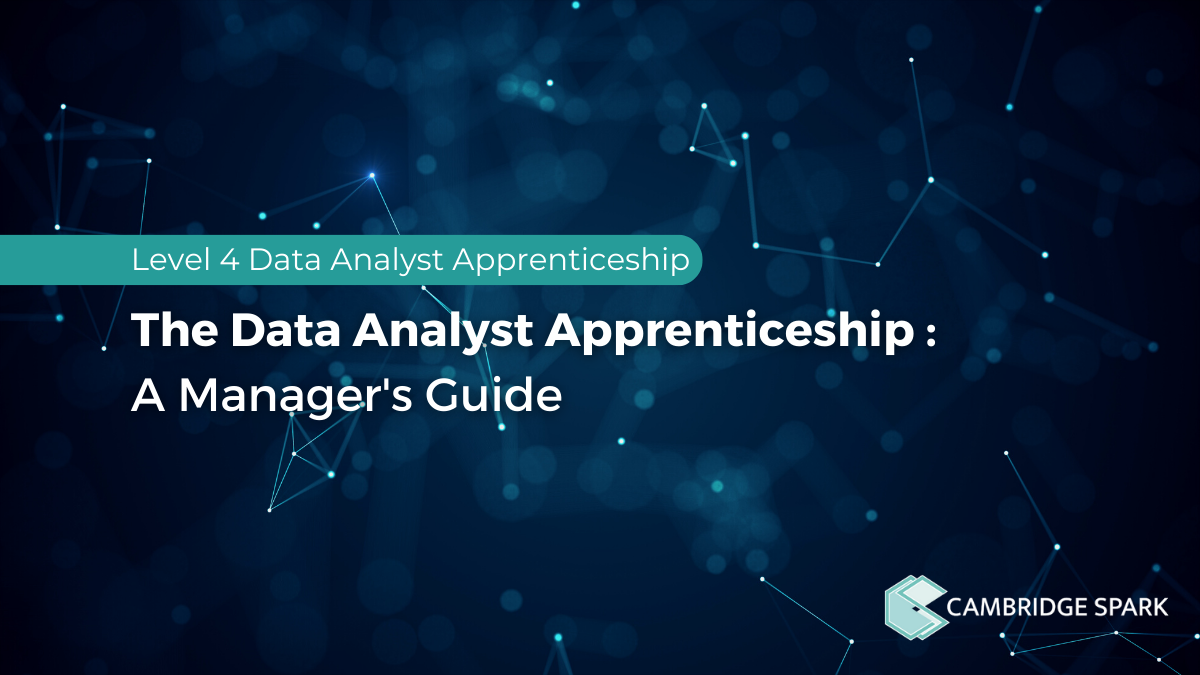 Curious about leveraging the benefits of data analysis skills within your business?
Organisations now have access to a vast amount of available data. But in order to drive change within your organisation, you need a team with the right skills to successfully interpret what this data is telling you. This is where upskilling employees through a Data Analyst Apprenticeship can be invaluable to your business. Whether they're saving £30,000 on IT resource spending or saving 60 hours per month in data processing time, apprentices can drive real impact.
Welcome to the complete Data Analyst Apprenticeship guide where you can discover all you need to know about upskilling members of your workforce to harness the power of data with a Level 4 Data Analyst Apprenticeship.
What you need to know about the Level 4 Data Analyst Apprenticeship
This apprenticeship equips learners with a skill set to empower them to extract, manipulate and visualise data, enabling you as an organisation to answer complex questions and drive strategic value.
Who is this apprenticeship for?
Typically our Data Analyst Apprenticeship is for analysts and intermediate-to-advanced users of spreadsheets who need more efficient and powerful tools for working with data on a regular basis. It's also suitable for teams who satisfy the below criteria:
Teams who are looking to add more strategic value that's backed by data
Employees that want to future-proof their skill set by learning in-demand, industry-relevant skills
Employees working in a data-driven department, such as business intelligence, data assurance, data quality, finance, marketing, sales, supply chain, and manufacturing
How can upskilling impact your organisation?
Equipping employees with the skills and knowledge to effectively analyse and interpret data allows businesses to make data-backed decisions, identify trends, and uncover valuable insights. This not only leads to improved operational efficiency and cost savings but also enables better strategic planning, targeted marketing campaigns, and personalised customer experiences.
Below are some of the key ways upskilling in data analysis can impact your business:
Improved efficiency and productivity
Data analyst apprenticeships provide employees with a deep understanding of data tools, techniques, and methodologies, enabling them to streamline workflows, automate processes, and identify opportunities for optimisation. This leads to improved efficiency and productivity across various business functions.
Sammy Baylis, a Human Resources Operations Manager from Teach First, completed her apprenticeship with us and applied her skills to significantly reduce the time it took her to complete a previously tedious task.
She had this to say about what she had learnt during the apprenticeship: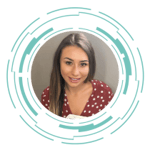 "I'm really proud to say that I've finished this apprenticeship. I didn't even know how to open Python before, so for me to have come from that and wrote a script where I can reduce a day's work to under one second is a massive accomplishment to me and I'm happy!"
Better business insights
Data analysis helps uncover patterns, trends, and correlations within datasets that may otherwise go unnoticed. By investing in data analyst apprenticeships, your organisation can develop a team that is proficient in extracting meaningful insights from complex data sets.
These insights can drive innovation, inform strategic decision-making, identify market trends, and uncover new business opportunities. All of these advantages put your business ahead of the competition.
Cost reduction and resource optimisation
By upskilling your existing workforce through apprenticeships, you can reduce your reliance on external consultants, contractors or any in-house data science staff for data analysis tasks. Having an in-house team of data analysts gives you greater control over data-related projects, reduces costs associated with outsourcing, and enables better resource allocation.
Empowering staff with data analysis skills also frees up data teams to focus less on responding to internal, ad hoc data requests and more on value-added projects. In this sense, your specialised data team becomes less of a support-focused cost centre and more of a value centre.
Saad Abdullah is part of the Future Leaders Programme at GSK. His daily role requires him to work with large amounts of data which made him an ideal candidate for the Data Analyst Apprenticeship. Saad applied his learnings on the programme to a resource-intensive IT project, which is estimated to have saved the company around £30,000.
Enhanced data governance and compliance
Data governance and compliance are crucial aspects of any data-driven organisation. By investing in apprenticeships that focus on data analytics, you can ensure your teams are well-versed in data privacy regulations, security measures, and ethical practices.
This helps mitigate data-related risks and ensures compliance with industry standards and regulations. So you know that when you're dealing with data, you're doing so the right way, and that's one less thing to worry about.
Foster innovation and adaptability
Data analytics plays a vital role in driving innovation and adaptability within organisations. With the appropriate data upskilling, companies can foster a culture of data-driven innovation. These employees can identify emerging trends, predict market changes, and contribute to developing innovative strategies and products that meet evolving customer needs.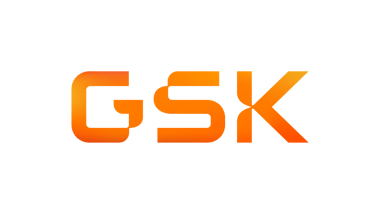 "The Data Analyst Level 4 apprenticeship slots beautifully into GSK's 'Keep Growing' initiative creating an environment of continuous development. Data is a key development area and this programme ticks all the boxes for supporting GSK staff in England to access the latest developments in data analysis. We will continue to develop this offer in the coming months making it available to as many staff in England that we can" - GSK Apprenticeship Vendor Manager Tim Buchanan
Job roles and applications of learning by industry
Data analyst apprenticeships are suitable for a wide range of job roles across a huge array of sectors. Some job roles that would benefit from this apprenticeship include:
Data analyst
Data analyst trainee
Junior data analyst
Business analyst
Insight analyst
Finance analyst
Marketing data analyst
Problem analyst
This apprenticeship applies to a variety of departments and have real impact in each of them. Below are examples of how data analysis can be applied to different departments in an organisation:
Sales and marketing
By developing proficiency in data analysis, sales and marketing professionals can gain valuable insights into customer behaviour, preferences, and market trends. This enables them to make more informed decisions regarding target audience segmentation, product positioning, and pricing strategies.
With the ability to analyse sales data, marketers can optimise marketing campaigns, personalise messaging, and measure campaign effectiveness. Additionally, data analysis skills can help sales teams identify potential leads, prioritise prospects, and forecast sales performance more accurately.
RECOMMENDED READING:
Logistics and operations
With the increasing availability of data from various sources, such as sensors, GPS tracking, and inventory systems, the ability to extract meaningful insights becomes crucial. By developing data analysis skills, professionals in logistics and operations can make informed decisions to optimise supply chain processes.
They can analyse data to identify inefficiencies, improve route planning, enhance warehouse management, and streamline inventory levels. Data analysis also allows for predictive modelling and forecasting, enabling better demand planning and resource allocation.
Banking and finance
With the vast amounts of financial data generated today, the ability to analyse and derive insights from this data is essential for making informed decisions. By developing data analysis skills, professionals in banking and finance can uncover patterns, detect anomalies, and assess risk more accurately. They can analyse customer data to personalise services, improve fraud detection, and enhance credit risk assessment.
Data analysis also enables better portfolio management, investment decision-making, and market trend analysis. Additionally, with the rise of financial technology (fintech) and digital banking, data analysis skills are critical for leveraging customer behaviour data and optimising customer experience.
RECOMMENDED READING:
Manufacturing
With data analysis skills, manufacturing teams can effectively monitor key performance indicators, track production metrics, and identify bottlenecks or areas for improvement. They can also utilise predictive analytics to anticipate maintenance needs, reduce downtime, and enhance overall equipment effectiveness. Moreover, upskilling in data analysis empowers manufacturing teams to identify cost-saving opportunities, optimise inventory management, and enhance supply chain efficiency.
What's the cost of the Data Analyst Apprenticeship?
There is no cost to you or your organisation to enrol your staff onto this apprenticeship. Like the other data apprenticeships we offer, this programme is funded by the UK Apprenticeship Levy. The levy was implemented in April 2017 with the aim of bolstering the country's skills base through greater public investment. Organisations with annual payroll costs exceeding £3 million are required to contribute 0.5% of their salary bill into a dedicated apprenticeship levy fund.
The funds are collected on a monthly basis through PAYE (Pay As You Earn), and can only be used for approved apprenticeship training within a 24-month period. Consequently, levy-paying employers can upskill their staff without incurring any expenses.
Apprenticeship requirements:
If your organisation operates within the United Kingdom, you likely already have access to Levy funding to enhance the skills of your staff. However, the UK government has established specific criteria to determine the eligibility of individual employees. In order for an employee to qualify for an apprenticeship, they typically need to meet the following requirements:
Employed in a relevant role in the UK

- Learners must be employed at least 30 hours a week and in a relevant role in England where the skills can be applied, with a contract in place for the duration of the programme.

Residency

- Candidates must have lived in the UK/EEA continuously for the last 3 years.
English and maths - Candidates must have Functional Skills Level 2 / GCSE English and Maths (or equivalent) at grade C or above. Candidates must be able to provide certificates or equivalent. If not, they must sit functional skills exams with Cambridge Spark.
Experience and knowledge - Learners must have no significant relevant education or experience in the subject and the topic should deliver new skills and knowledge.
Time for learning - At least 6 normal working hours per week must be spent on learning (and evidenced). Apprentices should be learning new skills and knowledge that they will be able to apply either in their current role or a planned role within the same employer.
Duration and overview of the curriculum
Across 14 months, learners will undertake expertly designed modules. The programme consists of a blend of in-person and remotely taught modules, whilst receiving 1:1 coaching, attending check-ins and submitting assignments to our learning platform EDUKATE.AI before preparing for and undertaking their end point assessment and certification exams.
This apprenticeship is broken down into the following modules, or stages:
Introduction to Python & Pandas

- Here learners learn the basics of Python & Pandas - two of the most popular and fast-growing tools for data science and data analysis.

Programming with Python & Pandas

- Learners will gain knowledge in how to programme in Python and data processing and cleaning with Pandas.

Data privacy, ethics & regulations

- Apprentices get up to speed with the essentials covering ethical, legal and regulatory issues relating to the use of data.

Data visualisation

- Apprentices will learn how to select and use the best methods for visualising the data using libraries such as Seaborn and Bokeh.

Dashboarding tools: Power BI & Tableau (optional)

- Optional module for learners to gain familiarity with industry-standard tools for creating interactive visualisations and business intelligence capabilities.
Data science for business - This module teaches learners how to identify practical applications and use cases for data science and AI to deliver and create business value.

Databases & SQL

- Apprentices here will gain an understanding of how to perform SQL queries on database systems to extract data for analysis.
Maths for data science - This is a foundational module designed to help learners build an understanding of the essential mathematical concepts that underpin much of the data science domain.

Time series analysis

- Here learners will understand the specific challenges that time-series data presents, and learn the tools and techniques required to analyse and model this data.

Introduction to machine learning

- Learners will have the opportunity to get familiar with a wide range of essential concepts and tools required to unlock the use of different types of machine learning models.

Text-mining, JSON, APIs

- During this module apprentices will learn how to read and write JSON data with Python, scrape and use data from websites and work with different document formats and data types.
Practical hackathon - The learner will work collaboratively with a team on a real-world project designed to reinforce and develop technical knowledge, practical skills and data analyst behaviours in a realistic simulated environment.
FAQ's
Still got some queries? See if our frequently asked questions can help explain. Or please do not hesitate to get in touch with us and we'll be happy to help you with any queries you may have.
Want to upskill your team in data analysis?
If you are interested in enrolling your team into the Level 4 Data Analyst Apprenticeship, you can get started with your organisation's digital transformation by getting in touch via the form below.

Enquire now
Fill out the following form and we'll contact you within one business day to discuss and answer any questions you have about the programme. We look forward to speaking with you.