Case study: Flight Engineer Saves 60 Hours per Month, Cuts Data Processing Time by 80%

Dorota Kowalska is a Reliability Engineer at easyJet, one of the world's largest airlines with over 300 aircraft and operating around 1,000 routes across 35 countries.
Safety is the airline's highest priority, and Dorota's work focuses on analysing aircraft systems to inform corrective and preventative actions to ensure the highest standards of safety are maintained. She works with data every day, gathering, cleansing and producing visual reports from it for study. She joined easyJet in November 2019.
Job title: Reliability Engineer
Job function: Engineering
Company: easyJet
Industry: Aviation
Company Size: 13,000 employees
Programme: Level 4 Data Analyst
Programme duration: 14 months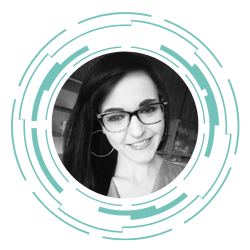 "By applying the analytical skills I learned on the programme, I have automated multiple reliability reports using PySpark and SQL, replacing manual processes and decreasing data processing time by about 80% in some cases."
Dorota Kowalska, Reliability Engineer at easyJet
A chance to automate work
Collecting, cleansing, analysing and interpreting reliability data has always been core to Dorota's role at easyJet. And as her team began redesigning reliability processes, she felt there was never a better time for her to upskill and learn techniques to automate manual work.
That's why she saw immediate potential for benefit when, by chance, a colleague told her about Cambridge Spark's Data Analyst Apprenticeship. But apart from wanting to advance her skills and open future career paths, Dorota also saw the programme as an opportunity to inspire other women in pursuit of training and careers in engineering.
Fuelling analysis with Python
Dorota and her team use Skywise to process and analyse data. Skywise is a dashboarding platform compatible with Python and commonly used in the aviation industry. And because Python is a core first module in the Data Analyst curriculum, Dorota was able to apply her learnings in her work almost from the first day she began the apprenticeship in September 2021.
Learning some simple functions in Python helped her initially "play with", or manipulate, the data she was using in the workplace. She attributes this process of self discovery and experimentation to her ability to recall and implement her skills. Time invested early on in experimenting with code later later came back with interest, as she was able to build automations that saved time--60 hours a month!

Working with fleet engineers on performance studies, Dorota completed around 150 data analyses. Her findings even informed a broader business campaign to upgrade a specific aircraft part, bringing both improved performance and cost savings to easyJet.

by automating manual processes using PySpark and SQL

150 data analyses completed
to improve fleet performance

of starting the programme
"If you enjoy solving tricky problems and are interested in creating a modern working environment, there is no better way to strengthen your career than undertaking a data apprenticeship with Cambridge Spark."
Dorota Kowalska, Reliability Engineer at easyJet
Balancing work, learning and motherhood
As both a full-time working professional and mother of two young boys, Dorota needed a flexible learning experience to help her stay on top of her daily responsibilities.

She says EDUKATE.AI, Cambridge Spark's online learning platform, helped her achieve this in two crucial ways:
Instant feedback on coding assignments allowed her to make progress anytime, day or night
Support from mentors and the Knowledge Base forum helped her overcome challenges and solidify her learning
And regular one-to-one meetings with her success coach, one of her favourite parts of the programme, helped her prioritise her personal goals.
"EDUKATE.Al is a fantastic platform containing all the educational aspects of the course. It's extremely user-friendly with easy access all learning units and videos from the workshops. The best part for me is the assignments section where you can instantly receive feedback on your code and improve it if needed. Such a helpful feature!"
Dorota Kowalska, Reliability Engineer at easyJet
Interested in a data apprenticeship for yourself or your team?
Visit our Level 4 Data Analyst programme page to learn more about this programme or our Apprenticeships page to learn about the others.
Or if you'd prefer to get in touch with us directly for more information, provide us with your information in the form below. We'll contact you within the next two business days to arrange a quick call to help with any questions about the programme.
Who's benefitted

from our data apprenticeships

Read case studies on the impact we have made for our clients.