Should You Become a Digital Business Analyst?
Cambridge Spark /
March 29 2023 /
3 minute read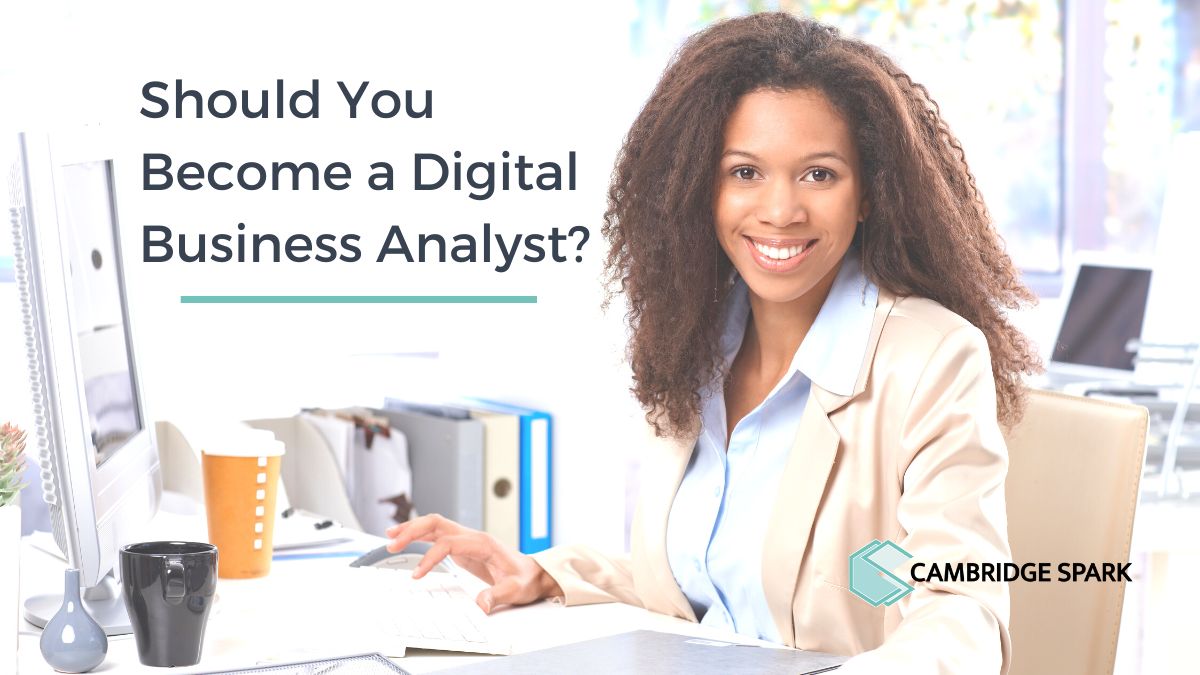 Did you know that 98% of businesses see digital transformation as an important part of their future business strategy?
So, it's no wonder that digital business analysts have become increasingly sought after. The way organisations now rely on digital processes means that this forward-thinking approach to the way we work needs analysing and developing.
It also means existing team members need the right upskilling in using these new processes. Because of this high demand, a digital business analyst can forge a successful career with the possibility of advancing into senior analyst, project management, or consulting roles.
But is the role of digital business analyst right for you? Let's find out.
What does a digital business analyst do?

Digital business analysts connect an organisation to the digital world. They help a business shift from a physical presence to a focus on a digital presence. They advise and support an organisation on how to use digital channels, like apps, social media, websites and CRM systems to transform their business and accelerate online presence, revenue and performance growth using digital means.

So what does a typical day in the life of a digital business analyst look like? As a digital business analyst, you would review business performance and look for opportunities across digital channels to enhance and simplify business processes. You would also likely be collating data, generating reporting and presentations and identifying and creating opportunities where business processes can be automated based on data.

The success of many businesses now depends on having an exceptional online customer journey. As a digital business analyst, you would likely be taking at least partial ownership of this process as well.
Why become a digital business analyst?

There are fantastic opportunities that come with upskilling into a digital business analyst role from a traditional business analyst one. Having the edge over a lot of other candidates for roles by having data analysis skills is one huge advantage.
The role change also typically comes with a salary increase. A digital business analyst can earn around 8% more than a business analyst who hasn't been upskilled in data analysis, according to data from Glassdoor.
The role of a digital business analyst gives you the opportunity to work with the different departments of a business too. This means you can learn and are exposed to insight and knowledge from all areas of a business, giving you the chance to gain wider expertise and a holistic view of your organisation. It really is a role where you constantly learn and overcome challenges, experience that you can take with you throughout your career and apply to other businesses in different industries.
Becoming a digital business analyst can also open doors to self-employment. There are an estimated 4.3 million people in the UK that are now self employed. Learning data analysis skills is an opportunity for individuals hoping to develop a freelance career. A freelance career in digital analysis means exciting variations in projects and challenges. Being a freelancer also gives you flexibility and the opportunity to create your ideal work-life balance.
Are you suited to being a digital business analyst?

Are you an experienced business analyst with a view to advancing your career? Upskilling to become a digital business analyst might be your next logical step.
A passion for technology and for solving business issues that arise daily is key when it comes to succeeding as a digital business analyst. Likewise, learning the data skills needed to support these developments is crucial for contributing to the digital transformation of the business you work for.
Do you love being able to help people? Much of the role of a digital business analyst is about making other people's jobs much easier, quicker and more cost effective. So in this sense, the role can be an incredibly rewarding one.
You'll always be presented with new challenges, and digital business analysts can have a huge impact on the success of their organisation. Though the role comes with serious responsibility, it's also one that can give you the opportunity for huge accomplishments in your own career.
There are many transferable skills this role shares with traditional business analysts (related: Traditional Business Analysts vs. Digital Business Analysts). But you'll need several others to be a successful digital business analyst:
Proficiency in programming languages for analysis
Databases
Process modelling for digital transformation
Digital tools and processes
Change management
Storytelling with data
👉RECOMMENDED READING:
How can you become a digital business analyst?

As we've covered, moving into a digital business analyst role requires a certain data skill set. One of the most effective ways to gain the necessary skills is through undertaking an apprenticeship.
As a leading data capability partner, Cambridge Spark offers a Level 4 Digital Business Analyst apprenticeship with a varied curriculum that prepares business analysts to accelerate their career progression into a digital business analyst role.
On this programme, you'll learn particular modules designed for business analysts to immediately apply at work in your role. From data-driven decision making to digital leadership and change management, you'll not only acquire the relevant skills. You'll also be learning key knowledge essential to moving into a more senior role, such as product owner, product lead, or senior business analyst.
In particular, data modelling, business process modelling and stakeholder management, if executed well, can contribute to significant career progression. Our aim at Cambridge Spark is to not only teach you the relevant skills but to lay the foundations of a successful career for you.
Are you interested in our Digital Business Analyst Apprenticeship? Learn more on our programme page or get in touch via the form below.