How to Accelerate Your Career with a Digital Business Analyst Apprenticeship
Cambridge Spark /
September 15 2022 /
2 minute read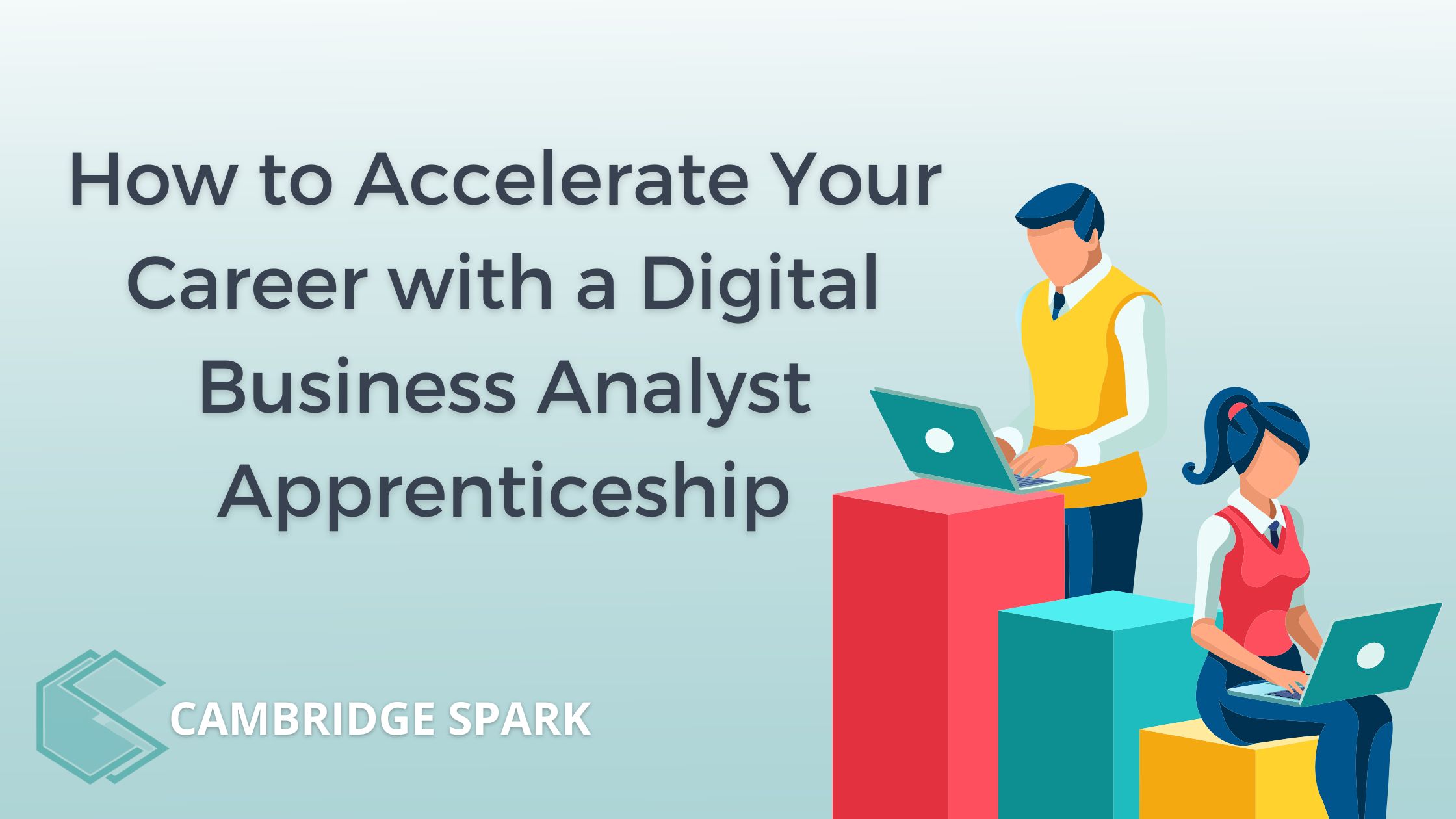 Are you a business analyst looking for ways to take your organisation's digital transformation journey to the next level with the deployment of data-informed digital solutions? Are you keen to add vital future-proofing skills to your CV?
Cambridge Spark's Digital Business Analyst apprenticeship offers an exciting way for working business analysts to upskill and get hands-on experience with cutting-edge digital techniques and practices without having to take time out from work to study.
Learn more about this programme and how it can help you advance your business analyst career with specialist digital skills.
What is a Digital Business Analyst?
So, what exactly is the difference between a traditional BA and a digital BA? Business analytics is the process of interpreting an organisation's data to inform decisions that have significant consequences for the company as a whole. The primary goal is to analyse data in order to provide the different types of information required to carry out organisational change.
The essential skills needed to thrive as a business analyst today include (but are not limited to) solid and proven analytical skills, proficiency with process modelling tools, familiarity with data research, deep knowledge of spreadsheet and word processing tools, and project management experience.
The more digitally-driven and forward thinking business analyst needs all of the essential skills just mentioned but also recognises that although they might be less hands-on around data processing and analysis, they will need a fundamental understanding of data, digital tools, and approaches to identify opportunities for improvement alongside skills for influencing and managing change. Going forward, these skills are increasingly critical.
👉RELATED READING:
Enter the Digital Business Analyst apprenticeship
So how do you acquire these skills? Cambridge Spark's Digital Business Analyst apprenticeship programme (launched in early 2022) enables professionals to combine their expertise with new commercially focused digital skills so they can identify new opportunities and implement change.
Using the Level 4 Business Analyst apprenticeship standard, the programme is designed for those ready and keen to introduce the digital tools, systems and approaches needed to achieve their organisation's digital transformation roadmap.
Effective methods of deploying data-driven digital solutions are more crucial than ever to remain on the cutting edge, and we are delighted to offer a skills solution to support employees to accelerate digital transformation and affect real change in their workplaces. This programme offers a fantastic opportunity for employers to equip their workforce with the skills needed for continued success."

Dr Raoul-Gabriel Urma, CEO and Founder of Cambridge Spark.
👉RELATED READING:
How the Digital Business Analyst apprenticeship can accelerate both your team and your career
Over the course of 14 months and 13 modules of government-funded learning, the Digital Business Analyst apprenticeship trains and furnishes business analytics professionals with the skills and know-how they need to:
Introduce digital tools, systems and approaches in their team
Become more digitally literate, digitally skilled and data savvy to enable progression into digital roles
Who want to build their skills and confidence in order to play a role in delivering the organisation's digital transformation
Understand how business analysis can be used for digital transformation
Understand how data science, machine learning and AI can be used to implement more robust and effective business processes
Acquire data-driven capabilities including storytelling with data and Excel for data collection, analysis, data-driven insights and business process modelling
Gain skills in Leadership for digital transformation including change management and stakeholder management for anyone looking to manage process driven changes within teams and departments
Is the Digital Business Analyst apprenticeship the right programme for you?
Not sure if the Digital Business Analyst apprenticeship is the right path for you to take at this point in your career? Be sure to read through the full details of the programme here to find out more.
If you're interested to learn more about digital and data skills for business analysts, check out 5 Reasons Why Business Analysts Should Learn Data Skills.
And if you're totally lost when it comes to analytics, why not check out The Difference Between a Business Analyst and a Data Analyst?
Finally, if you'd like to chat with one of us and have any and all questions answered, kindly fill in the form below and we'll get back to you ASAP.