Cambridge Spark /
August 09 2023 /
7 minute read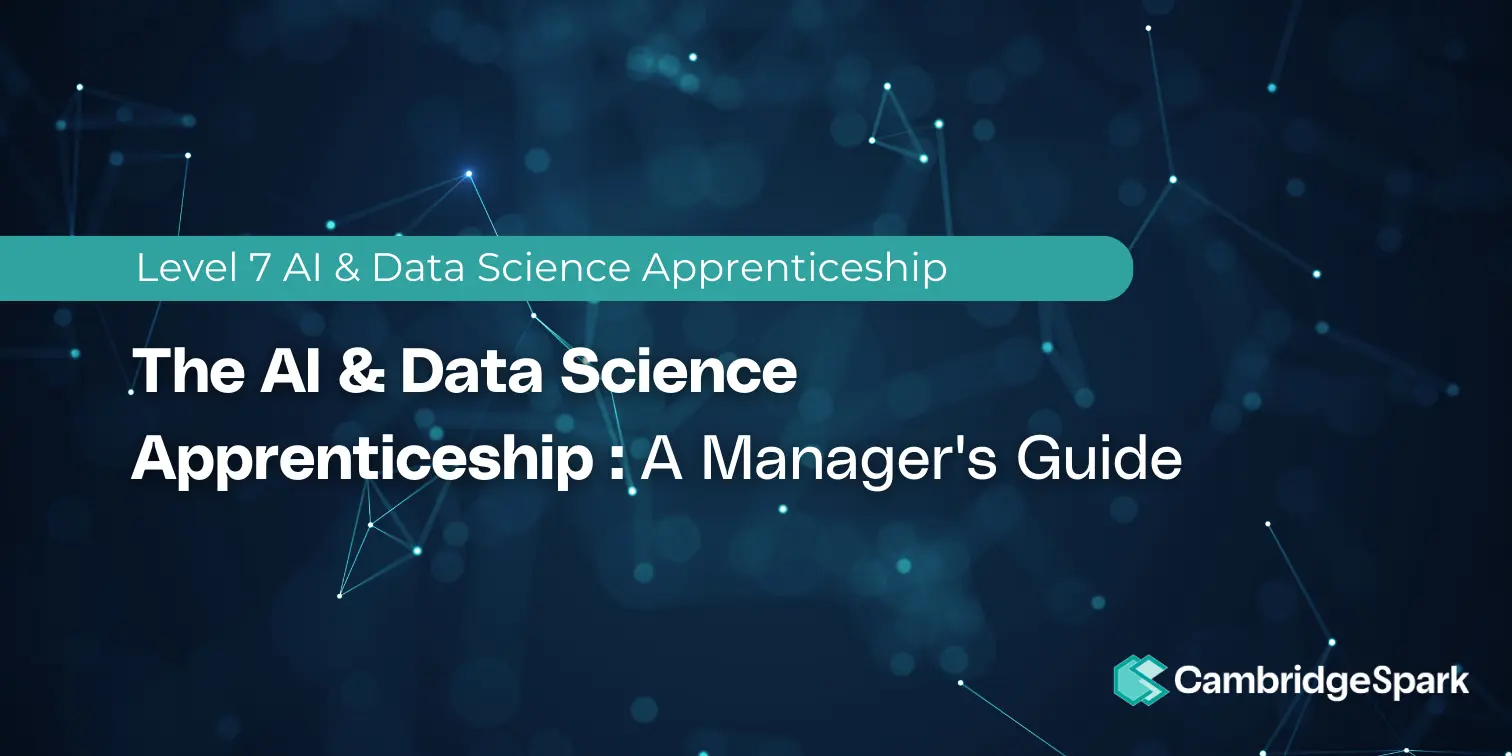 According to a 2023 report from the World Economic Forum, 75% of companies plan to adopt big data, cloud computing and artificial intelligence (AI) technologies within the next five years.
AI is revolutionising the world and transforming the landscape of business in unprecedented ways. And AI-powered automation, in particular, is streamlining business processes, cutting operational costs, and raising productivity.
But how can you, as a leader in your organisation, bring the benefits of AI to your teams to drive real impact? If you've ever considered publicly funded apprenticeships as a possible solution for levelling up your employees' skill set, you've come to the right place.
Here's what you need to know about Cambridge Spark's Level 7 AI & Data Science Apprenticeship and what sets this programme apart from others.
What you need to know about the Level 7 AI & Data Science Apprenticeship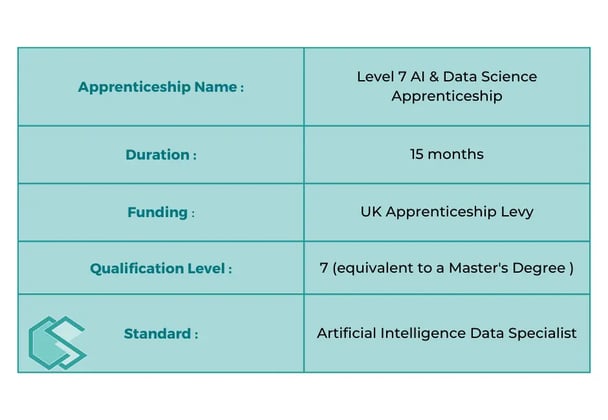 Our Level 7 AI & Data Science programme is based on the Artificial Intelligence (AI) Data Specialist apprenticeship standard. As the first apprenticeship of its kind offered since the standard was released in 2020, 79% of apprentices for this standard have chosen our programme.

The Level 7 AI & Data Science programme equips learners with an advanced skill set. Learners discover and devise new data-driven AI solutions, to automate and optimise business processes, and to support, augment and enhance human decision-making.
Over the course of the programme, learners will understand how to deliver transformational data projects that drive major ROI and advance the competitive capabilities of their organisation..
Who is this apprenticeship for?
This apprenticeship is ideal for teams who:
Are looking to create business impact by deploying data science tools and building machine learning models.
Already have an intermediate-to-strong understanding and knowledge of Python programming and fundamental statistics experience.
Analyse complex datasets on a regular basis.
Are looking to upskill into data scientist or machine learning engineer roles.
Want to champion AI and its applications within their organisation.
Don't have the required Python expertise within your team?
Our Level 4 Data Analyst Apprenticeship is designed to build that foundational skill set and prepare your team for a smooth transition into the more advanced Level 7 programme (related: The Data Analyst Apprenticeship: A Manager's Guide).
10 ways upskilling your team with this data science apprenticeship can drive ROI
With the way our organisations now depend on technology—and more recently, AI technology—upskilling your team in AI and data science is one way of future proofing not only your employees but also the way your organisation operates.
Below is a diagram of how business owners expect AI to support their business in 2023. Sourced from Forbes.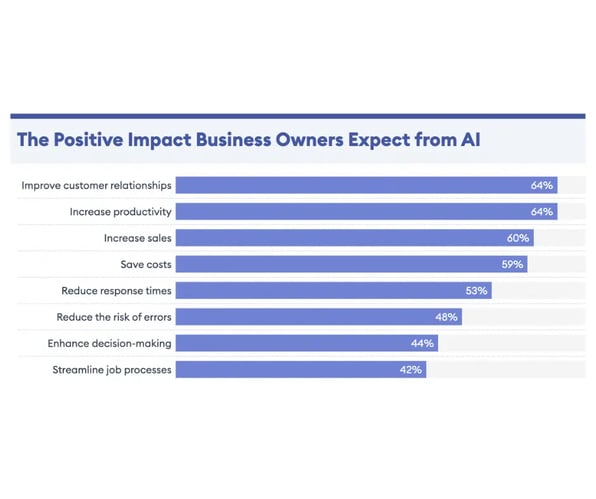 There are numerous ways that AI and data science is reshaping organisations for the better.
Some of the benefits of upskilling your team with our L7 AI & Data Science Apprenticeship are:
1. Immediate application of learning to work-based projects: Apprentices build a portfolio of innovative projects during their apprenticeship, applying learnings to solve actual business problems or exploit real opportunities within your organisation from the very start of the programme.
Apprentices are supported by expert coaches and mentors who deliver project briefs and offer feedback as they apply their new skills and knowledge in the workplace.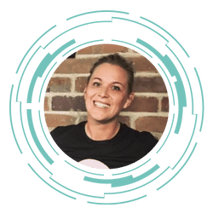 "I had researched other providers of apprenticeships. But the thing that stood out for me with Cambridge Spark was the focus on business. You can apply data science in many different areas. But with Cambridge Spark, they will help you directly apply your learning to solve real problems in your business. And for me that was like... Wow!" Elle Neal, BPA Quality
2. Enhanced decision-making: With data science and AI skills, employees can analyse and interpret vast amounts of data, leading to data-driven decision-making. This empowers your organisation to make well-informed choices and develop strategies based on insights.

3. Improved efficiency and productivity: AI and data science can automate repetitive tasks, streamline processes, and optimise workflows. By upskilling employees, an organisation can create custom AI solutions that boost productivity, allowing staff to focus on more creative and strategic tasks.
Elle Neal from BPA Quality, saved 48 hours per month just from switching from Excel to Python for data processing and analysis purposes.
4. Personalisation of customer experience: Upskilling in data science enables organisations to understand their customers better. Analysing customer behaviour and preferences helps tailor products and services to individual needs, leading to improved customer satisfaction and loyalty.

5. Identifying business opportunities: With the ability to analyse market trends and predict future demand, upskilled employees can identify new business opportunities and niches. This proactive approach can give the organisation a competitive edge and help it stay ahead in the market.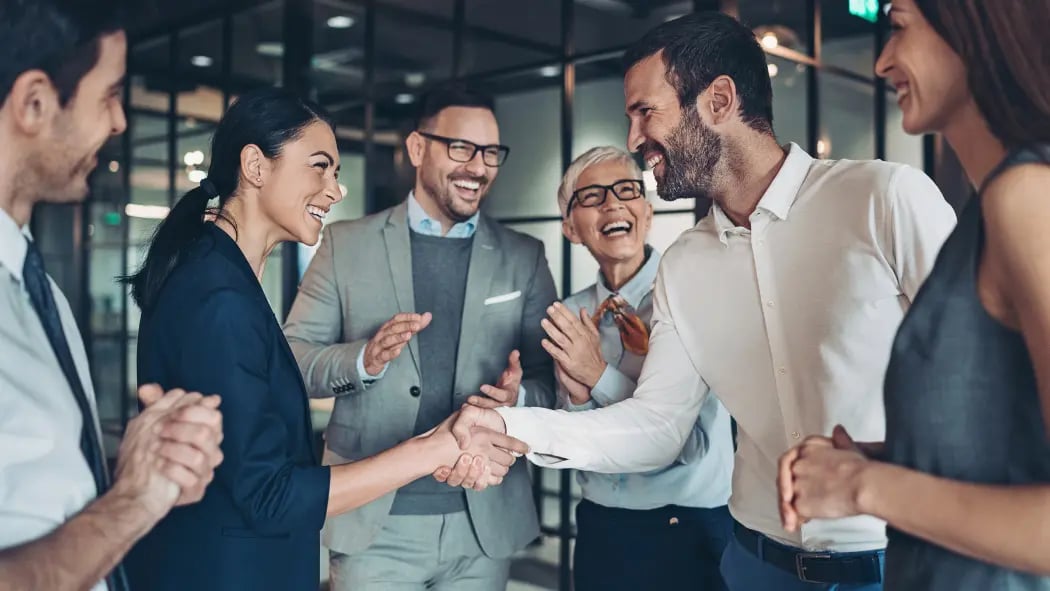 6. Better resource allocation and cost savings: Data-driven decision-making can lead to cost savings by optimising resource allocation, reducing waste, and identifying areas where efficiency can be improved. Additionally, AI can help in predictive maintenance, preventing costly breakdowns and downtime.
David Howell is a Joint Director for Strategic Insight and Analytics at Surrey Heartlands Health and Care Partnership. With the upskilling of our Level 7 AI & Data Science programme, David built a model that successfully predicted and flagged 70-80% of emergency readmissions as preventable, meaning costs and resources can be saved going forward.
David also said about his time completing the apprenticeship:
"The programme's been brilliant. It's been really good. It's really well rounded. There are a lot of support mechanisms in place. And I've definitely got a lot out of it."
7. Enhanced security and fraud detection: AI and data science skills are vital in developing robust cybersecurity measures and fraud detection systems. Organisations can protect their sensitive data and customers from potential threats and attacks, strengthening trust and reputation.

8. Consistent innovation and research: Upskilling in these fields fosters a culture of innovation within the organisation. Employees can experiment with new technologies and data-driven approaches, leading to the development of unique products, services, or business models.

9. Better talent retention and attraction: Employees appreciate opportunities for professional development. By providing upskilling programmes, organisations can retain their top talent and attract new talent looking for opportunities to learn and grow in their careers.

10. Adaptability to technological advancements: The world of data science and AI is continuously evolving. By upskilling their workforce, organisations ensure they stay relevant and adaptable to technological advancements, positioning themselves for long-term success and future-proofing their workforce.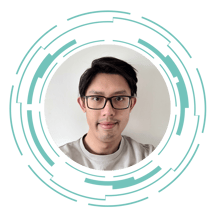 "During the job interview, I think the interviewers (who are data scientists themselves) didn't know about some of the things I mentioned, but that just tells you how cutting edge the information Cambridge Spark provides is. Overall, I would say the course is a great future-proofer." Edgar Tse, Data Scientist at easyJet
What job roles would most benefit from the Data Science & AI Apprenticeship?
So who in your organisation is going to benefit most from the AI & Data Science Apprenticeship? Here are a few relevant job titles of professionals who are often a good fit for this programme:
1. Data Scientist
2. Junior Data Scientist
3. Data Analyst
4. Machine Learning Engineer
5. AI Engineer
6. Software Engineer
7. BI Analyst
8. Data Engineer
9. Research Scientist
10. Environmental Scientist
11. Cybersecurity Analyst
What's the cost of the L7 AI & Data Science apprenticeship?
All of Cambridge Spark's apprenticeships are funded through the UK Apprenticeship Levy. This means there's no direct cost to you as an employer.
In an effort to bolster the nation's skillset, the UK government introduced the Levy in April 2017. Since then, the government mandates that employers with a yearly payroll surpassing £3 million contribute 0.5% of their wage expenses towards the Levy.
These contributions are gathered on a monthly basis through the Pay-As-You-Earn (PAYE) system. The collected funds are available for use over a two-year span for approved apprenticeship programmes. Consequently, employers who are levy payers have the opportunity to enhance their workforce's skills without bearing extra costs.
The UK government sets certain criteria to determine an individual's eligibility for this type of programme. All eligible candidates must:
Have at least one GCSE or equivalent (with a grade B or above) in a STEM subject (maths is desirable).
Not already have expert knowledge of or formal credentials (e.g. Master's Degree) in AI, machine learning or a similar field.
Work in a relevant role for a minimum of 30 hours per week, apply their skills in their organisation, and work in England for the majority of their working hours.
Have resided in the UK/EEA for a minimum of 3 years.
Government funding rules require that learning takes place during normal working hours, and apprentices must complete the agreed amount of off-the-job learning outlined in their learning plan, which, for this programme, is a minimum of 6-8 hours per week.
Separate to the above regulatory requirements, Cambridge Spark requires that apprentices on this programme have sufficient prerequisite knowledge (e.g. Python). We will provide an online assessment of prior learning to determine whether candidates can comfortably complete this programme.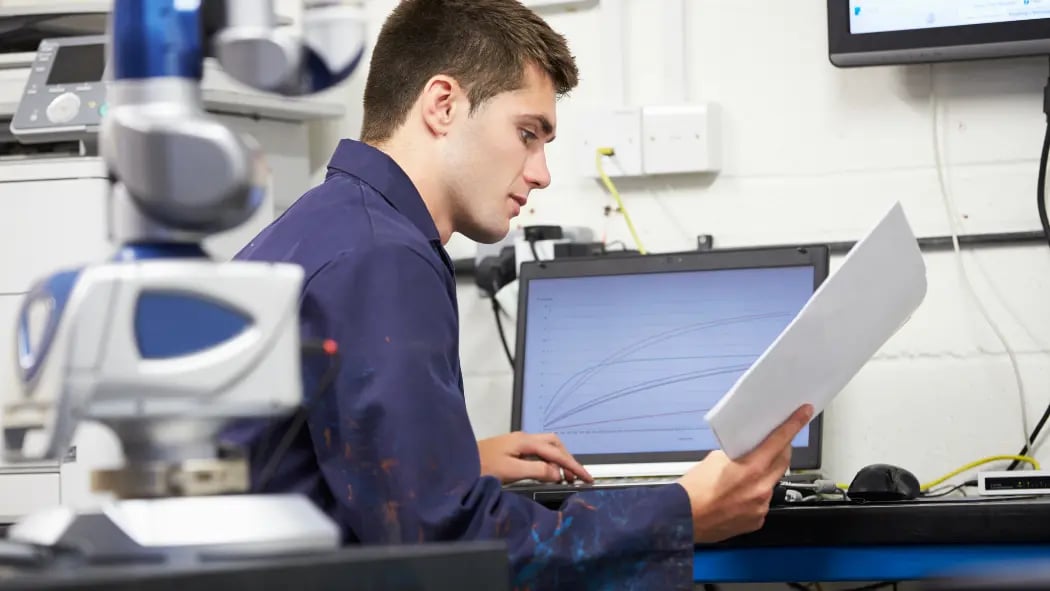 Duration and overview of the curriculum
The apprenticeship will take your staff around 15 months to complete. And the expertly designed curriculum ensures that learners are equipped with the skills to be able to deliver transformational data changes to their organisations.
Over the 15 months, learners will undergo the following 13 modules to upskill them in AI & data science holistically:
1. The Data Science Toolbox - This intermediate level module is designed to enable learners to use some of the most common, industry standard tools for conducting data analysis and data science in Python.

2. Introduction to Machine Learning - During this module, learners will build familiarity with a wide range of more advanced concepts and tools required to unlock the use of different types of machine learning models and techniques.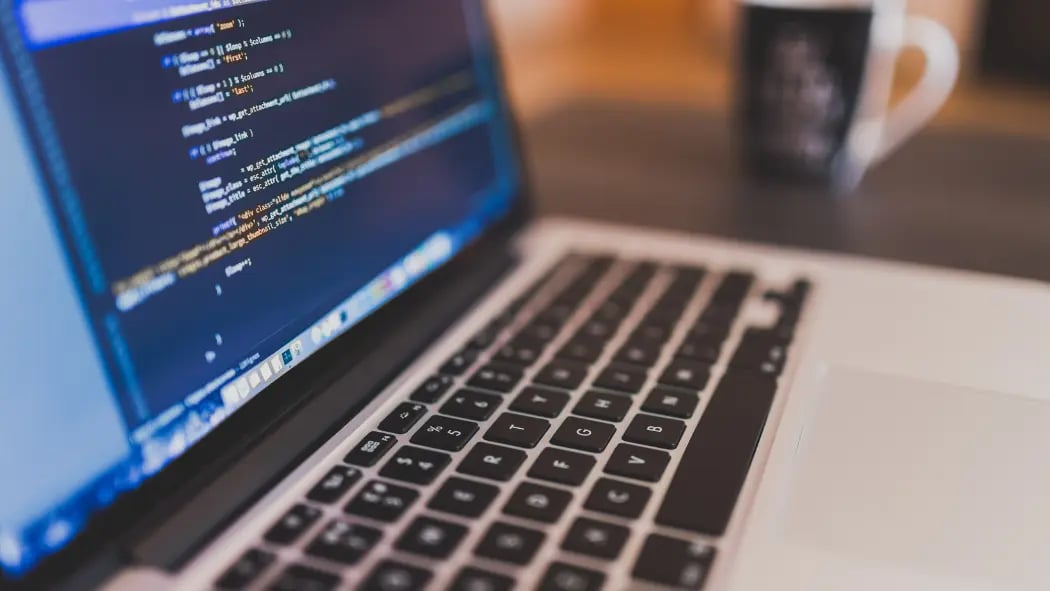 3. Data Science For Business - This entry-level, e-learning module has been designed to help learners identify practical applications and use cases for Data Science & AI to deliver and create business value.
4. Product Management for AI - Here, learners will develop a customer-centric product mindset and focus on understanding users to build products that solve their problems and serve their needs.
5. Supervised Classification - Learners will gain familiarity with an array of discriminative and generative supervised learning models as well as sophisticated techniques to evaluate model suitability and improve model performance.
6. Pragmatic Machine Learning Tools - Here, learners will become familiar with a suite of advanced sklearn tools to evaluate techniques to tackle different types of data science problems for different situations that their organisations may encounter.
7. Model Selection and Optimisation - Throughout this module, learners will get to grips with the process of model selection and optimisation, including the selection of appropriate models for hierarchical data, as well as feature selection techniques.
8. Unsupervised Learning - During this module, learners become familiar with a wide range of unsupervised learning models and techniques to reveal latent structure within your data. Topics covered include KMeans, hierarchical clustering, DBSCAN, PCA and t-SNE.
9. The AI Landscape - Learners explore the ethical considerations surrounding AI, as well as an examination of data privacy regulations and their impact on AI development and deployment.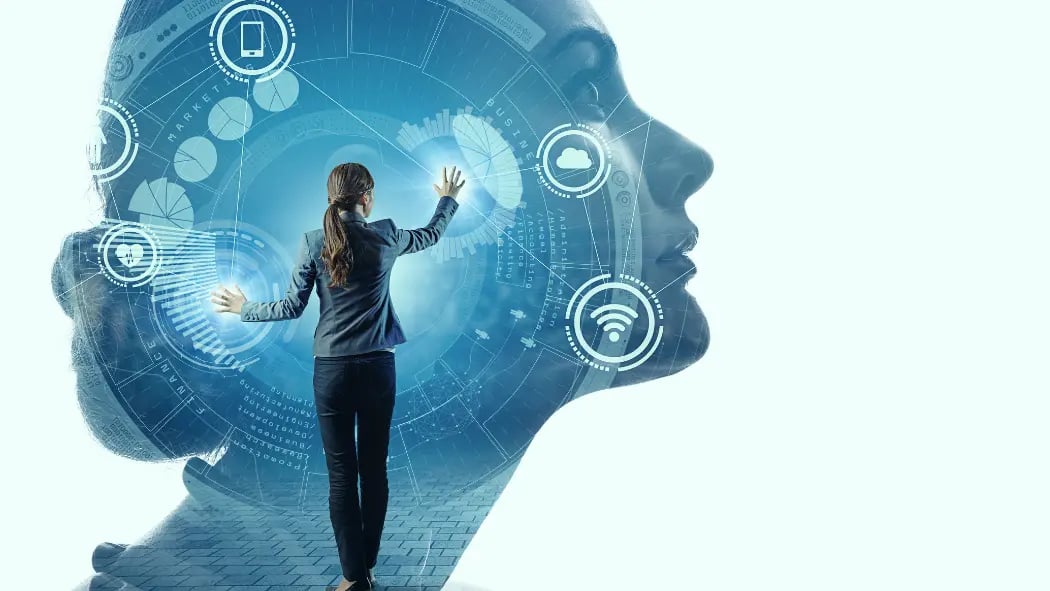 10. Ensemble Methods - Here, learners gain familiarity with what ensembles are and the intuition behind them covering a range of key concepts including bagging and random forest, boosting & gradient boosting and stacking.
11. Time Series Analysis - Apprentices will build more advanced understanding of tools and testing techniques for working with time series data with Python, Pandas, Numpy, the Prophet library as well as autoregressive models.
12. Neural Networks and Deep Learning - Understanding the fundamentals of how neural networks are constructed and trained and how to use them in practice, including CNN, RNN, GANs and Graph Neural Networks is the purpose behind this module.
13. Model Explainability & Interpretability - During the last module, learners will understand different approaches and techniques for interpreting and explaining a range of machine learning models and deep neural networks.


Optional pathways with the L7 AI & Data Science Apprenticeship
As well as the core curriculum, it is also possible for learners to undertake a specific pathway that is more relevant and suitable to their job role.
Below we outline the three possible pathways and their modules that learners can complete in addition to their apprenticeship:
Data Scientist Optional Pathway (eLearning)
Natural Language Processing
Recommender Systems
Bayesian Statistics & Gaussian


Processes Data Engineer Optional Pathway (eLearning)
Databases, SQL & NoSQL
Big Data Systems
Principles of Cloud Computing


MLOps Engineer Optional Pathway (eLearning)
Software Testing for Data Science
Software Engineering for Data Science
Machine Learning in Production


FAQs
Wondering if the apprenticeship is right for your team? See if our frequently asked questions can help you decide or get in touch with us. We'll be happy to help or explain any queries you may have.
Want to upskill your team in AI & Data Science?
If you are interested in enrolling your team into the Level 7 AI & Data Science Apprenticeship, get started with your team's transformational journey by submitting the form below.

Enquire now
Fill out the following form and we'll contact you within one business day to discuss and answer any questions you have about the programme. We look forward to speaking with you.