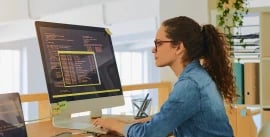 Data Literacy
Raising the general awareness and appreciation of data-informed decision making across non-specialist teams and functions.
Cambridge Spark's data literacy programmes aim to improve an employee's ability to read data, write about data and communicate with their data expert colleagues in a specific business context.
Literacy programmes also address knowledge gaps within exec and leadership teams, providing them with a more informed and consistent lexicon so they can use data and insights more accurately when setting bigger-picture strategic narratives.
Learn more