Free courses in Python, data analytics, data science and more
Are you looking to build data fluency, Python and other data skills on a free programme, delivered over a short timeframe and designed to prepare you for an entry data role?
Data Skills Bootcamps offer an alternative to apprenticeships and costly, privately funded courses in data analytics and data science. These are shorter, publicly funded courses made to help you quickly acquire data skills and knowledge to prepare you for a career in data.

We've offered digital skills bootcamps, coding bootcamps, data engineering bootcamps, data science bootcamps and others. Depending on the course, you can go from joining the programme as an absolute beginner with no prior data experience, to being hired for a new role in the field 6-12 weeks later. You learn from experienced faculty teaching the curriculum entirely online and at no cost to you.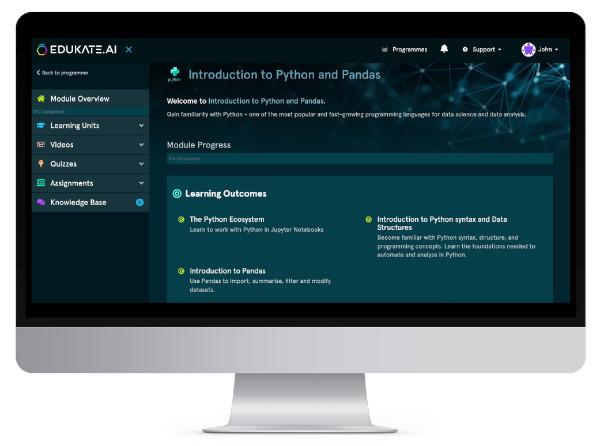 Are Data Skills Bootcamps really free?
Yes, these courses are 100% free for you, the learner.

We partner with local authorities and the UK Department for Education (DfE) to secure funding for these bootcamps. These government organisations have a vested interest in upskilling residents to address the local data skills gap and bolster economic development in their communities.

That's why some bootcamps have requirements for learners to be residents of the same city or region which provides the funding.
Are you eligible to join one of our Bootcamps?
Bootcamps are intensive, fast-paced courses taught in a short period and meant to prepare learners for a new role in data, often with little or no prior knowledge or experience. A keen interest in data and a motivation to learn the curriculum are vital to any learner's success.

Apart from these requirements, each bootcamp has different eligibility criteria learners must meet to be admitted, such as age and location of residency. Please choose from amongst our list of current bootcamps below to see the specific requirements for each programme.
Current Bootcamps
The below Bootcamps are currently open for enrolment:
In partnership with Skills for Life and the Devon County Council (DCC) and DCC's Train4tomorrow Team, this 8-week Skills Bootcamp offers job seekers and working professionals in Devon the opportunity to upskill and begin a career in data analytics. You'll learn how to sort and process data using programming languages like Python, SQL and Pandas, data visualisation tools and more.
Application deadline: Ongoing
In partnership with vision2learn, this 8-week Bootcamp offers job seekers in England the opportunity to build a foundational data skillset with the aim of interviewing and beginning an entry-level data role. You'll learn skills like data sourcing and integration, Excel for data analysis, dashboarding tools and more.
Application deadline: Ongoing