Cambridge Spark

launches new upskilling programme for data literacy
Cambridge Spark /
February 15 2021 /
2 minute read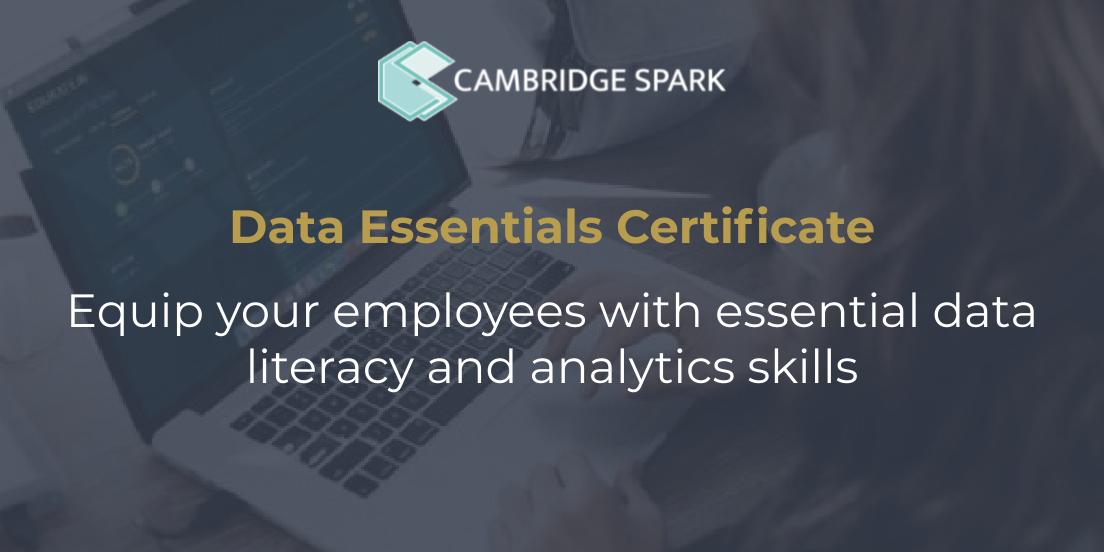 Cambridge Spark, the specialist Data Science and AI learning partner for organisations and creators of the EDUKATE.AI® learning platform, are today announcing the launch of the Data Essentials Certificate to tackle the need to build nationwide data literacy capability at scale. Funded by the new Level 3 Data Technician Apprenticeship, the Certificate will help employees understand the value and opportunities that are possible with the smart use of data.
"We know from our work with industry-leading clients on their digital transformation strategy that data literacy is essential for employees across organisations in every department. Data really touches everyone in every role and every organisation." says Dr Raoul-Gabriel Urma, CEO and Founder of Cambridge Spark.

"To meet this challenge, we have developed a unique government-funded solution to upskill professionals with the skills and tools they need to spark new ideas as well as increase confidence and productivity in their work. The Certificate will be delivered virtually using EDUKATE.AI®, our proprietary learning platform for Data Science and AI education supported by Innovate UK. This flexible method of delivery allows workforces across the country to learn remotely and effectively."

About the Academy
The Data Essentials Certificate is funded by the Apprenticeship Levy, using the new Data Technician standard, from which apprentices will gain a recognised qualification in data.
The apprenticeship will train professionals how to prepare and analyse data efficiently, how to visualise and present actionable data-driven insights in impactful ways and how to use industry-standard tools including Excel, Power BI and Tableau.
The Certificate is delivered over an accelerated period of 13 months. The Certificate also creates an entry point into the other learning pathways offered by Cambridge Spark of Data Analyst, Data Scientist and Machine Learning Engineer.
Multiple employers have signed up for the first cohort starting in June 2021, for which Cambridge Spark is continuing to enrol new learners from a range of sectors and backgrounds.
"It is crucial that businesses invest in their employees to future-proof the skillset of their workforce," continues Dr Urma. "The new Data Essentials Certificate complements our existing pathways in Data Science and AI, providing organisations with a full-stack solution to upskill employees for data in every department at every skill level and importantly enable organisations to offer progression pathways which are essential to employee retention."
About Cambridge Spark
Cambridge Spark is a specialist in Data Science & AI training programmes designed to accelerate skills development and inspire innovative thinking across organisations. In the UK, Cambridge Spark is the only specialist Data Science & AI apprenticeship training provider. The company is headquartered in Cambridge, UK, with an office and an educational campus in King Cross, London.
For further enquiries, please contact:
contact@cambridgespark.com or + 44 (0)7816 419378