Cambridge Spark

partners with City of London Corporation to deliver Data Skills Bootcamp
Cambridge Spark /
August 23 2022 /
1 minute read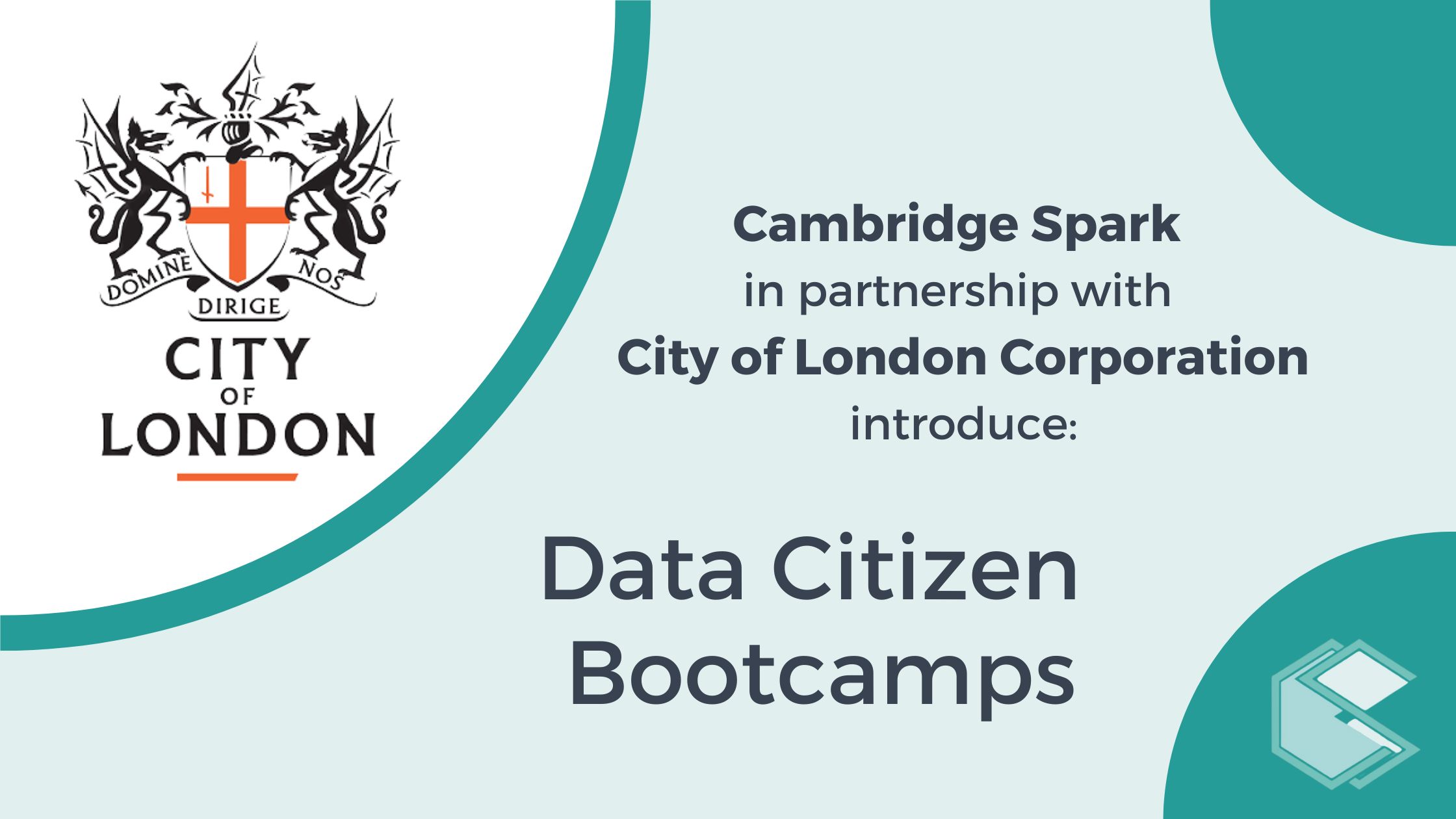 Cambridge Spark is delighted to be working in partnership with the City of London Corporation to deliver a programme of data skills bootcamps, funded by the Department for Education.
The City of London Data Citizen bootcamp will provide up to 160 people with the essential data skills needed to kickstart their career in data. The bootcamps are open to people with little or no experience working with data and in just ten weeks will prepare them for entry-level roles in an exciting new career in data.

The bootcamps are funded by the Department for Education's National Skills Fund, an initiative to help adults improve their job prospects through training. This new partnership with the City of London Corporation will allow job seekers in London, or people looking to retrain, with access to the industry-leading data education offered by Cambridge Spark to accelerate their careers. Upon completion of the bootcamp, learners may be eligible for job placement in an entry-level data role.
"We are delighted to support hundreds of individuals to start an exciting new career in data over the coming months. Data continues to be one of the most in-demand skills for employers and these bootcamps offer a unique opportunity for candidates to future-proof their careers."

Dr Raoul-Gabriel Urma, CEO of Cambridge Spark
The bootcamps will begin in September 2022 and end in January 2023. Delivered online, the bootcamps are designed to be flexible and allow learners to progress at their own pace over a 10 week period. A mix of experiential learning, coaching, technical mentorship and peer support will help each learner gain confidence in data skills and quickly apply them in practice. Learners will also benefit from immediate feedback on exercises through EDUKATE.AI, Cambridge Spark's online learning platform designed for data education.

At the end of the bootcamp, learners will be able to work with a placement officer to secure job interviews for relevant roles in London.

Potential candidates or employers looking to retrain staff can register their interest for the bootcamp now, with the first cohort starting 12th September 2022.
In Partnership with:
.