From Web Technical Lead to Data Science
Cambridge Spark - Data Science Courses /
September 07 2018 /
2 minute read
An interview with Applied Data Science Bootcamp graduate, Sanjay Hallan, on his journey of landing a Data Science role at a new organisation within a month of graduating.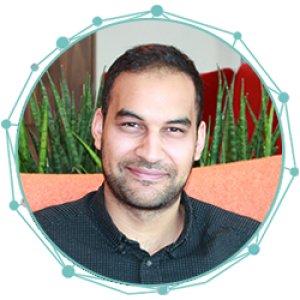 Sanjay Hallan joined our 6-month part-time Applied Data Science Bootcamp in September 2017 and, within one month of graduation, Sanjay successfully moved into a Data Science role at a new organisation. We caught up with Sanjay to find out about his experience at Cambridge Spark.
What did you most enjoy about the Applied Data Science Bootcamp?
I enjoyed being around people with a similar mindset who just wanted to learn about Data Science. Although there is a lot of buzz around the topic, it takes a special kind of person to actually take the plunge and do a course like this. It was completely new material for me and being immersed in it with people from various industries was really enriching.
The network I now have would have taken me years to build up had I not attended this Bootcamp.
What were your key takeaways from the 6-month programme?
"Having not come from a Maths background, learning about the Mathematical concepts which underpin Data Science was hugely beneficial. The core concepts are introduced at the very beginning and then revisited throughout the course to deepen your understanding of the practical implementation. Step-by-step you'll understand how each concept fits into the bigger picture – triggering multiple "AH-HA!" moments."
The course also ensures that you learn about the wider business context. Including how to go about tackling problems and the best practices to ensure Data Science projects are successful. I feel like I know the "general process" of putting Machine Learning into practice and what things to concentrate on at various stages of the project.
It is wonderful to hear you have landed a new job since graduating! What was your previous position before the course?
"I've worked as a Web Developer and more recently a Digital Architect within Finance for 10 years. Initially building systems with Java and later moved completely to Python. Apart from building simple form wizard type web applications I also worked on a lot of data migrations — this sparked my interest in working with large datasets and then I naturally gravitated to explore more of the Machine Learning Python ecosystem."
What're you working on now?
"I'm now working to help retail businesses maximise ROI from their eCommerce presence. It's an exciting project with many Architectural and Machine Learning challenges."
What piece of advice do you have for those looking to join the Applied Data Science Bootcamp?
"I took the course just to do something new, it was my genuine interest in the field that motivated me to attend. I was hesitant at the start as I didn't know whether I would cope. After completing the Applied Data Science Bootcamp I honestly have no regrets, it's the complete package and I doubt you will find another course on the market with the same quality as this one."
The tutors are extremely knowledgable with industry experience and are very approachable, always taking the time to explain complex ideas.
"So in short, just go for it and then stick with it! You won't be disappointed."
Looking to kick-start your data science career?
Learn more about how to get started and about the Applied Data Science Bootcamp
We'll email you within the next working day to arrange a chat to help with any questions you have about getting started in data science, about the bootcamp and recommend pre-course materials to get you up to speed.
We look forward to speaking with you.
Please complete the following fields