Cambridge Spark launch London AI Campus and plan new AI apprenticeship
Cambridge Spark - Data Science Courses /
March 09 2020 /
3 minute read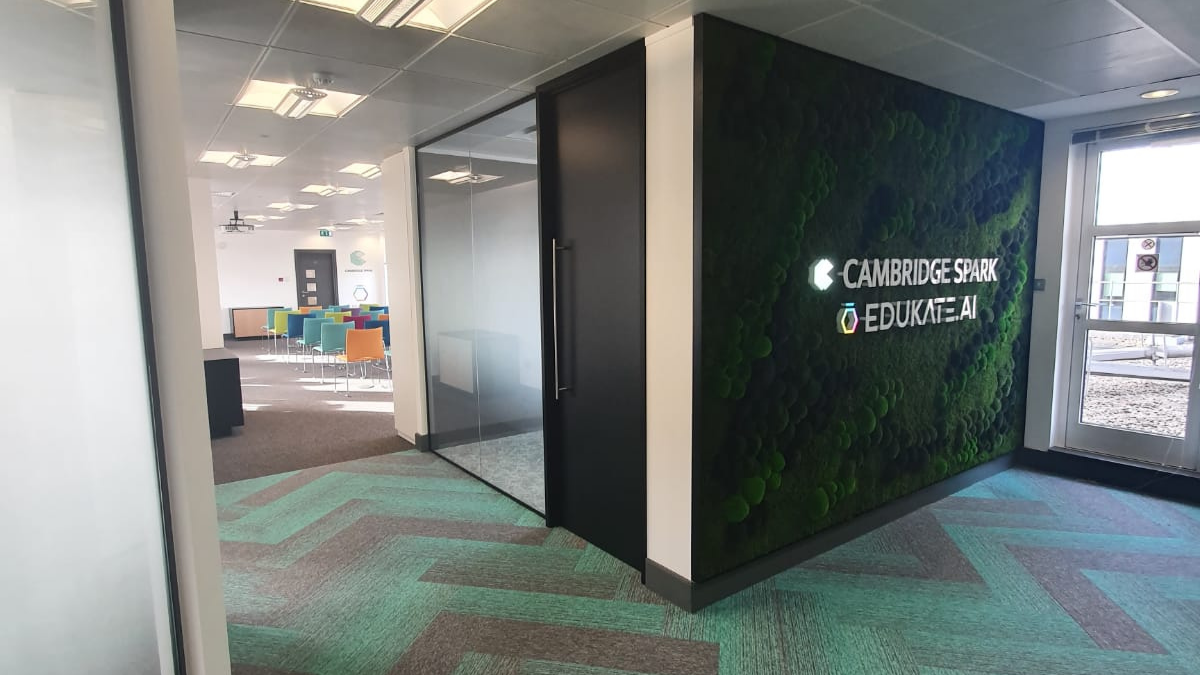 2020 is set to be a big year here at Cambridge Spark. We are about to open our new London AI Campus in Kings Cross, are set to become the first provider of a new artificial intelligence specialist apprenticeship, and are planning to expand in the US.
Having outgrown the Bradfield Centre on Cambridge Science Park and switched to our own site in Hills Road, we are now expanding our London operations.
This month we will leave serviced offices in Euston for our own site on Pentonville Road, close to King's Cross in the heart of the Knowledge Quarter. The Campus will enable us to run more courses, events and workshops and the site will focus on community-building and knowledge-sharing.
As Tom Phillips, Business Development and Partnerships Manager at Cambridge Spark explains;
"We want the London AI Campus to be the centre of data science and AI education in London. That includes working with different partners on the Campus - other companies and organisations that have the same mission around empowering the community to succeed in Data Science and AI, and working towards increased diversity in data science."

"We already have several Meetup groups planning to run events at the Campus as well as workshops for our course alumni. We are looking at a series of events where PhD students in AI and Machine Learning present their research, with the audience being people working in industry. Once you're a data scientist in industry, one issue is that you're out of the loop of what's happening in academia and this events series is a way to bridge that gap."
AI specialist apprenticeship
At Cambridge Spark, we already provide the Data Analyst Apprenticeship (Level 4), which covers the collecting, managing and analysing of data for business insight. It encompasses analytical techniques such as data mining, time series forecasting and modelling; understanding data structures and system design; and communicating data analysis via dashboards, visualisations and reports.
Come mid-2020 we will also be offering an Artificial Intelligence Data Specialist Apprenticeship (Level 7), which is a new standard out this year. Cambridge Spark will be the first provider in the country delivering it, as the others are universities who will start delivery at the beginning of the academic year in September.
As Tom explains;
"EDUKATE.AI is based on academic research and developed as part of a research project at the University of Cambridge with funding from Innovate UK. It gives learners instant feedback and assessment of their code as they practice their skills on practical and applied projects we provide. When it comes to reskilling workforces using data science and coding with Python, we use EDUKATE.AI to increase learner outcomes at a faster pace."
US expansion plans
This year we also plan to expand internationally, specifically in the US. We already have clients in New York and are currently in talks with an Ivy League university about how we can work together on data science education powered by KATE. Looking further afield, we are also having serious discussions in Singapore about how we can use EDUKATE.AI to upskill the workforce there.
Over the next couple of years, we are committed to continually pushing what we are doing for data science and AI. We are seeing more demand from people using the apprenticeship levy - a lot of people don't realise the levy can fund digital skills training - and it's our mission to get more employers and individuals using it to their advantage.
Cambridge Spark offers data science and AI education for individuals, companies and universities using EDUKATE.AI, a learning and assessment platform that is itself powered by AI. You can find out more about our broad range of training programmes via the links below:
About Cambridge Spark: Cambridge Spark is a leader in transformational data science and AI training, career development and progression. Our pioneering, customer-focused, training programs are built on our proprietary AI-powered platform, K.A.T.E.®, and accelerate the tech capability of both individuals and organisations. Our teaching staff are all PhDs with relevant technical backgrounds, as well as significant industry experience to ensure a practical, applied approach to developing Data Science skills.
Learn more about Cambridge Spark
Interested in learning more? Get in touch with us.