Cambridge Spark /
October 31 2022 /
6 minute read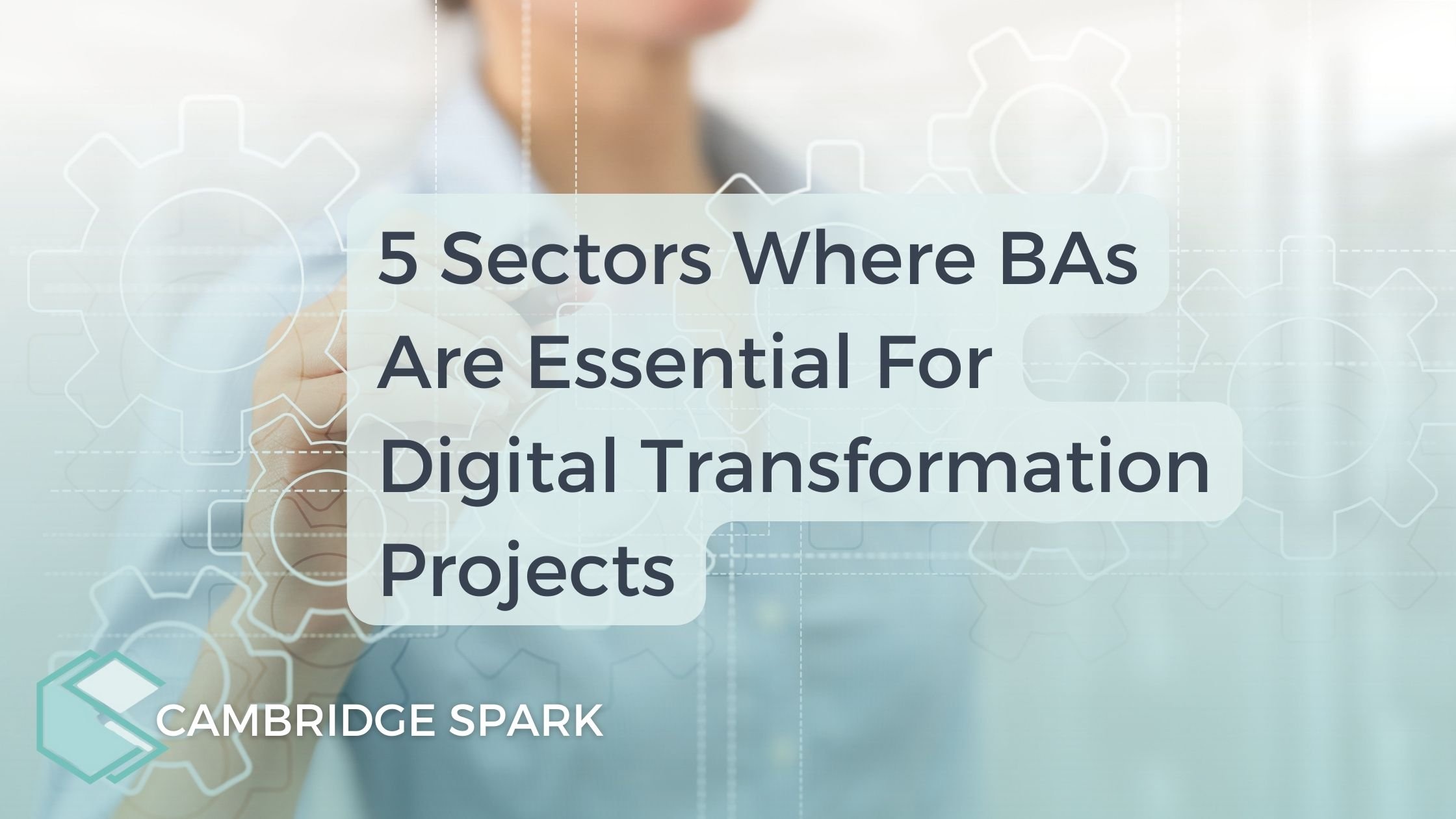 The first step in a digital transformation project across any industry is to first ensure there's a thorough understanding of how the business currently operates as well as a coherent sense and vision of where it's heading in the future - a role that falls to the business analyst.
A business analyst's role is critical to digital transformation in any industry because he or she is expected to use available information to make sure that business processes continue to flow efficiently once new technologies and methodologies have been adopted. The primary responsibilities of the role are the same regardless of the industry in which the business analyst works but there are some duties that vary and adapt slightly depending on the projects and teams with which they collaborate.
Beyond implementing new technologies, digital transformation necessitates a strategic and cultural attitude change that enables organisations to reexamine established standards and conventions, embrace modern practises, and adopt a less risk-averse attitude.
During a digital transformation project, a BA must interpret an organisation's data in order to make decisions that will have far reaching implications. Their primary responsibilities include analysing various business possibilities, collecting data, recommending different management methods to optimise procedures, creating documentation, building a powerful team, and so on. In this article, we'll look at how the key responsibilities and duties of a business analyst adapt to meet the digital transformation needs of 5 major industries.
👉RELATED READING:
Digital transformation and the business analyst in manufacturing
The manufacturing sector has seen a significant influence from digital transformation initiatives, the impact of which improve factory safety, quality, throughput, efficiency, revenue, and sustainability while lowering costs to stay competitive in the market. The effects are significant, but this change is necessary to stay up with changing client needs and fierce competitors.
As in all industries, a BA's main responsibility in the manufacturing sector is to interpret a company's needs and realise its potential. Here is an example list of some of the tasks a BA in manufacturing may be accountable for:
Identifying digital solutions that improve safety, leading to fewer workplace injuries and accidents occurring.
Researching improvement initiatives to boost output quality to reduce reworking of products to reduce warranty work, and increase customer satisfaction.
Putting together prototypes that can address the concerns of key interested parties.
Informing stakeholders of the solutions will help them grasp prototypes and get their approval.
Creating documentation pertaining to functional design and establishing the justification to satisfy corporate needs.
Aiding the testing team to develop test plans and test cases.
After the items have been deployed, creating cutover plans and validating production units for accuracy testing.
Digital transformation and the business analyst in the tech sector
Being at the forefront of technological development for products and services compared to other industries, you might wonder what exactly are the key digital transformation objectives of large technology companies?
According to a KPMG report entitled Transforming the Transformers, which explores how tech companies are accelerating their own digital transformations, artificial intelligence is the most popular technology, followed by the Internet of Things and robotic process automation (RPA) (tied for second), and cloud, drones, e-commerce platforms, and video/collaboration technologies (all tied for third).
The report explains that AI enables tech companies to analyse everything from altering client behaviour to streamlining supply chains faster and more intelligently. Servers are populated by fresh, frequently unstructured data on customers and business processes thanks to IoT devices and sensors. And RPA gives businesses a point of entry into automation that frees workers to concentrate on more strategic tasks while boosting efficiency and productivity when business models and financial forecasts change.
In the tech sector, the BA plays an important role in the drive to research and implement these digital transformation initiatives. They must work with with different kinds of analysts (system analysts, data analysts, data scientists) to understand the technological problems and organisational difficulties their technology company is facing and play a key role in determining the best course of action to implement new systems.
The typical activities in which a BA may be involved in this industry are as follows:
Collecting and analysing project-related data to determine whether the project is worth financing.
Assessing the business requirements, explaining terminologies and guidelines, offering alternatives, and making sure that the staff understand all of the information needed to complete the task successfully.
The BA must also create a document containing the requirement specifications. Along with that, he or she must help clarify them to the project's key stakeholders and obtain their approval.
The developers working on the project may consult the BA for advice once work on it starts. The BA must also develop good relationships with the stakeholders in order to discuss any differences or adjustments to the criteria.
The BA is also held accountable for organising team meetings to go over and resolve challenges including hazards, technological limitations, and other issues.
User acceptance tests are carried out to check whether or not the software or product is ready for release. A business analyst may take part in these tests.
👉RECOMMENDED READING:
Digital transformation and the business analyst in the pharmaceutical industry
The pharmaceutical sector is no exception to the digital and retail trends facing other industries and is continually challenged with new issues as markets become more crowded and competitive and as consumer expectations change over time.
Guaranteeing commercial success is no longer as simple as having a strong medical clinical profile. Pharma firms now need to learn how to not only launch and sell their products, but also design and manage digital and hybrid experiences. A BA working on digital transformation projects in pharma may participate in the following activities and duties:
Assisting with the digitalisation of business data, research, and operations.
Management of crucial procedures, such as inventory control, transporter onboarding, supplier relationship management, etc.
Coordinating with the various company stakeholders to rapidly and efficiently implement crucial initiatives - for example, telehealth consultations where patients don't need to consult with a doctor face-to-face in real life, implementing a system that enables home delivery of medications, eliminating the need to travel to the pharmacy, developing mobile apps that allow patients to manage medications, request refills, and track deliveries etc.
Making sure the projects or products are launched in a timely manner.
Overseeing projects from beginning to end.
Using the most up-to-date methods and tools such as machine learning, AI and cloud technologies to optimise business operations.
👉RELATED READING:
Digital transformation and the business analyst in the retail sector
A variety of factors, many of which have been amplified by the pandemic, have been changing the retail industry in recent years, including the rise of e-commerce and omnichannel, changing consumer behaviour, hyperpersonalisation, and increasing supply chain complexity. Retail companies that have failed to keep on top of their digital transformation objectives have as a result seen a negative trajectory on their sales revenue.
Retailers can improve performance across the board with the help of a clear strategic digital transformation roadmap, but most companies haven't advanced far enough and are losing out on opportunities as a result. Only a small number of retailers have created real multichannel products, exploited data at scale, and incorporated agile working practises across their whole companies. Some of the duties of a retail business analyst include:
Conducting reliability and validity analyses, such as analysing customer behaviour and retail trends.
Assisting in the creation process of programmes that support corporate schedules.
Proactively managing the sales and profit potential with the objective of maximising sales, profitability, and distribution.
Managing relationships between the retailer's representative groups and customers to ensure a positive working relationship and the achievement of top-line sales growth.
Producing and delivering innovative client presentations to seize new possibilities, build strategic commercial alliances, have an impact on corporate strategies, and promote business expansion.
👉RELATED READING:
Digital transformation and the business analyst in the financial sector
In the world of banking and finance, the top-down transition from in-branch banking to online and digital services, integrating digital systems, new customer experience platforms, apps, and infrastructure, are some of the key components of the sector's digital transformation objectives.
Blockchain, artificial intelligence (AI), cloud computing, machine learning, and the acquisition, management, and analysis of customer data are some of the technologies that are currently being implemented. With the rising prevalence of FinTech solutions, the sector is being disrupted, attracting regulators' attention, and prompting stricter regulatory standards.
To avoid potential financial consequences and reputational damage, banks and financial institutions have to keep on top of their compliance requirements, which means constantly monitoring and updating their operations making business analysts essential.
Here business analysts are in charge of analysing and interpreting financial data for the business. They collaborate with a wide range of stakeholders, including accountants, auditors, bankers, and other finance professionals, to assist businesses in making sound financial decisions. The digital transformation duties of an finance business analyst include:
Assessing new operations methodologies to improve services and keep customer data safe
Monitoring financial markets and predicting future market trends that could have an impact on the business strategy of the company.
Examining financial statements to find differences from budgeted amounts or any internal control problems
Carrying out assessments using information from several sources, such as financial accounts, accounting records, and market trends.
Recommending adjustments to firm procedures or policies in light of analysis' conclusions.
Drafting reports on findings for assessment by higher management.
Evaluating the efficiency of the company's risk management procedures, such as the funding of retirement plans or the extent of insurance coverage.
Giving guidance on how to implement initiatives for process improvement to increase operational efficiency.
Providing the business with financial guidance on potential investments or funding requirements to assist it achieve its financial objectives.
Creating projections and budgets based on predictions of future performance.
👉RECOMMENDED READING:
Are you a business analyst looking for ways to enhance your skills for the betterment of your industry?
At Cambridge Spark, we offer a Level 4 Digital Business Analyst apprenticeship programme. Over 13 modules, you'll cover everything you need to become a Business Analyst with a special focus on digital transformation, equipping you with the skills you need to identify and deploy data-driven solutions. Over the course of the programme, you'll learn to:
Use industry standard methodologies and frameworks for business analysis, including Agile
Change management and leading digital transformation
Identify opportunities for digital and data-driven solutions
Understand key digital and data-driven technologies such as Data Science, Cloud and AI
Implement product management practices across digital projects
Accelerate digital transformation by upskilling your workforce
N.B. To qualify for this apprenticeship, learners must have exposure to all the business analyst duties within their role and workplace.
👉RELATED READING:
Is the Digital Business Analyst apprenticeship a good fit for you?
Are you unsure whether the Digital Business Analyst apprenticeship is the right path for you at this point in your career? To learn more, make sure to read through the programme's full details here.
Check out 5 Reasons Why Business Analysts Should Learn Data Skills to learn more about digital and data skills for business analysts.
If you're completely lost when it comes to analytics, read The Difference Between a Business Analyst and a Data Analyst.
If you're interested in any of our programmes, let us know by using the form below. One of our consultants will get in touch with you with more details on how you can get started.

Enquire now
Fill out the following form and we'll contact you within one business day to discuss and answer any questions you have about the programme. We look forward to speaking with you.