Cambridge Spark /
November 08 2022 /
7 minute read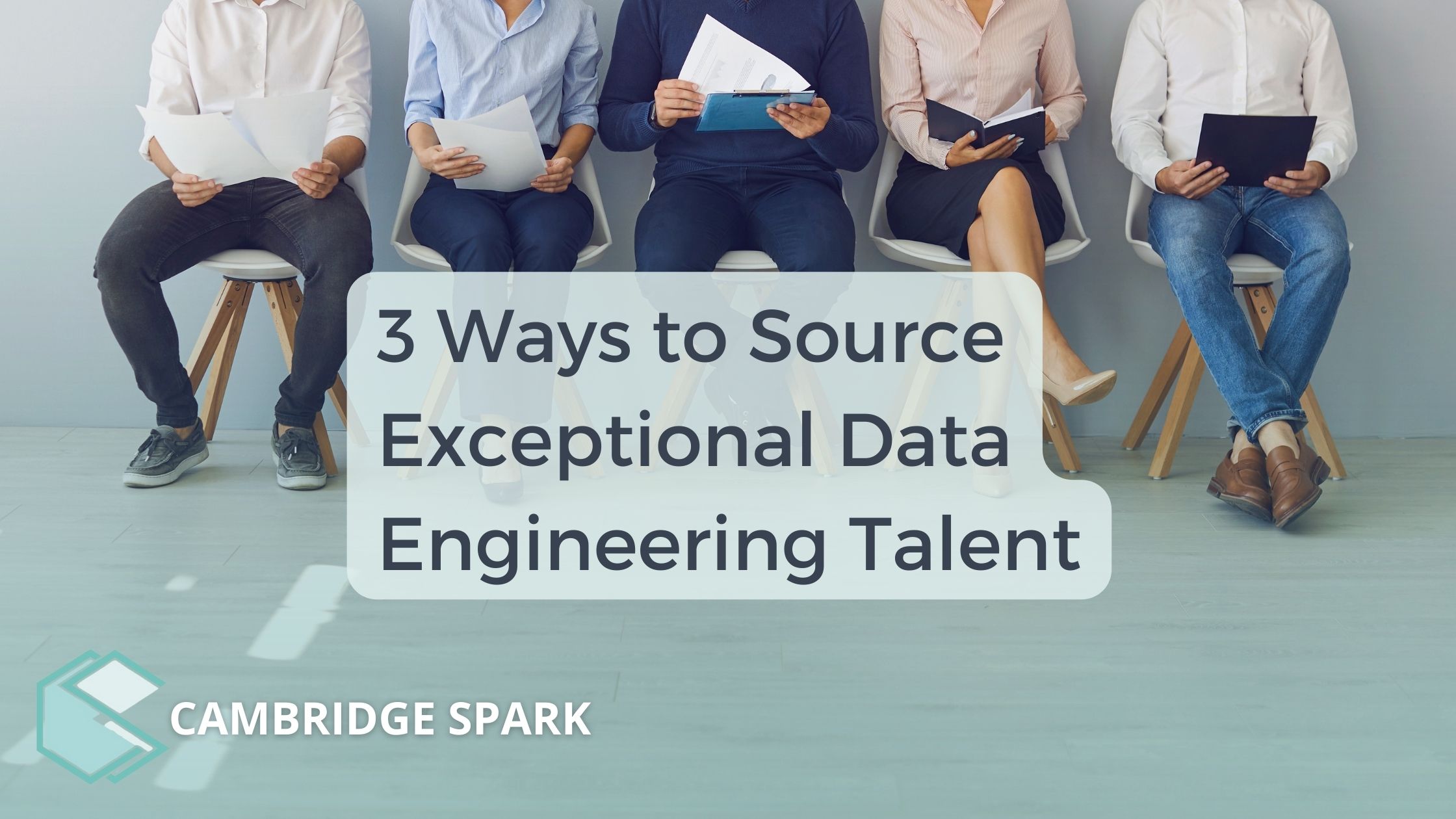 In our recent article The Hidden Costs of Poor Data Quality, we discussed what leads to poor quality data and the detrimental effects it can have on your business both in terms of financial losses and impact to the inner workings of the organisation as a whole.
The solution to preventing these issues? Businesses must embrace a data-driven culture and invest in their data teams. Setting up a strong data architecture from day one is essential for guaranteeing a company's continuing data integrity. To help business departments build and maintain high-quality data analytics pipelines, this calls for qualified data engineers with the necessary technical and leadership skills.
But what's the best way to find the top talent you need? In this article, we'll look at three different ways to source exceptional data engineering talent for your organisation.
👉 RECOMMENDED READING:
Job boards
If job boards seem like an obvious choice to look for data engineering talent, that's because they are. According to LinkedIn, around 60% of job seekers use job boards to search for new positions. They appreciate being able to search through thousands of listings to discover exactly what they're searching for, and hiring managers value the time-saving features provided for discovering qualified candidates. Let's take a look at the pros and cons of job boards for employers:
Job board pros:
You can get access to a wide pool of talent - Job boards draw tens of thousands of applicants each month, so posting your position online makes a lot of sense. In posting detailed criteria for your job description on a job listing site, you will reach a wide range of professionals and find more prospects to meet your high standards.
There are numerous generalist and speciality boards available - In other words, to guarantee you obtain the right level of applicants you're seeking, you can advertise lower-level positions on the more generalist boards and more specialised opportunities on niche boards.
Job boards make things easier for potential employees - Candidates can register with a job site and then make several applications without having to continually upload the same information on multiple boards.
A low cost first port of call - Many job boards provide effective free services as well as premium features for efficient hiring such as matching technology that can identify qualified candidates and invite them to apply to your listing.
Job board cons:
Application overload! Job boards mean that applications are open to all. While this can be helpful, it frequently necessitates sorting through mountains of CVs from individuals who sometimes are not authorised to work in the country you are recruiting in for example, which takes time.

Bad leads -

The number of candidates that submit applications for positions for which they are ineligible may also be a problem. It can be annoying if you already have a backlog of applications, since some people treat the application process like a numbers game and submit as many as they can.

Difficult to assess technical ability -

Without a thorough interview process that involves an assessment aspect, it can be difficult to gauge if applicants are properly qualified.
Failing to identify passive candidates - If you only use job boards, you risk missing out on candidates who are not actively seeking employment, candidates who might be ideal for your company but are just out of reach. They may not be applying, but that doesn't necessarily mean they aren't open to the thought of moving for the appropriate job.
👉 RELATED READING:
Job recruiters
Another great option to find the right data talent is to enlist the aid of a specialist job recruiter. A good recruiter's role is to attract and vet potential candidates for a business. In addition to identifying top talent, they also provide a personal touch to the hiring process by proactively contacting job seekers when they believe there is an open position that matches their specific abilities, and expertise. Recruiters frequently serve as company advocates and collaborate with HR staff to fill openings.
Job recruiter pros:
Quicker hiring process - Recruiters reduce the time it takes to fill open job opportunities. You don't have to waste time attracting prospects and sifting through hundreds of profiles and applications in order to locate a few eligible ones. A recruitment firm will accomplish all of that while delivering only a few top applicants for your review.

Better quality candidates -

Recruiters can improve the quality of candidates in your hiring process. Recruiting agencies have a big talent pool of pre-screened and pre-referenced individuals. This means you'll only work with applicants who have been thoroughly evaluated and vetted. Also, any agency recruiter worth their salt will have received professional training in evaluating candidates, employing best-practice ways to distinguish true experts from good interviewees.
Industry-specific knowledge - Most recruitment companies specialise in hiring for a certain sector, position, or level. If you use a recruitment firm that specialises in sourcing data talent, they'll have better knowledge and a deeper understanding of that job market segment. As a result, the agency may offer you insightful information and practical guidance that will aid in identifying and selecting superior data individuals.
Job recruiter cons:
High costs -

It can get pretty pricey using a recruitment agency. Fees can often range from 20 to 30% of the employee's annual compensation. If you're looking to hire someone for a position that is difficult to fill, the cost of using a recruiting firm may increase even further. Anytime you wish to make a hire through a recruitment agency, you'll need to pay a certain charge.
Recruiters don't look for the best cultural fit - Recruiters tend to focus on sourcing people who are the best fit for a specific post or role in terms of their skills. They are, however, significantly less capable at determining cultural fit. The best recruitment companies will go above and above to learn about your company's goals, mission, vision, and values. Agency recruiters won't, however, ever have the same comprehension of and exposure to your company culture as your workers who work there every day.
Reduced chances to showcase your brand as an employer - In working with recruiters, you lose the chance to develop and own your company's employer branding strategy. Every stage of the hiring process offers you the chance to build, display, and promote your reputation as a top employer. With recruiters your employer brand will be promoted and sold to prospective employees by another party. Rather than having direct interaction with your organisation, potential applicants will establish their initial opinion of it based on hearsay.
👉 RECOMMENDED READING:
Upskilling your existing workforce with data engineering skills
So far this article has discussed how to source existing data talent in the jobs market. However, it has been well documented that a national data skills shortage has existed for some years, while the demand for skilled data workers continues to grow. For example, a report from Tech Nation found that over the past three years, 'data' has moved from the third to the most in demand skill across all tech jobs, seeing an explosive growth in demand of over 1000% from 2019 to 2021. In the face of existing talent shortages, how do you find the skilled data workers your business needs to thrive in a data-driven world?
In this increasingly tech-driven world, a company's capability for upskilling, or training and developing its personnel to increase their skill sets, generates a huge competitive edge. In other words, instead of looking for outside talent - look inwards and see if there's potential to upskill your current workforce with the skills your enterprise needs to thrive.
The pros of upskilling existing employees:
Cost effective in the in the long run -

Retraining or upskilling requires less capital than recruiting and onboarding a new employee - especially if your company makes use of government-funded apprenticeship programmes! Retraining your personnel results in a more diverse, cross-trained workforce and boosts team productivity. Newly upskilled existing workers can also apply their learning more quickly because they already know the ins and out of the company and don't need to spend time on onboarding or getting up to speed with domain knowledge.

Improves employee retention -

Employee turnover is expensive.

Gallup

estimates that the expense of replacing a single employee can be anywhere between one-half and two times the employee's yearly compensation. Accordingly, the annual costs associated with turnover and replacement for a 100-person company paying an average salary of $50,000 could range from $660,000 to $2.6 million. Nobody wants to work for a company that doesn't put enough effort into the professional development of its staff members. Upskilling your workforce demonstrates your concern for their prospects and careers while ensuring that their skill sets won't become obsolete.
Has a positive impact on company culture - Employees who have access to training and development opportunities are more satisfied in their jobs and have a more positive outlook on their future with the organisation. Reskilling your workers shows them the road to job advancement and makes them enthusiastic about what may come next. Knowing they're contributing to something that will improve their life gives them a stronger sense of purpose.

Attracts more talent down the line with in-house brand advocates -

If your business is successful, you will most likely require new talent to supplement your experienced, upskilled employees. Employees that have a sense of purpose with their firm and are satisfied with their work become stronger brand advocates. That implies they're more inclined to suggest your company to their friends, former coworkers, and family members. When it comes time to increase your team, you suddenly have a large pool of diverse talent to pick from.
The cons of upskilling existing employees:
Possible time investment -

Depending on the type of data training you're seeking for your employees, upskilling internally can require a significant chunk of time. However, with a proper upskilling strategy in place, you can mitigate a lot of the associated downsides. For example, our data science apprenticeships incorporate on-the-job learning which means that employees can directly put their new skills into practice as they move through the course.
Talent poaching - Once an employee has acquired the latest cutting edge data skills, your competitors are going to take notice and your best workers might become targets for head-hunters. However, it's easy to mitigate this risk if your employee's new skills are reflected in their compensation package and they feel like a valuable asset.
Resistance to change - When workers are upskilled, it inevitably means that they will have to perform tasks in a new way in the future. Sometimes individuals, especially those who have done things a certain way for a while, might exhibit resistance to this. However, given that upskilling initiatives are usually elective, it's unlikely that an employee opting to take part in training would reject change.
👉 RECOMMENDED READING:
Want to learn more about how you can internally upskill your workforce with the latest data skills?
As a leading AI and data science capability partner, here at Cambridge Spark we offer multiple training and apprenticeships programmes designed to upskill your employees to be able to handle all aspects of your company's data architecture.
As discussed above, to ensure business divisions can build and maintain high-quality data analytics pipelines from the get-go, qualified data engineers with the relevant technical and leadership abilities are required.
Our recently developed Level 4 Data Engineer Apprenticeship equips learners with the technical and leadership abilities required to support business departments in the construction and maintenance of data analytics pipelines. Learners gain the skills needed to increase data usability in their organisation by using the Level 4 Data Analyst apprenticeship standard. After completing the apprenticeship successfully, learners will be able to:
Understand the data engineering lifecycle and the role of a data engineer
Develop the technical skills to create and maintain data analytics pipelines
Understand the fundamentals of data modelling, its best practices and why it is important
Effectively work with stakeholders to define and translate business requirements to a data model and data pipeline
Train new talent and reskill existing employees with one of the most in-demand technical skill sets
Develop key internal capabilities to increase the usability of critical datasets in your organisation
If you're interested in finding out more about how our programmes could help your organisation, please fill out the form below. A member of our team will contact you with more information on how to get started.

Enquire now
Fill out the following form and we'll contact you within one business day to discuss and answer any questions you have about the programme. We look forward to speaking with you.