Top 10 FAQ's Employers have About the Data Analyst Apprenticeship
Cambridge Spark - Data Science Courses /
March 23 2020 /
5 minute read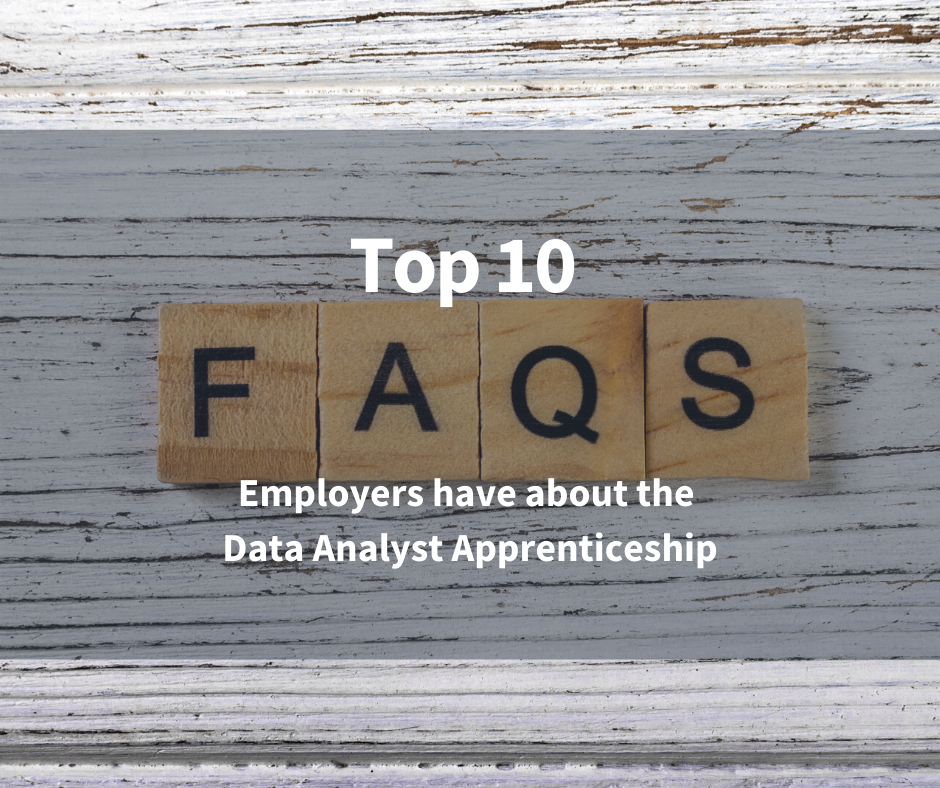 The Apprenticeship Levy is making it easier for companies to upskill their employees with the tools and knowledge to succeed in today's market. With a

Data Analyst Apprenticeship (Level 4)

, your staff will learn how to collect, manage and analyse data to provide actionable insights for your organisation.
We've put together 10 of the most frequently asked questions employers have about the apprenticeship - from what's involved, to how to enrol your team, and what happens if an apprentice leaves your company before the end of the programme.
1. How long does the apprenticeship run for?
The Data Analyst Apprenticeship (Level 4) typically runs over 14-24 months, depending on the training provider. 24 months is standard, but some training providers offer accelerated intensive courses to help companies fill the skills gap faster.
2. What does 20% off-the-job training mean?
Apprentices will spend 20% of their working hours on off-the-job training. The training can be delivered on a flexible basis, for example, as a part of each day, one day per week, one week of five or as block release.
Some employers may find this concerning, but apprenticeships are about upskilling individuals and that takes time. But most employers and apprentices find the off-the-job training to be invaluable for improving productivity and accelerating learning.
Off-the-job training doesn't mean the apprentice will spend a lot of time away from the workplace. Off-the-job training can take place in the apprentice's normal workplace and will just mean they will need to be doing things that aren't part of their usual role during that time. This is in addition to any instructor-led in-person or virtual learning sessions that make up part of the course, which often take place outside of working hours on evenings or weekends.
The key thing to remember is that apprentices will still be working while they learn. You can support apprentices to do this by creating a learning culture that embraces apprenticeships.
Progress reviews and on-programme assessment do not count towards the 20% off-the-job-training.
For more information about off-the-job training from the UK Government, click here.
3. How involved do managers need to be throughout the programme?
There is no official obligation for managers to get involved with the apprenticeship, aside from signing contracts. However, we recommend that they take an active involvement to support learners so that they get the most out of the programme.
We advise that managers should have regular one-to-one meetings with the apprentice to catch up on what they've learned and the plans for the coming weeks.
At Cambridge Spark, we encourage managers and apprentices to have one-hour meetings every month throughout the duration of the programme. We also encourage managers to join the apprentice and their coach for 30 minutes every 3-4 months for a general catch up in regards to the programme.
4. What's involved in the end point assessment (EPA)?
There are a number of elements involved in the end point assessment (EPA):
BCS knowledge module exam - in-person assessment

Employer reference - the apprentice's manager must provide this, and the training provider will explain what this needs to include and give you a template to use

Portfolio of projects - the apprentice will provide 4-6 projects demonstrating the use of skills learnt during the programme, which the training provider will supply guidelines for

Functional Maths & English exams (only need to be taken if the apprentice doesn't have GCSE Maths & English of C grade and above) - completed remotely
The above will need to be reviewed together with the manager, apprentice and training coach. The training provider will then submit this to the BCS.
The apprentice will also need to complete a Synoptic project, which will be conducted at an external location and supervised by the training provider. The apprentice will need to take five days off work in one block to complete this part of the assessment.
A final professional discussion will then be completed remotely by the BCS, typically over a webinar. This will be a discussion around the apprentice's knowledge and a review of everything that has been submitted. The manager is not required to attend the discussion, but they will need to provide an employer reference.
5. Who is eligible for the apprenticeship?
As the employer, you'll set the selection criteria. This could include one or more of the following:
Five GCSEs and / or A levels

Level 3 apprenticeship

Other relevant qualifications or experience

Aptitude test with a focus on functional maths
You can enrol both new and existing full-time employees onto the programme. There is no limit to how long an individual has been employed in a role before joining the apprenticeship - unless of course you choose to set this limit yourselves.
If an individual already has programming experience, they would be eligible for the new Artificial Intelligence (AI) Data Specialist Apprenticeship (Level 7) which covers more advanced machine learning.
Interested in learning more? Have a look at our L4 Data Analyst Apprenticeship.
6. What job roles is it best suited for?
The apprenticeship is best suited for roles that require working with data on a regular basis.
Some examples of job roles that would qualify are:
Data Analyst

Marketing Analyst

Insights Analyst

Business Analyst

Financial Analyst

Data Scientist

Data Engineer

Data Manager

Data Modeller

Human Resources Manager

Marketing Manager

Finance Manager

Accountant
7. Can we use the Apprenticeship Levy?
If your company is paying into the Apprenticeship Levy, then those funds can be used for training on approved apprenticeship schemes, including the Data Analyst Apprenticeship (Level 4).
All organisations with an annual staff salary bill of over £3 million pay 0.5% into a ring-fenced Apprenticeship Levy pot, collected monthly by PAYE. This money then be clawed back and used for If you are unsure whether this applies to your company, talk to your HR or Finance Director to find out if you are paying into the levy.
If your company does not pay into the levy, i.e. has an annual staff salary bill of under £3 million, then you can still enrol new and existing employees onto the apprenticeship for 5% of the costs (maximum £750 per apprentice), with the government funding the bulk 95% of the cost.
8. When is the deadline to spend the Apprenticeship Levy funds?
Funds that aren't spent within 24 months after they enter your Apprenticeship Levy pot will expire. So if you received your funds in January 2020 you have until January 2022 to spend them.
If you choose not to spend the full amount, you can transfer up to 10% of your levy to other employers if you wish.
9. What happens if the apprentice chooses to leave the company during the programme?
If an apprentice chooses to stop working for your company before the end of the programme, they effectively withdraw from the apprenticeship. In this instance, the employer must notify the training provider that the apprentice has left and stop payments through their apprenticeship service account. This includes where the apprenticeship is funded by a transfer from another company.
10. How do we enrol staff on the Apprenticeship?
Once you have chosen a training provider and reached out to them, you will need to confirm that you are happy for the apprentice to spend 20% of their working hours on off-the-job training and whether or not your company pays into the Apprenticeship Levy.
The training provider will then need to check the eligibility of the candidate. As part of this process, the apprentice's manager will need to fill out a survey to assess the competencies of the candidate against the apprenticeship standard.
After the eligibility of the candidate has been confirmed, a few more minor checks need to be completed with your HR team, for example around Health & Safety.
Once all checks have been carried out, contracts can be signed to complete the enrollment process. These will include:
A contract of services - to be signed by your HR team

Apprenticeship agreement - to be signed by the employer and the apprentice

Commitment statement - to be signed by the manager, apprentice and the training provider
Enrolling your staff on the Data Analyst Apprenticeship (Level 4) will help you build the internal capability your organisation needs to transform all the data you generate into actionable insights that can benefit your business.
Virtual/Remote Learning Capabilities
At Cambridge Spark, our innovative virtual learning solution is designed to support individuals and teams to upskill in data science and AI without leaving their home or office.
Our virtual learning sessions are supported by our proprietary AI-powered learning and assessment platform, EDUKATE.AI®, which enables learners to complete live-coding exercises and gain instant, personalised feedback to accelerate learning.
For more information about the apprenticeship programme we offer at Cambridge Spark, please get in touch.
Have a Look at Our Apprenticeship
Or to learn more about the benefits of apprenticeships and the full range of apprenticeships offered by Cambridge Spark, click here.