What do companies look for when hiring Data Science candidates?
Cambridge Spark - Data Science Courses /
October 18 2018 /
2 minute read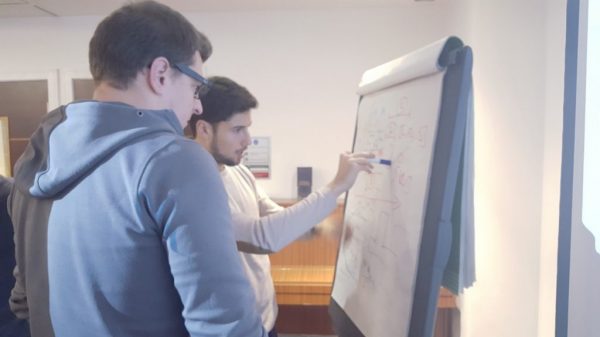 How can you get your first job as a Data Scientist? Our Applied Data Science industry project partners share some of the key characteristics they look for when hiring.
Insight from our Industry Project Partners
We want to see evidence that you are keen to take initiative, get involved and explore new ways of doing things. It's nice to have different perspectives inside teams when running a project, so have the courage to suggest a different approach to a problem and try new techniques. It's a very useful skill to bring to the table.
Kieran James Garvey, Lead, Regulation & Policy
Cambridge Centre for Alternative Finance
You should be able to talk about the different types of problems you've worked on. Then draw examples from your work experience that connect up with the missions of the business. For example, can one of the techniques you have worked with be applied to build a product useful for the customer of the company? This indicates you can adapt to different problems and put the models that you have used in a business context, which is one of the most valuable things we like to see.
Phil Cowans, CTO
Nested
When interviewing, I'm looking for evidence that you can directly contribute to domain specific problems. In our case, we need to see that students can take the Natural Language Processing, Machine Learning and data analysis techniques they have learned, then apply them to solve projects in the legal sector without hesitation. So ensuring you are confident in the techniques and why they work is important.
Peter Lee, Director
Wavelength. law
What's most important, is that you are able to understand the business problem — that's what it boils down to. In order to interact with clients, recommend the best algorithm and explain why you chose this approach. We also want to see that you have the motivation to learn outside of your day-to-day work, such as doing side projects and attending further learning bootcamps — showing that you try to learn new things everyday... You don't need to worry about having experience in all the company specific technologies, you'll pick these up as you go. We are looking for evidence that you have potential. Typically, if you come from a scientific or mathematical background that's nice, and have programming experience in Python and SQL. The latest project students get the chance to work on involves building a deep recommender system in the retail space. So prior exposure to TensorFlow and cloud technologies is a bonus.
Laxmi Prajapat
Datatonic
As a company we are interested in a range of data science and machine learning techniques, regression problems, probabilistic modeling and gaussian processes. We work with very large data sets, our satellites produce about 12 terabytes of data a day (that we are downloading from space if you will…). Another project involves running climate models on datasets with around 90 petabytes of data. So we are looking for database and programming experience, to see that you can handle this data to analyse and extract the patterns to help improve future predictions.
Scott Hosking, Global Climate Scientist
British Antarctic Survey
We are looking for data science creativity. Individuals who have to potential to grow with the company, come up with novel modeling techniques and do whatever they can to beat our company benchmarks. So if you have a get go attitude, programming experience (to interface with our data sets and platform specialising in time-series data) and are interested in experimenting with the latest technologies, then you will be a great fit.
Maksim Sipos, CTO
CausaLens
Quick note from the Cambridge Spark Team
It is evident that building a portfolio of relevant data science projects you can then talk about is an absolute requirement. However, one thing that often gets forgotten is "attention to detail", and this starts with your CV. To land your first interview, take the time to craft a well-structured, concise and professional CV. Unfortunately, if you fail to do that, you will not get that initial interview which lets you show off your story!
If you have any questions you want advice on reach out to our team at contact@cambridgespark.com — we would love to help.
Register for our bi-weekly Newsletter
We'll send you all the latest content, including eBooks, industry insights, tutorials, and more!