Data Science Interviews: Cytora on Hiring
Cambridge Spark - Data Science Courses /
March 01 2019 /
4 minute read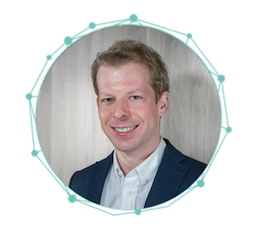 An interview with Aeneas Wiener,
CTO and Co-Founder, Cytora
Welcome back to the Data Science Interview series!
Previously we interviewed FiveAI to gain insight into what they look for when hiring. Continuing with the series, in this article we interview Aeneas Wiener, CTO and Co-Founder of Cytora, to:
Learn more about the company
Give our communities some insight into what Cytora look for in candidates when hiring
Enable our communities to gain an edge on the competition during the hiring process by outlining some handy tips
Outline tips for getting started in Data Science
The interview

Q: Tell us about yourself
A: "I'm currently the CTO at Cytora. I started my career in technology during the dot-com boom and have been excited to apply technology to achieve magical outcomes ever since. Prior to my role at Cytora, I was simulating the interaction of light with metals shaped on the nanometer scale, for applications in invisibility cloaking."
Q: What does your typical day look like?
A: "At Cytora, we are now a team of 65 and growing rapidly. Most of my time is spent with our customers understanding how they are using our products inside some of the worlds largest (and oldest) insurance companies, interviewing candidates for our technical teams (spanning core/platform engineering, data engineering, data science, and actuarial roles), and helping our teams to solve high impact technical problems."
Q: Could you tell us a bit about Cytora?
A: "Cytora was founded against the backdrop of the Arab Spring, with a mission to use external data and machine learning to better quantify and predict risk in the world. The initial focus was on analysing political risks.
"Two years ago we pivoted the company to focus specifically on the insurance industry, where risk quantification is a core part of the product and even small improvements translate into massive economic and societal benefits."
Q: What skills/competencies do you typically look for in a candidate applying for a Data Science-related role?
A: "We look for product and customer centricity combined with the pragmatic use of technical skills. Typically we find this in people who like to ship things early and then iterate based on a tight feedback loop with the customer."
"As we are a fast-moving young company that is capturing a market there is no time for lengthy academic investigations, instead, we focus on what is resilient and provides our customers measurable value."
Q: What level of preparation would you expect from a candidate?
A: "We expect candidates to know a little about Cytora and be able to explain why working here would be a good fit for them. We also look for a basic understanding of the insurance industry and foundational methodologies in risk pricing."
Q: How can candidates evidence the technical skills you typically look for?
A: "This is in two buckets: Experience, and on the spot problem-solving. We have a bias for experience, talking through what the candidate has actually done when they solved technical problems and when they worked with others in the past.
"We also look for good communication and lateral thinking: for example, an excellent candidate would tell us about their past education/work/project history, and proactively relate this to the domain of Cytora and how their experience might help us if they joined."
Q: How do assess someone's right for Cytora and its culture?
A: "In our interviews, our intention is to get to know candidates motivations and preferences to understand if they would thrive in our unique environment, described by Cytora's four core values":

1. Start with the customer
"We consider the customer first, developing a genuine understanding of their world to ensure we build useful products that deliver measurable value."
2. Ship fast and iterate
"We move fast. The sooner we ship the faster we learn. Speed will define our success - perfection comes later."
3. Impact, not ego
"We work with humility and empathy. We prioritise what is right for the company, regardless of the task or glory associated with it."
4. Slay dragons
"We work together to attack the most valuable problems, bravely and decisively. We ignore low impact problems to focus on what's important."
Q: Is there anything candidates should bear in mind at and after interviews?
A: "We look for authenticity in candidates. Be yourself and try to be relaxed, think of the interview as just another technical problem-solving discussion with a friend or colleague. After all, what we are really doing is making up our minds if we would like to work next to you and entrust you with some of our most mission-critical problems.
"Take time to think and take initiative, e.g. by using a whiteboard if you need to, or directing the conversation into areas you think are most relevant. Following up after the interview is always a nice touch, especially if there are things you forgot to say or links/comments that you think would be useful to our interviewers."
Q: Do you have any tips for aspiring Data Scientists?
A: "I recommend staying current with the latest trends and tools, e.g. by reading Hacker News (especially some of the high-quality insider comments that give context to the technologies posted about.) Another good newsletter to follow is Data Machina.
"With that said, try not to get dazzled by the barrage of tools and methods people are talking about, and realise that at the end of the day most problems can be solved to 80% with a handful of methods and tools that have been around and battle-hardened for decades."
Q: Final question, are you hiring at the moment?
A: "Absolutely, see our careers page."
"Don't be limited by what is posted publicly. If you think you have skills that are relevant to Cytora's mission do get in touch as we especially welcome people who are entrepreneurial enough to submit proactive applications."
Register for our Bi-weekly
Data Science & Machine Learning Newsletter
About Cytora
Insurance is vital to the economy, giving businesses the confidence to realise their ambitions in the face of uncertainty. But the underlying systems that insurance is built on are failing to serve the needs of society today, leaving businesses vulnerable to risk.
Cytora is building the new foundations for commercial insurance, enabling insurers to underwrite more accurately and deliver fairer prices to their customers. Our goal is to elevate the insurance industry to a new standard where insurance is simple, fast, and transparent, built on a foundation of tractable data.