Cambridge Spark

Awarded "Good" Inspection Result from Ofsted
Cambridge Spark /
April 19 2023 /
2 minute read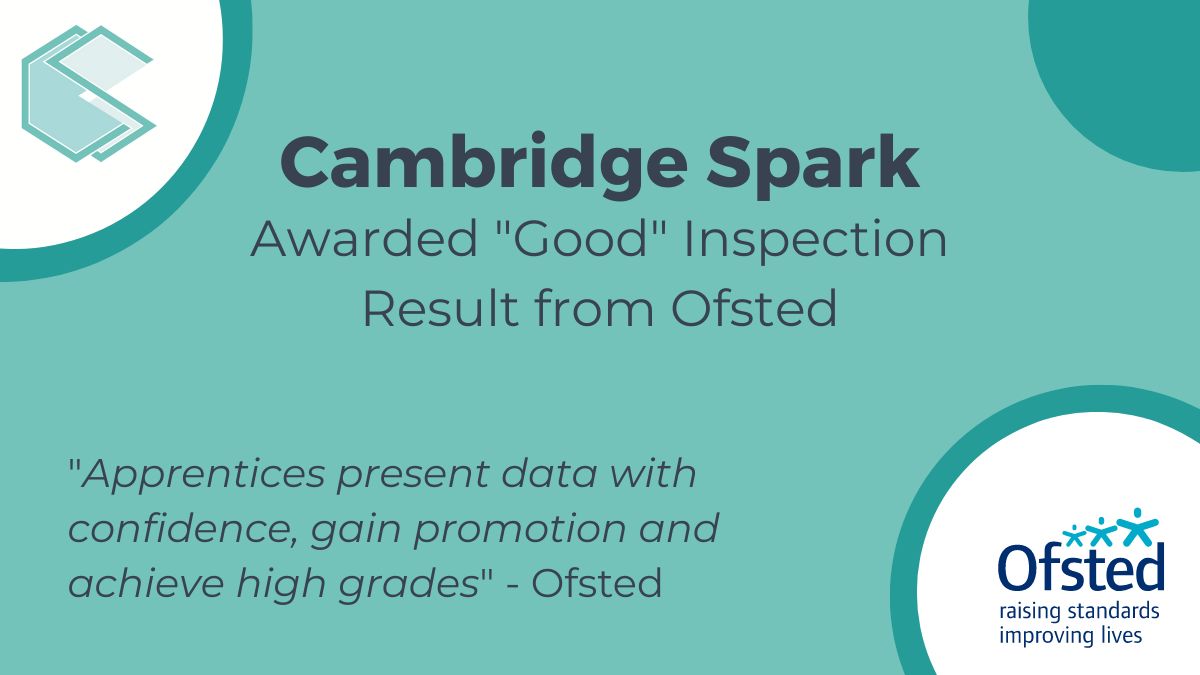 We are pleased to announce that Cambridge Spark was recently awarded a "good" inspection result from Ofsted, the Office for Standards in Education, Children's Services and Skills. Ofsted noted: "apprentices develop the skills and knowledge they need to succeed in their sector and make a valuable contribution at work."
Ofsted is a government agency responsible for inspecting and regulating educational institutions in the UK.

The inspection was conducted in accordance with Ofsted's Education Inspection Framework, which evaluates the quality of education, training, and personal development provided by educational institutions. Cambridge Spark received an overall rating of "Good," indicating that it meets the standards for quality and effectiveness in education and training.

The report highlighted one of the areas of apprenticeships we're most proud of, which is supporting our learners' success and seeing them achieve high marks on their end-point assessment:
Apprentices receive effective support that prepares them well for their final assessments. For example, AI apprentices complete a detailed proposal to establish their project's viability before starting field research. They receive feedback from mentors outlining if the content of the project meets the required criteria. As a result, apprentices have the information they need to complete the final assessments. Many achieve high grades.
The inspection report also touched on some of the ways learners on our programmes benefit from the peer-to-peer collaboration:
Apprentices develop their confidence well as they progress through their training. Through mixing with others from different industries, apprentices increase their confidence in talking to new people from a range of backgrounds and vocational sectors. As a result of their increased confidence and skills, some apprentices gain promotion while on the programme and on completion.
One other area we are especially happy with is the acknowledgement of Cambridge Spark's ongoing investments in continuing to improve learner outcomes, such as through the development of the EDUKATE.AI learning platform:


They take effective actions to improve the outcomes that apprentices achieve. For example, leaders have invested significantly in a new online tool, increased staffing to support apprentices and redesigned their delivery model.

"I'm proud to see that the immense effort the various teams have shown has led to such a positive inspection result from Ofsted," said Dr. Raoul-Gabriel Urma, CEO of Cambridge Spark. "This report validates that hard work and is a testament to our relentless customer focus and commitment to continuous improvement."
------
About Cambridge Spark:
Cambridge Spark is an education technology company that enables organisations to achieve their business goals by educating their workforce in Data Science & Artificial Intelligence.
Cambridge Spark is the only specialist data science apprenticeship provider in the UK, offering a full-stack skills solution for data science at every level of an organisation.