Cambridge Spark Announces Data Awards 2023 Winners
Cambridge Spark /
February 13 2023 /
6 minute read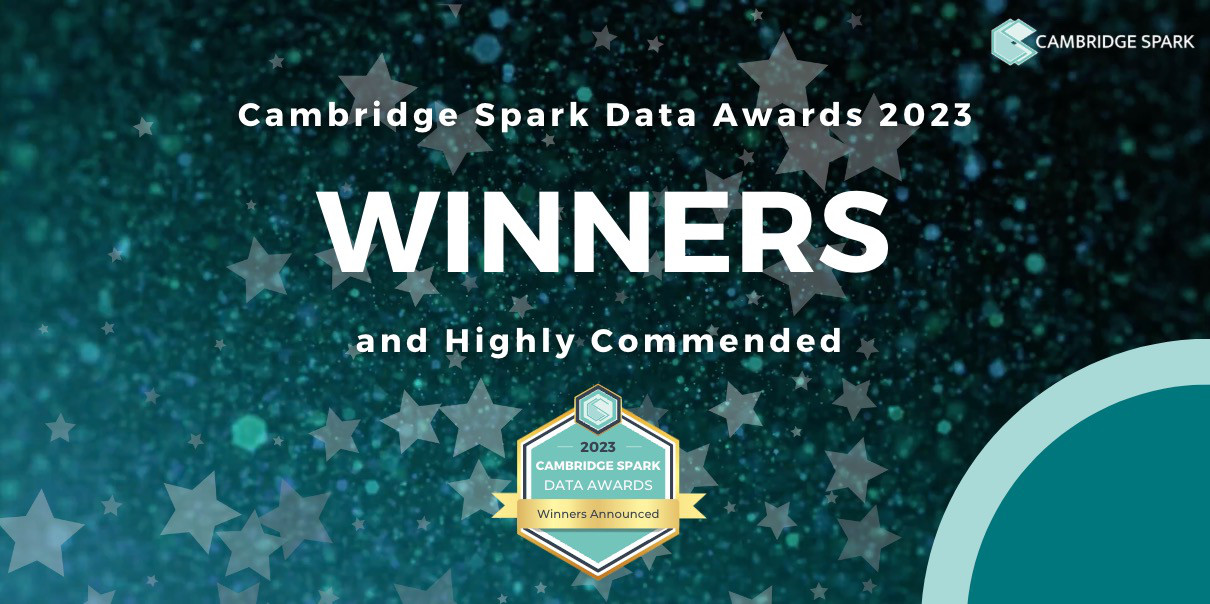 It's our great pleasure to finally be able to announce the results of the 2023 Data Awards. With more than 100 nominations across seven awards categories, choosing the standout individuals amongst so many accomplished nominees proved to be a real challenge for our judging panel. Recognising the outstanding work of our learners, we'd like to also honour our runners up as highly commended learners.
The winners represent the forefront of innovation and excellence in data skills development. And their achievements are a testament to their dedication and hard work. Here are this year's winner:
Knowledge Base Contributor of the Year
This award recognises learners who have made exceptional contributions to Knowledge Base, the forum on Cambridge Spark's online learning platform, EDUKATE.AI. Their participation in the forum has exhanced and enriched the learning experience of their peers in the programme.
Nominees have contributed to Knowledge Base in ways like helping peers troubleshoot their code, actively participating in discussions around problems and assignments, and illuminating new approaches and ways of understanding the curriculum.
Winner:
Isaac Adjei-Attah, Data Analyst at John Lewis
Isaac works as a Data Analyst at John Lewis Magna Park Technical Development. In collaboration with John Lewis's software development team, Isaac is helping to bring new approaches using machine learning to solve unique business problems. Isaac has also been creating awareness of the capability of AI through regular meetings with his colleagues.
Line Manager of the Year
This award is for an outstanding line manager who has demonstrated leadership qualities in supporting their apprentice to successfully complete a Cambridge Spark apprenticeship, helping them to become a successful data professional.

Nominees in this category showed outstanding leadership in ways like attending regular meetings to ensure apprentices stayed on track, creating the best conditions and environment possible for effective learning and proactively working with their apprentices to find suitable business cases or projects to apply learning. Nominees also championed and advocated for data apprenticeships and other professional development in their organisations.
Winner:
Ingunn Jones, Head of Data & Integration at Cambridge University Press & Assessment
Ingunn took an active role in supporting her apprentice's participation in their programme--from encouraging their application and adjusting projects and workload to ensure time for off-the-job learning, to attending gateway review meetings and serving as a governance board member for the apprentice's final project.
Additionally, Ingunn acts as mentor for data apprentices outside her own team, and seeks out opportunities for apprentices to put their data skills to good use in the organisation. She is currently promoting a "hothouse" approach to developing practical applications of data science and machine learning within Cambridge University Press & Assessment.
Data Champion of the Year
This award is for an individual who has made outstanding contributions and led voluntary data initiatives either inside or outside of their work, such as community events, talks, hosting networking meet-ups, telling their story online, volunteering, etc.

Nominees in this category volunteered their time and data skills to projects, including building tools to help their fellow learners on programme, cutting a project timeline by 6 months and aiding biodiversity efforts aimed at re-introducing locally extinct animal species.
Winner:
Zawadi Machibya, Broadcast Journalist/Producer at the BBC
Zawadi worked with data on early pregnancy and school dropouts in Tanzania, using visualisation techniques to bring the story to life in the media. The government in Tanzania has announced that they will start to enrol young mothers back into education. She's also pushed an initiative within her team to enhance and authenticate news stories with impactful data.
Highly Commended: Laziz Turakulov, Big Data Open Source Engineer - Azure Rapid Response at Microsoft
Laziz applied his data skills to build a biodata simulator in Python to measure "normal" and "abnormal" heart rates, body temperature and other biometrics data of endangered species to be used as part of a biodiversity project. His simulator may improve accessibility for analysis and research by a wider community of volunteers who can provide sustainability practitioners with actionable insights.
Future Data Leader of the Year
The award is given to an individual who has demonstrated outstanding commitment and achievement in their work, through their quality and professionalism stands out in their organisation as a high performer in data & AI and exemplifies strong standards expected of a future data leader professional.

Nominees in this category drove thousands of hours in time savings, identified millions (£) in potential working capital efficiencies, pioneered visual dashboards for clearer reporting and led the way in their organisations adopting data-driven decision making and problem solving.
Winner:
Jonathan Wagstaff, Director of Market Intelligence at DCC Technology
Jonathan saved his company thousands of hours through automations with Python and improved process accuracy to nearly 100% by removing human error. He has driven the adoption of machine learning into supply chain operations where they have seen millions of dollars in working capital improvement and better product availability as a result.
He also established the company's first independent data science infrastructure and management systems and has championed data as the starting point for all strategic decision-making in the boardroom, building out a community of dozens of data specialists across the global business.
Highly Commended: Jamie Kavanagh, Insight Analyst at Oxfordshire County Council
Jamie has developed tools to help understand and improve the impact of public services on marginalised groups and protected characteristics. He is also working to create an equalities 'round-table' with leaders from across his council to discuss using equalities data in all aspects of their service delivery.
He is also aiding EDF energy and Oxfordshire iHub in the analysis of EV charging technology data, which will allow residents to use their EVs to power their homes, helping with the cost of living crisis.
Data Citizen Apprentice of the Year
This award is for a Level 3 Data Citizen or Data-Driven Journalism Apprentice who has developed data fluency skills enabling them to become more productive, use data in their daily work and make an impact on their organisation.

Nominees in this category brought both improved patient outcomes and greater marketing performance to the healthcare organisations they've worked at. Their achievements include identifying at-risk patients, uncovering £250,000 in potential annual revenue for GPs across North East London and saving about 182 hours per year by automating reporting.
Winner:
Stephanie Parrott, Marketing Analytics and Insights Manager at HDR UK
Stephanie implemented a robust analysis of registered users of the HDR UK Innovation Gateway, leading to 600 new registrations in one year. She also used data from HDR's newsletters to improve subscriber engagement and from HDR's website to increase the time users spend on the site.
These achievements led to her promotion to senior manager for marketing and user insights within a year and provided her with a skillset that supported her move to a new role as marketing analytics and insights manager at Google DeepMind.
Highly Commended: David Davy, Advanced Biomedical Scientist at Cambridge University Hospitals NHS Trust
David is building a Power BI dashboard to provide laboratory feedback with key data, such as workload and turnaround time, helping treat a disorder in patients called neonatal jaundice. He's also using his data skills to streamline quality control processes in the lab.
Data Analyst Apprentice of the Year
This award is for a Level 4 Data Analyst Apprentice who has applied the skills taught in the apprenticeship (e.g. Python, SQL and Power BI) to make a positive impact in their organisation.

Nominees in this category have brought real business impact to their organisations, including saving 60 hours per month by automating data processing and reducing customer wait times by 95%.
Winner:
Max Adcock, Data Engineer, Utility Warehouse
Max has combined his data skills with deep business knowledge to improve several key customer journeys, build ETL flows to ingest 3rd party data (for example, to monitor Trustpilot reviews) and had a leading role in the engineering efforts to implement cutting-edge NLP models in production to enable product teams to prioritise development efforts better.
The impact of his work has been recognised by two promotions since starting the apprenticeship and his ongoing work to optimise the data models has already resulted in notable cost savings for UW.
Highly Commended: Dorota Kowalska, Reliability Engineer at easyJet
Dorota automated multiple reports using PySpark, SQL and JavaScript to free up time otherwise spent on manual data processing.
She also completed some 150 reliability studies over 15 months and is now actively training her colleagues in the workplace on the basics of data analytics.
AI & Data Science Apprentice of the Year
This award is for a Level 7 AI and Data Science Apprentice who is trailblazing data science, machine learning and AI in their organisation.

Nominees in this category have achieved tangible impact for their organisations, such as £8.5M in annual profit, reducing data processing time by 92% and growing lead generation from 8.2 to 105 leads per hour.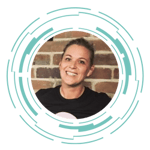 Winner:
Elle Neal, Data Scientist at BPA Quality UK
Elle drove an impact with data within 3 months of starting the course.
She has used her learnings to model customer satisfaction, automate processing for research data and empower learners by using AI to generate work-based project ideas.
Highly Commended: Martyna Jones, E2E Flow Transformation Manager at Marks and Spencer
Martyna has been involved in creating strategic transformation projects, for example, activities related to the profitability of clothing products. She was also promoted twice within 1 year of starting her apprenticeship and has mentored and created opportunities for colleagues on the programme to deploy their new data skills at work.
We'd like give another heartfelt congratulations to all of our award winners, highly commended learners and other nominees for this year's Data Awards! We look forward to all of your amazing accomplishments in the coming year. And thank you again to our panel of judges for your support and due diligence in the selection process.