Data Science Interviews: FiveAI on Hiring
Cambridge Spark - Data Science Courses /
October 17 2018 /
3 minute read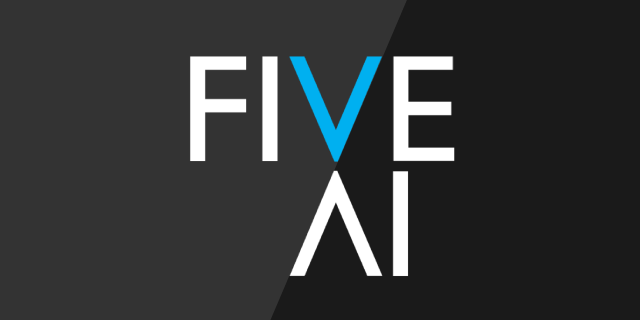 This interview forms the first part of an ongoing series which will provide insight into the Data Science sphere, including how diverse cross-industry roles are, applications of Data Science across different sectors and more insight into the hiring process to facilitate aspiring Data Scientists awareness and preparedness entering the field, in addition to our existing 'Getting Started in Data Science' guide.
For the first addition to the series, we interviewed an expert at FiveAI to, firstly, get some insight into the groundbreaking organisation that's been making waves with its advancements in self-driving car technology, secondly, what they look for when hiring and, finally, what're their tips for aspiring Data Scientists.
To give you a taste of how impressive this British startup is, here's a selection of recent articles they've been featured in over recent weeks…
FiveAI to start a trial of its shared autonomous car fleet in London in 2019
After raising $35 million to develop driverless car technology and a strategy to build a fleet of shared vehicles, UK…techcrunch.com
This British startup thinks it has a crucial competitive advantage over Google, Uber, and Apple in…
Driverless car startup FiveAI is putting bright blue cars on the roads of South London to gather data to inform its…uk.businessinsider.com
FiveAI fleet blazes a trail for driverless taxis
A startup that hopes to bring the first driverless taxi service to Britain has deployed a fleet of sensor-laden cars to…www.thetimes.co.uk
The interview
Q1: Tell us about yourself!
Hello! I'm Sebastian Kaltwang — a Research Scientist at FiveAI. I work on Computer Vision and Machine Learning systems for autonomous vehicles.
Q2: What does your day-to-day role look like?
My focus is on improving our object detection system. Day-to-day, you'll find me writing and reviewing code. Collaboration and teamwork are key too, so on a typical day I might have a couple of meetings. Everything I produce must fit into the wider data pipeline — my teammates and I need to be in constant contact with our 'producers' (the sensor team in Bristol) and our 'consumers' (the planning team in Edinburgh and the visualisation team in London).
In short, it's a mix: great communication is just as important as understanding complex problems quickly and working on code.
Q3: Tell us a bit about FiveAI
FiveAI is a well funded, UK company with 6 offices: London, Cambridge, Oxford, Bristol, Edinburgh and Millbrook. Safe, self-driving cars are one of the biggest research and engineering challenges of our time. We're using the power of autonomy to transform Europe's cities, for everyone. We're bringing together the best minds in AI, engineering and mobility to deliver a fully autonomous shared transport service. The benefits will be huge and wide-ranging — for cities, transport, the environment, safety, access and lifestyle.
We're working with the right experts and regulators to create a plan for a service that means, soon, communities will be able to share self-driving vehicles and get access in minutes, on demand. People will travel together, to reduce congestion and pollution. This safe, affordable, accessible shared service will complement existing transport in our cities.
Day-to-day, we're a team of smart, humble people working hard to solve exciting problems. The FiveAI team is growing fast. We've grown 5x in the last year and we're welcoming new people from a broad range of backgrounds every week.
Q4: What skills or competencies do you typically look for in a candidate applying for a Data Science-related role?
We're always looking for talented research scientists and engineers, from all backgrounds and at all levels. General software engineering experience is a must. More specifically, we use Python, C++, C, and CUDA. As for tools, we use ROS, Tensorflow, keras, and OpenCV. We look for Machine Learning and/or Computer Vision experience. If you have a publishing record, that's great to hear too.
We also recognise the importance of being a great communicator and collaborator. We work in multidisciplinary teams that interconnect, so it's important to keep sharing what's going well and what needs improvement.
Q5: How do assess if someone's right for FiveAI and its culture?
Talented. Humble. Resilient. Curious and, of course, interested in autonomous vehicles. Excited by FiveAI's mission. Collaborative. And friendly!
Q6: What level of preparation would you expect from a candidate?
Ideally, little preparation is needed. It's important to be yourself to help us find the right fit within our growing team.
I'd recommend brushing up on writing code for small algorithms and reading up on the latest thinking in Machine Learning and Computer Vision. Practicing how to describe your recent projects is a good idea too.
We also recommend you take a look at our website and social media channels, and read some of our latest blog posts to get a deeper sense of who we are and what we're up to.
Q7: Do you have any tips for aspiring Data Scientists?
Two words: stay curious. Our industry is moving forward fast, so we need to stay ahead. I recommend practising with real data, experimenting with different methods and evaluating them as you go.
Q8: Now for the final question… are you hiring at the moment?
We are! If you're interested in joining the team, please take a look at our current roles. Or feel to get in touch — email talent@five.ai
Credit: We thank FiveAI for the time taken to directly contribute towards enabling a new generation of Data Science experts achieve their career aspirations.
Register for our bi-weekly Newsletter