How data analysts are adding value to businesses in every sector
Cambridge Spark /
April 19 2022 /
5 minute read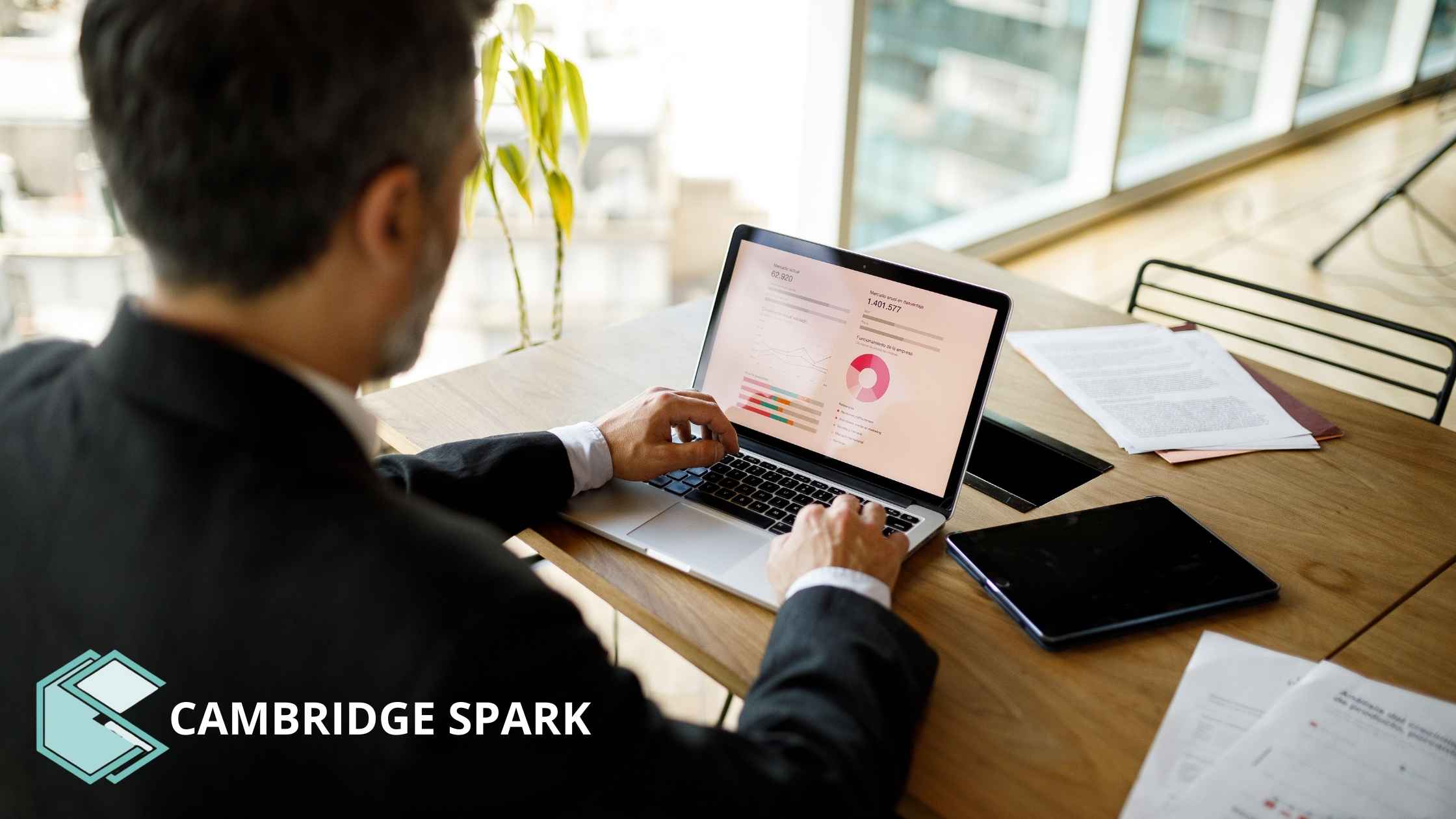 Data analysts are in high demand across all sectors as more and more businesses are working to harness their data to provide actionable insights.
In this blog post, we take a look at the role and value of a data analyst, and how they can benefit businesses in a wide range of sectors.
What does a data analyst do?
The primary role of a data analyst is to help businesses make more informed decisions. Drawing on techniques from a range of disciplines, including mathematics, statistics and programming, data analysts will collect, organise and study data to provide a business with valuable, actionable insights.
The typical responsibilities of a data analyst include:
Extracting and wrangling data from various sources and databases
Interpreting data and analysing results using statistical techniques
Creating data dashboards that can be interpreted across the business
Monitoring and auditing data quality
Automating tasks and streamlining processes to improve efficiencies
How data analysts add value
Roughly 80% of all data is unstructured, and this creates a challenge for organisations who want to use data to help them make business decisions.
This is where data analysts add most value.
They can extract and manipulate data from multiple sources to provide immediate, actionable insights that help companies make better - and faster - decisions. For this reason, they usually work very closely with executive teams.
The value of a great data analyst
A skilled data analyst can be a real asset, bringing the following valuable elements to a business:
Speed - data analysts can reach meaningful conclusions from various sources of data in real-time
Data storytelling – data analysts can summarise interesting facts and provide illustrative data for inspiration
Visual presentation - data analysts can create clear graphs and charts to display data so everyone in the business can easily interpret and understand it
Industry knowledge - data analysts can quickly become domain experts with deep knowledge of the industries and markets in which they operate
We work on data sets with over 100,000 rows in Excel, which can be incredibly slow. I'm writing a Python script to conduct data manipulation to speed things up now that I have learnt to do it using Pandas."

Data Analyst Apprentice, GSK
Data analysts vs data scientists
Data analysts are different from data scientists. While a data analyst can draw meaningful conclusions from various data sources, a data scientist can forecast future trends based on past patterns and may be engaged in long-term research and predictions.
The data analyst role is often a stepping stone into data science. But data analysts are by no means subordinate. In an article for Harvard Business Review, Cassie Kozyrkow writes,
Far from being a lesser version of the other data science breeds, good analysts are a prerequisite for effectiveness in your data endeavors. When in doubt, hire analysts before other roles….. Of the cast of characters mentioned in this story [data scientists, statisticians], the only ones that every business needs are decision-makers and analysts."

Cassie Kozyrkow
As technology has advanced, data science and AI have become popular buzzwords. But data analysts sit at the core of data-driven businesses. Without someone who knows how to wrangle and interpret it – data is just data.
Skills that benefit every sector
The skills that data analysts have aren't only relevant to certain industries. Nor are they just for data-specific departments. Here's how data analysts can help across a range of sectors and functions.
Sales & Marketing
Data analysts can conduct sophisticated analysis and build models to enable sales and marketing teams to achieve their objectives, including:
Analysing and identifying the best times to promote products, based on peak demand times
Gaining a better understanding of the buying journey, from first point of contact to close of sale
Creating sophisticated market segmentation models, based on customer behaviour trends
Netflix are a great example of a brand using data analytics to improve its service. We're all familiar with how the streaming service collects and analyses behavioural data to create a better experience for users, by providing them with recommendations based on what interests them the most.
There are 33 million different versions of Netflix"

Joris Evers, Netflix Director of Global Communications
Banking & Finance
Data analysts can help banking and finance institutions by:
Analysing customer data in real-time to improve their experience and drive loyalty
Analysing large amounts of customer data to create personalised products and services specific to individual customers
Improving risk assessment through enhanced early-warning systems and data collection
Logistics & Operations
In the logistics and operations sector, data analysts can provide valuable insights that can be used to:
Streamline functions and allow supply chain transparency
Optimise delivery routes to drive efficiencies on running costs and time
Predict when peak periods will be so management can optimise labour levels
Enable more sophisticated monitoring of performance
UPS, for example, use data to optimise their processes and delivery strategies,
During the process of delivery, even after parking nearby, delivery man's phone GPS streams data to the UPS centre, giving a constant account of how long the delivery is taking. This allows logistics companies to see patterns that can be used to optimise their delivery strategies."
Manufacturing
Given the complexity of production activities that influence yield in this industry, manufacturers need a more granular approach to diagnosing and correcting process flaws. Data analysts can help by:
Developing improved insights, enabling management to make better decisions
Using correlation analyses to identify core determinants of process performance and inefficiency root causes
Using data visualisations to identify patterns to prioritise data collection and analysis
Developing machine learning models to quantify the impact of and optimal ranges for identified parameters
Volvo's data transformation, for example, was driven by the need to hone-in on real root causes of quality problems;
Data was leveraged to run detailed analyses of assembly line machinery to identify repeat faults and track problems down to the lowest level. This has resulted in bottom-up problem solving where issues can be ticked off one by one."
Life sciences/pharmaceuticals
Data analysts can identify and evaluate strategic opportunities within the life science and pharmaceutical market by:
Searching data sets of patients, scientific publications and clinical trials data to accelerate drug development
Identifying drug candidates and recruiting patients for clinical trials to accelerate drug discovery and development
Identifying trends and patterns to improve healthcare diagnoses and treatments

Energy
The energy sector collects enormous amounts of data on a continuous basis - from smart meters, grid equipment, weather data and more. All this data can be used to optimise power generation and planning. For example, by:
Analysing and predicting energy demand based on user data
Automating reporting to anticipate risks and respond faster to changes
Identify trends and patterns to reduce costs and lower carbon emissions
Schneider Electric were one of the early adopters of data in the market,
Benefits include the ability to automatically tune machine hyperparameters which helped operators increase efficiency by 10 to 20 percent in just two days."
High demand, short supply
Data analysts are important team members whose work plays a critical role in a company's bottom line. By being able to provide meaningful insights from data in real-time, they can guide companies towards making better decisions that will drive value for the company.
But despite the high demand for data analysts, they are in short supply. The latest Harvey Nash / KPMG CIO Survey found that analytics is one of the skills at the top of the skills shortage critical list – for the fifth year running.
To help bridge the gap, the Apprenticeship Levy scheme offers companies with an annual salary bill of £3m to upskill their employees in data analytics - for free. Companies paying less than £3m pay just 5% of the costs, while the government funds the rest.
At Cambridge Spark, our levy-funded Data Analyst Apprenticeship is open to full-time employees working with data on a regular basis who have no formal training in data analytics. The apprenticeship offers:
A fast-track programme to equip apprentices with practical data analysis skills, including Python
Suitability for people in roles where they are required to carry out data analysis, or for upskilling people into Data Analyst roles in HR, Finance, Marketing, Operations, Consumer Insights etc.
An entry-level course for beginner programmers and those with no previous programming experience
To learn more about how our apprenticeship can help you build your internal data analytics capabilities, please get in touch using the form below: