Introducing

our new Data Analysis Foundation Certificate
Cambridge Spark /
March 31 2022 /
2 minute read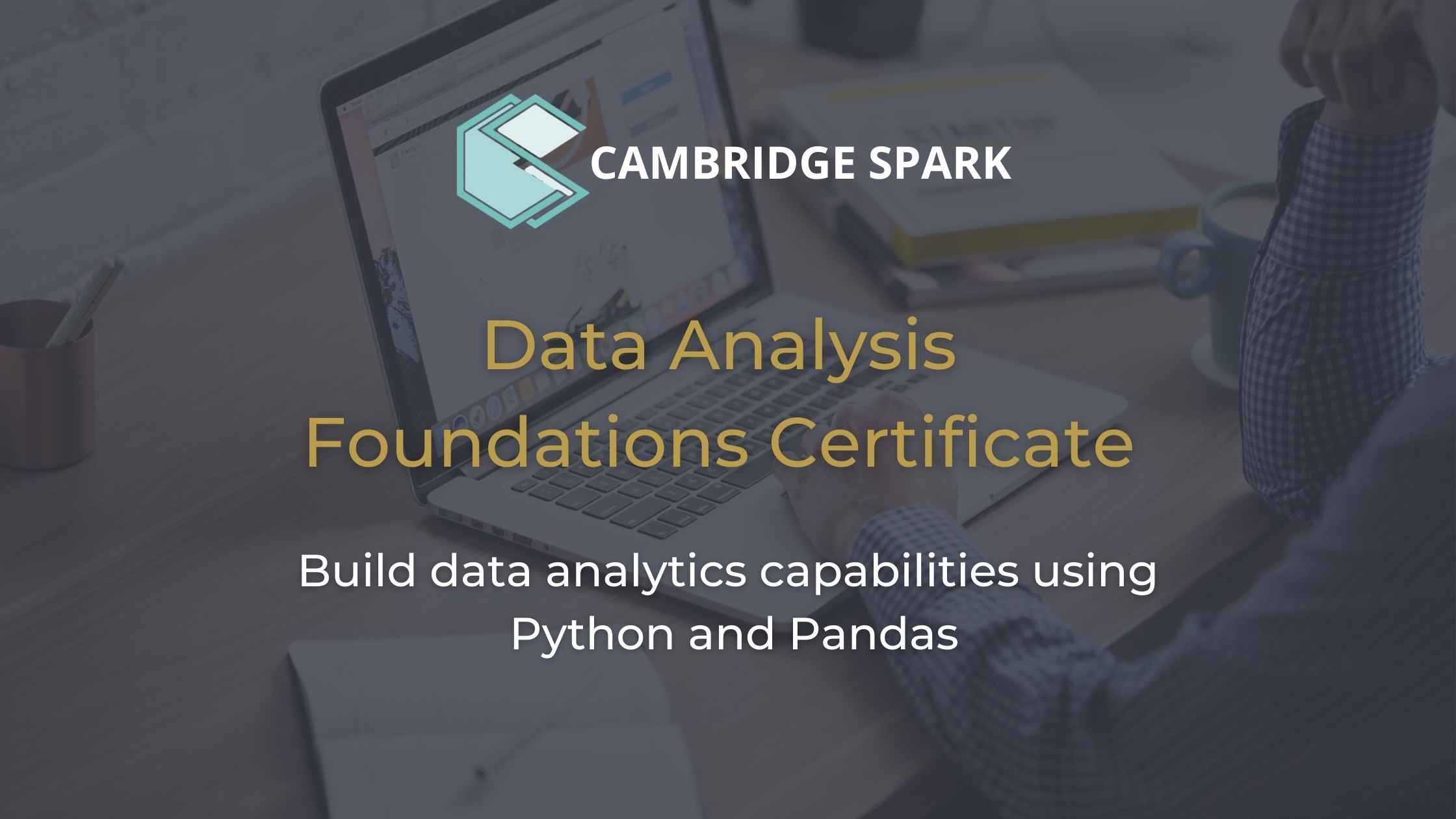 We are thrilled to announce that we have added a brand-new offering to our suite of short-form commercial training courses. Over 8 half-days of live interactive expert-led video workshops, the new Data Analysis Foundations Certificate programme equips learners with the skills they need to extract, manipulate and visualise data using Python and Pandas.
Designed for learners with no previous coding experience, the course also offers the opportunity to learn how to create graphs and interactive dashboards with both Python and industry-leading tools such as PowerBI and Tableau.
Enrolment for our first cohort is now open, with the deadline approaching on 29th April 2022.
Ready to up your data analysis skills? Read on to find out more about this exciting new training solution.
What is the Data Analysis Foundations Certificate?
The Data Analysis Foundations Certificate is a corporate training programme, funded by employers seeking to upskill their workforce in data analysis using Python and Pandas and industry leading tools such as Tableau and PowerBI.
It's ideal for professionals who are already regularly working with data but are keen to improve their technical and computational skills, enabling them to identify new solutions and increase their impact at work. Learners will take their abilities to the next level, future proofing themselves with cutting-edge skills.
Is the Data Analysis Foundations Certificate the right fit for you and your business?
Intrigued but not sure if this particular programme is the right path for you and your business? Below you can read through some of the outcomes you can expect for yourself as well as your team and organisation upon completion. You'll cover:
How to source, extract, store and manage data securely, compliantly and ethically
How to collate, format, combine and present multi-source data
How to use tools and techniques to identify trends via basic analytical modelling
How to support your employer to best utilise their training funds in an increasingly critical skills area
Task automation has been the biggest benefit. It's taking away the manual intervention part as it's all happening by itself now, producing up to date insights at any given moment"

Saad Abdullah, Electrical Engineer at GSK
Ready to find out more?
Head to the Data Analysis Foundations Certificate information page to find out more about this new and innovative programme.
About us
Cambridge Spark is a specialist in Data Science & AI training programmes designed to accelerate skills development and inspire innovative thinking across organisations. In the UK, Cambridge Spark is the only specialist Data Science & AI apprenticeship training provider. We are headquartered in Cambridge, UK, with an office and an educational campus in King Cross, London.
For further enquiries, please contact:
contact@cambridgespark.com or + 44 (0)7816 419378