Data Citizen Apprenticeship with People Analytics Pathway
For many, data skills continue to be a crucial part of modern working life, though often overlooked in departments that are not traditionally seen as technical or data-heavy. L&D, HR and workforce planning frequently have quotas to hit, reporting dashboards to interpret and are often encumbered by tedious manual tasks that could be streamlined and automated, provided they have the right skills.

To meet the growing demand for data skills in these types of professions, Cambridge Spark has developed a People Analytics Pathway, with content from the Chartered Institute of Personnel and Development (CIPD).
Tailored to help contextualise what they've learned in the Data Citizen apprenticeship towards people functions, the People Analytics Pathway offers learners an opportunity to gain a better understanding of how data can be used to inform key people decisions, such as talent management, performance management and employee engagement.
As this pathway is an optional addition to the Data Citizen Apprenticeship, access to the People Analytics Pathway requires a £100 fee. This is a small investment for the huge returns that organisations can expect from having a workforce equipped with the data skills necessary to drive business growth and competitiveness.
Interested in joining our next programme?
Enquire to learn more
The People Analytics Pathway
Cambridge Spark has worked with the CIPD to provide content to help contextualise the skills learned in the Data Citizen Apprenticeship towards people roles. In this course, you will examine practical case studies on how to effectively use people analytics in your organisation so you can demonstrate the value of your people function.
People Analytics – What is it? – Value, links, HR Processes &

Business Outcomes

The Scientific Method - Analytics process & scientific method
Presenting & Embedding Analytics - Culture evidence-based

decisions & HR Dashboards
Additional E-learning Content

- Gain short, sharp insights on specific topics.

Introductory Webinar

- An introduction to the collaboration, setting the scene for people professionals

Data & Relevance - Buy-in & recognition

*The CIPD is not involved in the delivery or assessment of the Data Citizen Apprenticeship. The People Analytics Pathway provides additional People Analytics content for an additional cost once an apprentice has completed their Data Citizen Apprenticeship. It does not form part of the Data Citizen Apprenticeship or end-point assessment.
Delivery:
The Data Citizen Apprenticeship -
Flexible e-learning combined with live, instructor-led training
24/7 support with EDUKATE.AI®, expert faculty, a dedicated data mentor and a learner success coach
Continuous, hands-on project work
The People Analytics Pathway -
Essential insight e-learning content from CIPD
Live instructor-led learning by CIPD
Cost:
£100 for access to the People Analytics Pathway
Suitable for:
Early- to mid-career People professionals looking to build foundational data skills in either a generalist or specialist people role
HR directors looking for upskilling or re-skilling opportunities to help grow & retain their team
Certificates awarded:
The Data Citizen Apprenticeship - L3 Data Citizen certificate from Cambridge Spark
CIPD Completion Certificate
*CIPD membership not included with programme completion
The CIPD has been championing better work and working lives for over 100 years. It helps organisations thrive by focusing on their people, supporting our economies and societies. It's the professional body for HR, L&D, OD and all people professionals – experts in people, work and change.
With almost 160,000 members globally – and a growing community using its research, insights and learning – it gives trusted advice and offers independent thought leadership. It's a leading voice in the call for good work that creates value for everyone.
Data Citizen Apprenticeship Curriculum
Cambridge Spark's Data Citizen curriculum is developed by our leading faculty, composed of data scientists in leading industry positions and academics from some of the top universities in the world.
Our curriculum is continuously updated and reiterated to incorporate the latest skills.
The Value of Data - Understand the value of data and the way digital technologies are fundamentally changing the global economy, market structures and creating new opportunities for organisations.

Future Approaches to Work and Learning in a Digital World - Develop the active learning skills needed to keep up with the fast-changing, data-driven, digitally-transformed economy by cultivating an adaptable and resilient learning mindset.

Introduction to Data Manipulation - Get acquainted with essential data tools, processes and manipulations when starting to work with data in Excel and build essential knowledge of the types and sources of data, databases and storage, as well as practical applications & use cases.

Numbers with Excel - Develop intuition for underlying statistical concepts and what the numbers mean in practice to enable the identification of trends and patterns in data and allow further analysis and insight-actioning.

Data Preparation, Quality & Validation - Build confidence with a range of techniques to prepare and validate data to ensure consistency and quality and develop approaches to check for errors and help ensure the highest levels of data quality.

Data Analysis - Learn how to blend, manipulate and link data sets from multiple sources in a range of formats appropriate to the task at hand.
Advanced Excel - Use Excel to prepare, clean, format and integrate different types of data accurately and consistently following industry best practice.

Charts and Data Visualisation in Excel - Create insightful, action-inducing, data-driven graphs and charts in Excel.

Dashboarding Tools: Power BI / Tableau - Gain familiarity with data visualisation techniques as well as industry-standard tools for creating interactive visualisations and business intelligence capabilities.

Storytelling & Presenting with Data - Hone in on and share key insights through a clear and engaging narrative that is tailored to the needs of your target audience.

Reporting and Actioning Insights - Prepare reports to help action data-driven insights and use interpretation and judgement to solve problems by working collaboratively, thinking critically and reasoning analytically.

Data Storage, Compliance & Security - Store data securely from trusted sources, ensuring compliance with relevant regulatory and legal standards and industry and organisational best practice.

Introduction to Coding - Familiarise yourself with key coding concepts as well as fundamental foundations to help decide whether Python is worthwhile for you to explore further.
Accelerated learning on EDUKATE.AI
Apprentices will submit assignments on EDUKATE.AI®, Cambridge Spark's patented AI-powered learning and development platform built for AI and Data Science education.
All-in-one, in-browser experience - All learning content, including slides, lecture recordings, quizzes and practical assignments are accessible in one, in-browser platform. There's no need to download or install any new software.
Fast online support - Learners receive immediate feedback on exercises, as well as continuous access to peer learning through Knowledge Base, our built-in forum.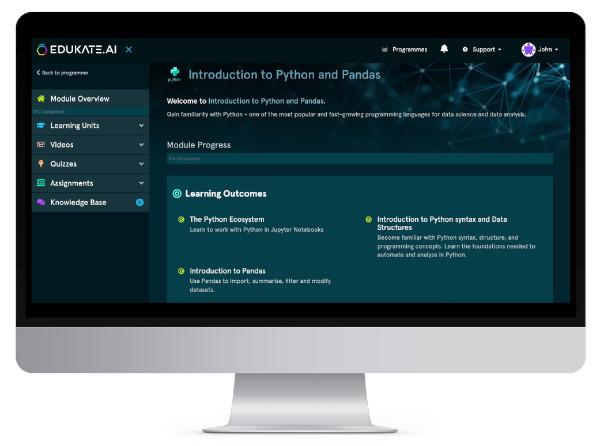 The Experiential Learning Process
We apply an approach of blended experiential learning, through a mixture of interactive, instructor-led workshops and hands-on practice, with personalised feedback and recommendations, creating the optimum balance between theoretical and practical learning (70% hands-on / 30% theoretical). This enables learners to achieve a much steeper learning curve and an ability to apply their skills and knowledge in practice, guaranteeing ROI.
We tailor our delivery to your workforce needs. This ranges from independent, immersive elearning supported by EDUKATE.AI through to tailored bootcamps, to our structured apprenticeship programmes. Learners based in England and enrolling in the Level 3 Data Citizen Apprenticeship may be eligible for UK Levy funding.
An apprenticeship is a long-term training commitment which seeks to support people entering the workforce and upskill existing UK-based employees within an organisation, enabling employers to foster a workforce consisting of highly skilled and highly engaged talent.

The Cambridge Spark Data Citizen Apprenticeship runs for 13 months plus a 3-month end-point assessment and includes a minimum of 6 hours per week off-the-job training, enabling a blended approach between theory and practical learning.
The UK government introduced the Apprenticeship Levy scheme in April 2017 as a way to drive investment in strengthening the country's skills base.

All organisations with annual staff costs of over £3m have to pay 0.5% of their salary bill into a ring-fenced apprenticeship levy pot. The money is collected monthly via PAYE and can only be used for training on approved apprenticeship schemes (such as the Level 3 Data Citizen Apprenticeship that we offer). Organisations must forfeit any levy funding left unspent for 24 months or more.
An organisation that doesn't pay into the levy can still qualify for government-funded apprenticeships for their staff. In fact, the UK government will sponsor 95% of the apprenticeship programme, leaving the organisation to invest the remaining 5%, provided that learners meet other eligibility criteria.
Off-the-job training is defined as learning undertaken outside of the day-to-day work duties and during the apprentice's normal working hours.

Our off-the-job training is delivered on a flexible basis and can be carried out at the apprentice's place of work or home.

The 6 hours per week, minimum, off-the-job training provides learners with the time to focus and develop the required skills, knowledge and behaviours to complete the programme.
Managers will need to ensure apprentices achieve their planned off-the-job training hours and work on their project portfolio.

We also encourage managers to have regular one-to-one meetings with apprentices to catch up on how they are progressing and to join the apprentice and their coach for 30 minutes every 3-4 months for a general catch up about the programme.
Enquire now
Provide your details in the following form and we'll contact you within the next two business days to arrange a quick call to help with any questions about the programme. We look forward to speaking with you.
Who's benefitted

from our data apprenticeships

Read case studies on the impact we have made for our clients.