Data Science in Practice: Applying Skills to Healthcare Problems
Cambridge Spark /
July 18 2022 /
1 minute read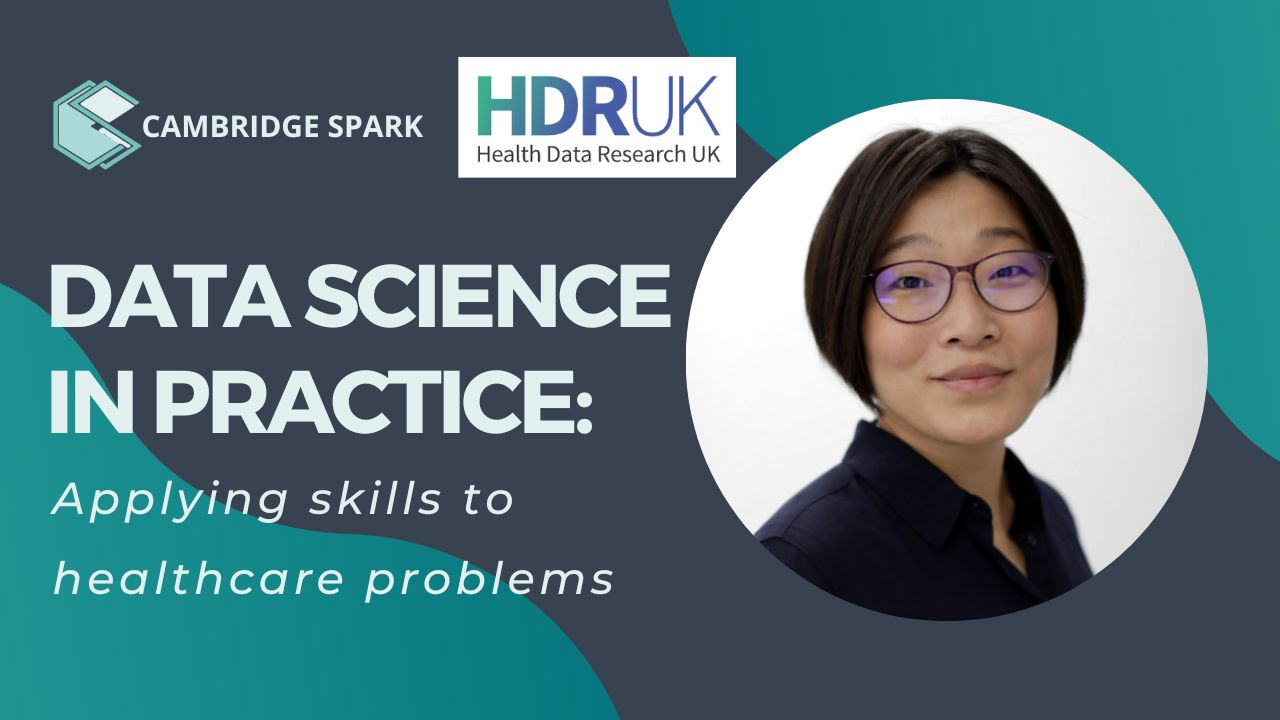 Are you interested in the intersection of AI and Data Science and its applications to the healthcare industry?
Data Science and AI technologies are already having a major impact on how we approach healthcare and its effect on society — from early and accurate diagnosis of medical problems, to building cost-effective operations.
For healthcare, data has the potential to reshape the industry in the UK and further afield. Patient outcomes can be improved through the insight and intelligence that data can provide, making diagnosis faster, increasing the speed of research and delivering more efficient service planning. But what steps are being taken to apply these skills to real work problems?
In a webinar hosted in partnership with HDR UK, with guest speaker Dr Watjana Lilaonitkul, whose research focuses on developing and implementing machine learning and computational statistical algorithms to analyse high-dimensional time-series health data for scientific discovery and translation to medical support technology, we explore how machine learning & AI is currently being used across wider healthcare, the challenges data scientists face and how they are using their skills to drive success.
Who are HDR UK?
HDR is the UK's national institute for health data science. Its aim is to unite the UK's health data to enable discoveries that improve people's lives. Its vision is that every health and care interaction and research endeavour will be enhanced by access to large scale data and advanced analytics.
👉RELATED READING:
Cambridge Spark's partnership with HDR UK
HDR UK became an early supporter of our Level 7 Data Science and AI apprenticeship. Delivered by Cambridge Spark with expert contribution from Health Data Research UK, the AI Apprenticeship Academy for Health is an opportunity for new and existing HDR UK employees to upskill with advanced data science and AI skills through a work-based development programme. Learners gain a government recognised Level 7 qualification in data science (equivalent to a MSc.) and the programme can be funded by the Apprenticeship Levy.
What you'll find in this webinar recording:
The current implications of machine learning to wider healthcare
Current research in data science: exploring the challenges and successes
An introduction to Cambridge Spark & HDR UK's unique partnership
Information about Cambridge Spark's Level 7 AI & Data Science Apprenticeship
A short Q&A with Dr Watjana Liloanitkul covering some audience queries
Get access to the full webinar recording
Fill in your details below to get access to the full webinar for free. We'll email a link directly to your email inbox.