Webinar:

Introduction to the AI Apprenticeships Academy for Health
Cambridge Spark - Data Science Courses /
June 25 2021 /
1 minute read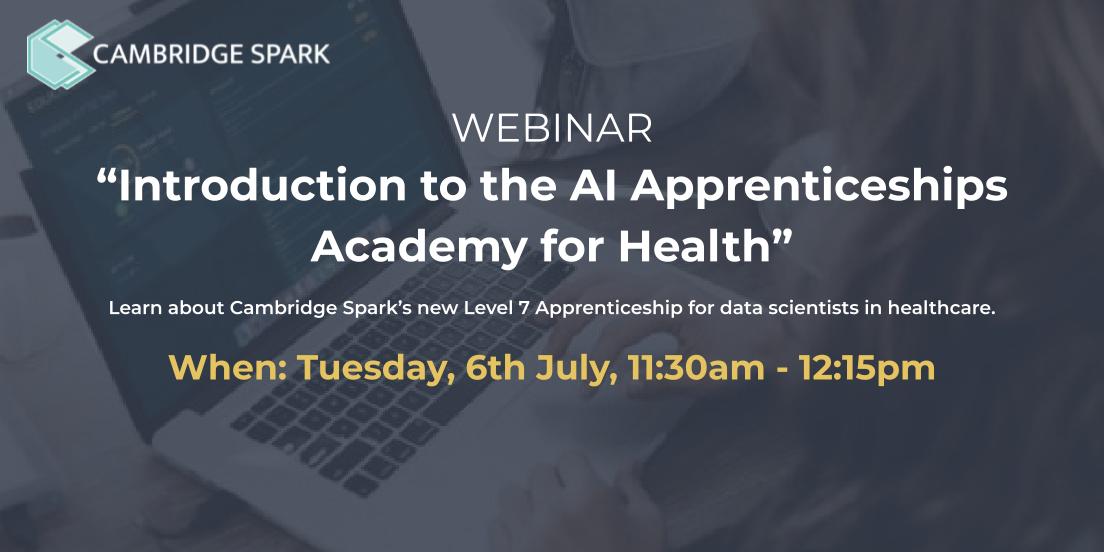 Event Details & Registration:
Cambridge Spark has partnered with Health Data Research UK (HDR UK) to deliver the Level 7 AI Data Specialist Apprenticeship tailored for the health sector.
The 15 month Apprenticeship will be delivered by Cambridge Spark, specialists in data science and AI apprenticeships. Health data science experts from HDR UK will contribute to the programme, further contextualising the skills taught to the health sector. Halfway through the programme, Apprentices will undertake a two day hackathon working on a real health dataset in teams to create actionable insights and recommendations.
This programme is a unique opportunity for organisations in the health sector to upskill their staff in data science and AI. The first cohort starts in September, with enrolment currently open.
Who should join this event?
This event is for apprenticeship and L&D professionals to help them understand how the AI Apprenticeships Academy for Health can benefit their workforces
.
What will the event cover?
The HDRUK & Cambridge Spark partnership

The content of the Level 7 AI Data Specialist apprenticeship and the skills taught

The Cambridge Spark delivery method

Apprentice prerequisites and enrolment process
Sign up here to join the webinar
Subscribe to our monthly newsletter
Subscribe now to receive our monthly Data Science newsletter featuring industry news, interviews, tutorials, popular resources to develop your skills and much more!