Introducing our new Digital Business Analyst Apprenticeship
Cambridge Spark /
March 24 2022 /
2 minute read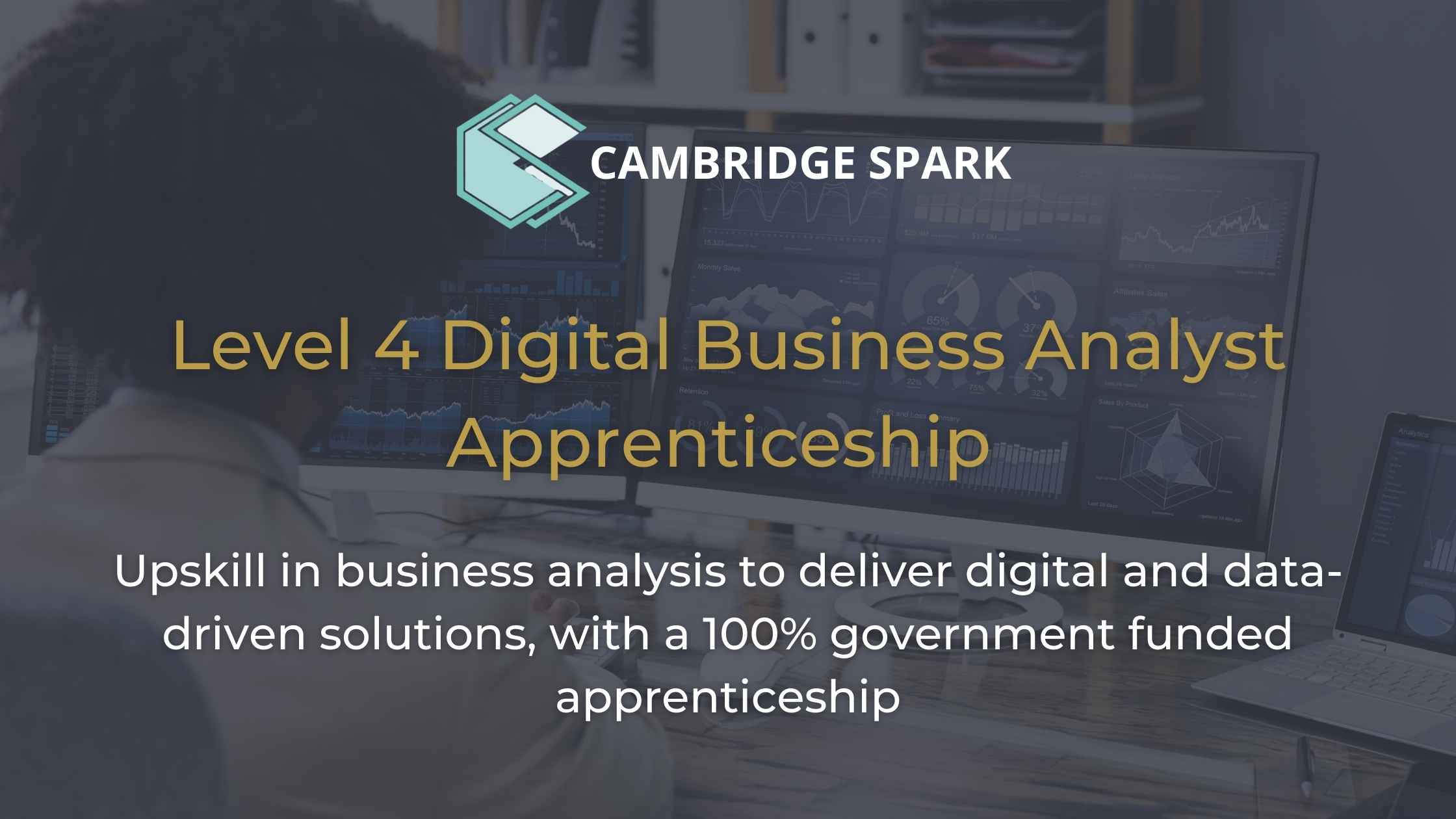 We are excited to announce the launch of our brand new Level 4 Digital Business Analyst Apprenticeship!
The new programme, 100% funded by the Apprenticeship Levy, offers learners the opportunity to upskill for business analysis and data literacy, focusing on data-driven digital leadership, change management and more.
We are delighted to offer a skills solution to support employees to accelerate digital transformation and affect real change in their workplaces. Effective methods of deploying data-driven digital solutions are more crucial than ever to remain on the cutting edge, and this new course offers a fantastic opportunity for employers to equip their workforce with the skills needed for continued success.

Dr Raoul-Gabriel Urma, CEO and Founder of Cambridge Spark.
Enrolment for our first cohort is now open, with the deadline approaching on 29th April 2022.
Read on to find out more about this exciting new apprenticeship programme.
What is the Digital Business Analyst apprenticeship?
Using the Level 4 Business Analyst apprenticeship standard, this new apprenticeship programme equips its learners with the skills and knowledge needed to take an organisation's digital transformation journey to the next level with the deployment of data-informed digital solutions.
Designed for those ready and keen to boost digital fluency across their workforce by introducing digital tools, systems and approaches; our apprentices will learn how they can become key drivers in achieving their organisation's digital transformation roadmap.
Is the Digital Business Analyst Apprenticeship right for you and your business?
Intrigued but not sure if this particular programme is the right path for you and your business? Below you can read through some of the outcomes you can expect for yourself as well as your team and organisation upon completion. You'll cover:
Industry standard methodologies and frameworks for business analysis and digital change, including Agile
Change management and leading digital transformation
Identifying opportunities for digital and data-driven solutions
Key digital and data-driven technologies such as Data Science, Cloud and AI
Product management practices across digital projects
This is an exciting new programme from Cambridge Spark that will help to re-skill our people with the crucial skills that employers like us need. The topics covered in this course will play a key part in adopting a Digital approach and mindset, through the development of practical skills which can be rapidly applied in the workplace.

Huw Davies, Senior Apprenticeships Manager at BBC
Ready to find out more?
Head to the Digital Business Analyst apprenticeship information page to find out more about this new and innovative programme or check out our full list of programmes here.
About us
Cambridge Spark is a specialist in Data Science & AI training programmes designed to accelerate skills development and inspire innovative thinking across organisations. In the UK, Cambridge Spark is the only specialist Data Science & AI apprenticeship training provider. We are headquartered in Cambridge, UK, with an office and an educational campus in King Cross, London.
For further enquiries, please contact:
contact@cambridgespark.com or + 44 (0)7816 419378