Introducing our new Data Engineer Apprenticeship
Cambridge Spark /
September 14 2022 /
2 minute read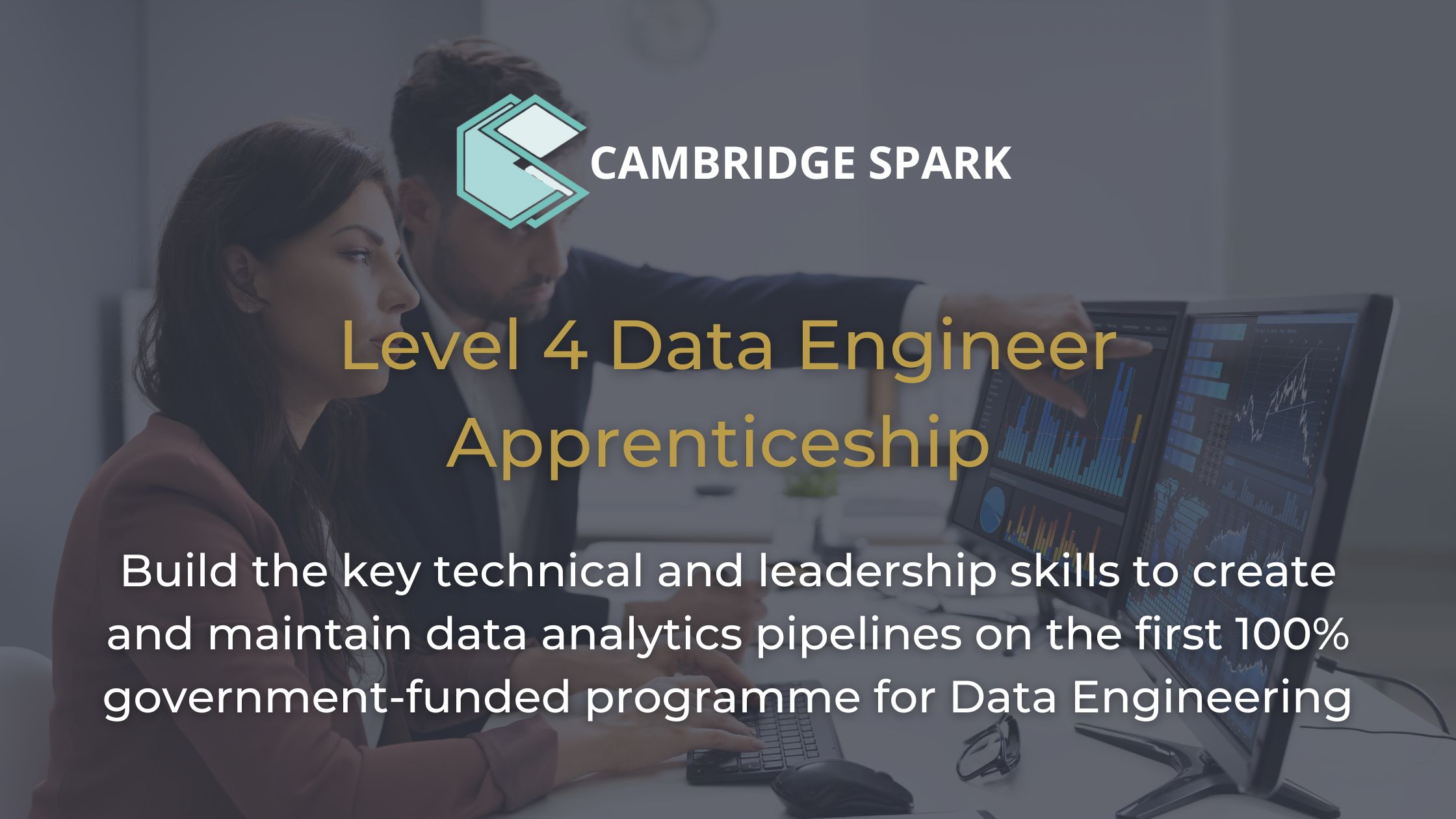 We are delighted to announce the launch of our brand new Level 4 Data Engineer Apprenticeship!
For the first time, employers can now tackle the Data Engineering skills gap with a programme that is 100% funded by the Apprenticeship Levy. This industry-leading programme offers employers the opportunity to reskill new and existing staff into a junior data engineering role focused on creating and maintaining data analytics pipelines. The programme has been designed to meet the pressing skills gaps identified by clients and create the internal capability to build key data infrastructure. At Cambridge Spark we believe that it is critical to implement and maintain robust data pipelines to deliver quality data analytics for the wider business.
We are delighted to deliver the first Data Engineer programme fully funded by the Apprenticeship Levy. Data Engineers are crucial to the success of becoming a data-driven organisation and this new course offers a fantastic opportunity for employers to equip their workforce with a key data engineering skillset."

Dr Raoul-Gabriel Urma, CEO and Founder of Cambridge Spark.
Enrolment for our first cohort has already started, with the deadline approaching on 21st October 2022.
Read on to find out more about this exciting new apprenticeship programme.
What is the Data Engineer apprenticeship?
The Data Engineer apprenticeship is designed to take an organisation's data transformation journey to the next level. Using the Level 4 Data Analyst apprenticeship standard, this new programme equips employees with the skills and knowledge to build and maintain the infrastructure that data-driven organisations need to make use of huge datasets.
Designed for employees wanting to take their first steps into a junior data engineering role, this programme creates another opportunity for organisations to work with Cambridge Spark to tackle the digital skills gap. After completion of this programme, employees will be able to further advance their technical skillset through a range of specialist and advanced modules offered by Cambridge Spark including architecture, DevOps and cloud technologies
Is the Data Engineer Apprenticeship right for you and your business?
Intrigued but not sure if this particular programme is the right path for you and your business? Below you can read through some of the outcomes you can expect for yourself as well as your team and organisation upon completion. You'll cover:
Key skills in Python, SQL, Data modelling approaches, software testing, git, CI/CD and DevOps mindset
The Data Engineering lifecycle and the role of a Data Engineer
The technical skills to create and maintain data analytics pipelines
The fundamentals of data modelling, best practices and why it is important
How to effectively work with stakeholders to define and translate business requirements to a data model
Ready to find out more?
Head to the Data Engineer apprenticeship information page to find out more about this new and innovative programme or check out our full list of programmes here.
About us
Cambridge Spark is a specialist in Data Science & AI training programmes designed to accelerate skills development and inspire innovative thinking across organisations. In the UK, Cambridge Spark is the only specialist Data Science & AI apprenticeship training provider. We are headquartered in Cambridge, UK, with an office and an educational campus in King Cross, London.
For further enquiries, please contact:
contact@cambridgespark.com or + 44 (0)7816 419378