Webinar:

L7 AI Apprenticeships for Data Science & Machine Learning
Cambridge Spark - Data Science Courses /
November 11 2020 /
1 minute read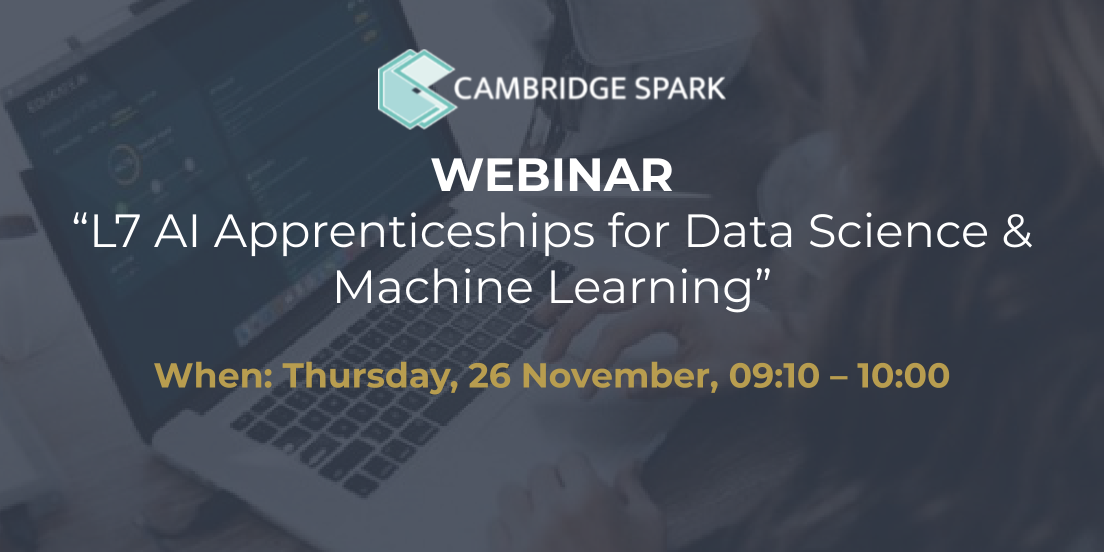 The L7 AI Apprenticeships for Data Science and Machine Learning Engineering was launched last month. The programme will produce the first apprentices in the UK trained in Level 7 data science and engineering.
Join us to learn more about how over 15 months, learners will attain the applied skills needed to discover and devise new data-driven AI solutions, automate and optimise business processes, and support, augment and enhance human decision-making.
Date: 26th November Time: 09.10am - 10.00am
This webinar has now been delivered. You can watch again here:
Who should join this webinar?
Anyone looking to upskill into a Data Scientist or Machine Learning Engineer role
Anyone who wants to learn more about the programme for themselves or their team
This webinar will cover:
The L7 AI Apprenticeship curriculum
How you can get training while on the job, 100% funded by the UK government
Subscribe to Our Newsletter
Subscribe now to receive our bi-weekly Data Science newsletter featuring industry news, interviews, tutorials, popular resources to develop your skills and much more!