Webinar:

L4 Data Analyst Apprenticeship
Cambridge Spark - Data Science Courses /
November 02 2020 /
1 minute read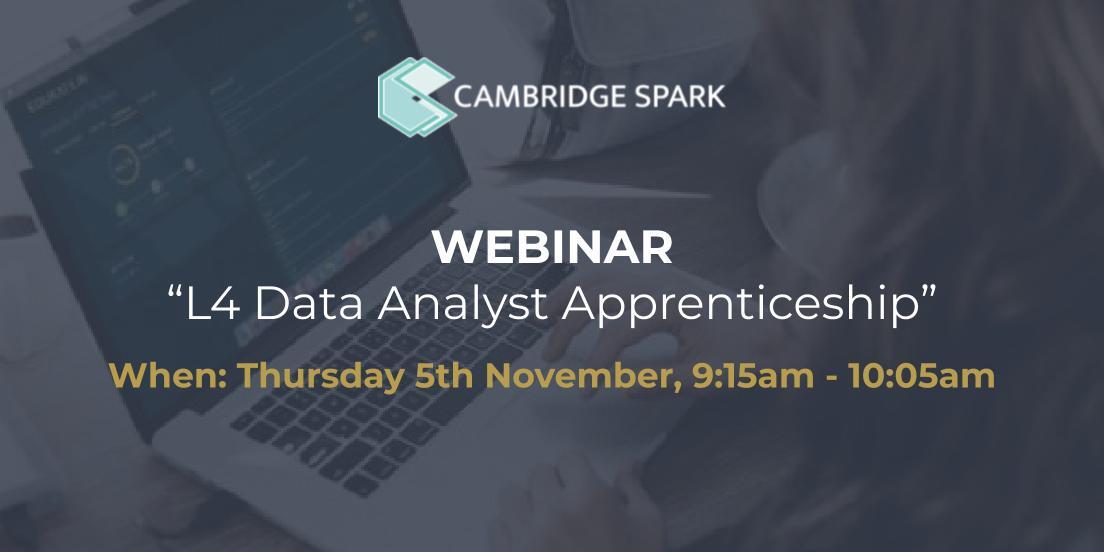 Join us to learn more about our L4 Data Analyst Apprenticeship which equips learners with the technical abilities to extract, manipulate and visualise data, enabling organisations to answer complex questions and drive strategic value.
Across 14 months, learners will undertake ten expert-designed modules remotely, whilst receiving coaching, attending check-ins and submitting assignments to K.A.T.E.® – before preparing for and undertaking their end point assessment and certification exams.
Date: 5th November
Time: 9:15am - 10:05am
This webinar has now been delivered. You can view here:
Who should join this webinar?
Anyone working with Data day to day and is looking to upskill themselves
Anyone with a team that is working with Data and wants to improve the efficiency and value of insights from their Data
This webinar will cover:
The L4 Data Analyst Apprenticeship curriculum
Learning pathways and career progression opportunities
How you can get training while on the job, 100% funded by the UK government
Subscribe to Our Newsletter
Subscribe now to receive our bi-weekly Data Science newsletter featuring industry news, interviews, tutorials, popular resources to develop your skills and much more!