Webinar:

"The Data Science & AI skills gap: how organisations are solving it"
Cambridge Spark - Data Science Courses /
October 08 2020 /
1 minute read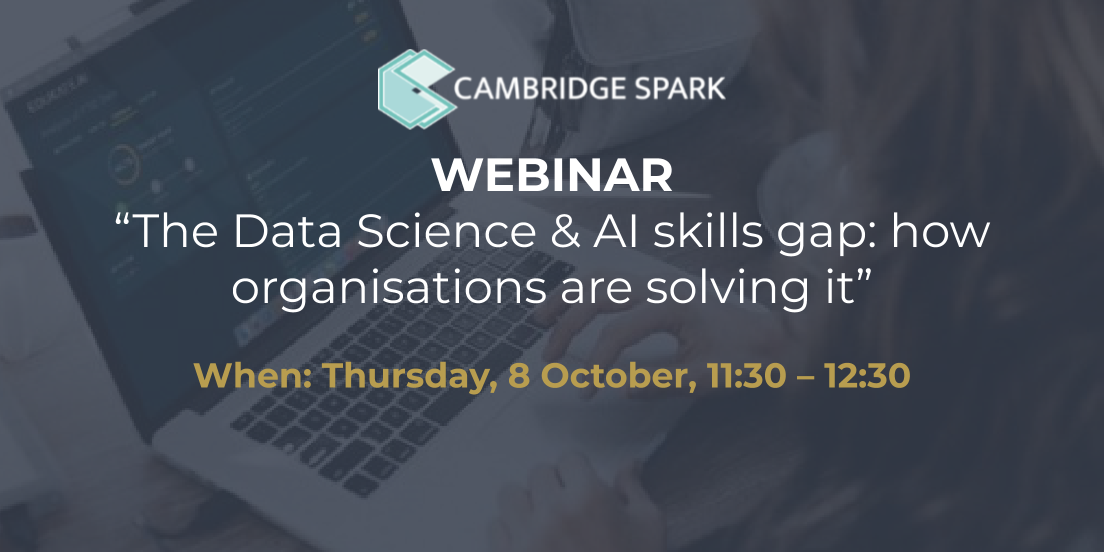 A
report
stated that by "2020 we will have one million unfilled jobs in the IT sector. Primarily because the skills we have today aren't the right skills for the future. The future is more about business understanding and data understanding."
The UK skills gap is widening but there are ways to bridge it so that companies have the internal skills to drive a data driven strategy.
Who should join this webinar?
Anyone who's looking for solutions to fix the skills gap within their company or team
Anyone with a team that works with Data and is actively looking to upskill them
Anyone looking for ways to better manipulate data via programming in their roles
This webinar will cover:
The importance of an internal upskilling strategy and what it can do for your company
How you can get training while on the job, 100% funded by the UK government
All the available online programmes in Data Analysis, Data Science and AI, for complete beginners to advanced technology professionals and engineers that suit a work-from-home audience
Learning pathways via online university style programmes
This webinar has now been delivered. You can view and download the content here:
https://zoom.us/rec/share/hZutUPILV8qv31TWokrieGQUbP--oTh3o-ShX-yKGI2snpe1vovr6_ulUOUqgWsS.7cqVa4znm9jFzgBq
Passcode: Mf?pM2fb
Read more about our apprenticeship options and download the Complete Guide to Apprenticeships 2020:
https://cambridgespark.com/apprenticeships-in-data-science-and-ai/
Subscribe to Our Newsletter
Subscribe now to receive our bi-weekly Data Science newsletter featuring industry news, interviews, tutorials, popular resources to develop your skills and much more!