Cambridge Spark /
July 08 2022 /
7 minute read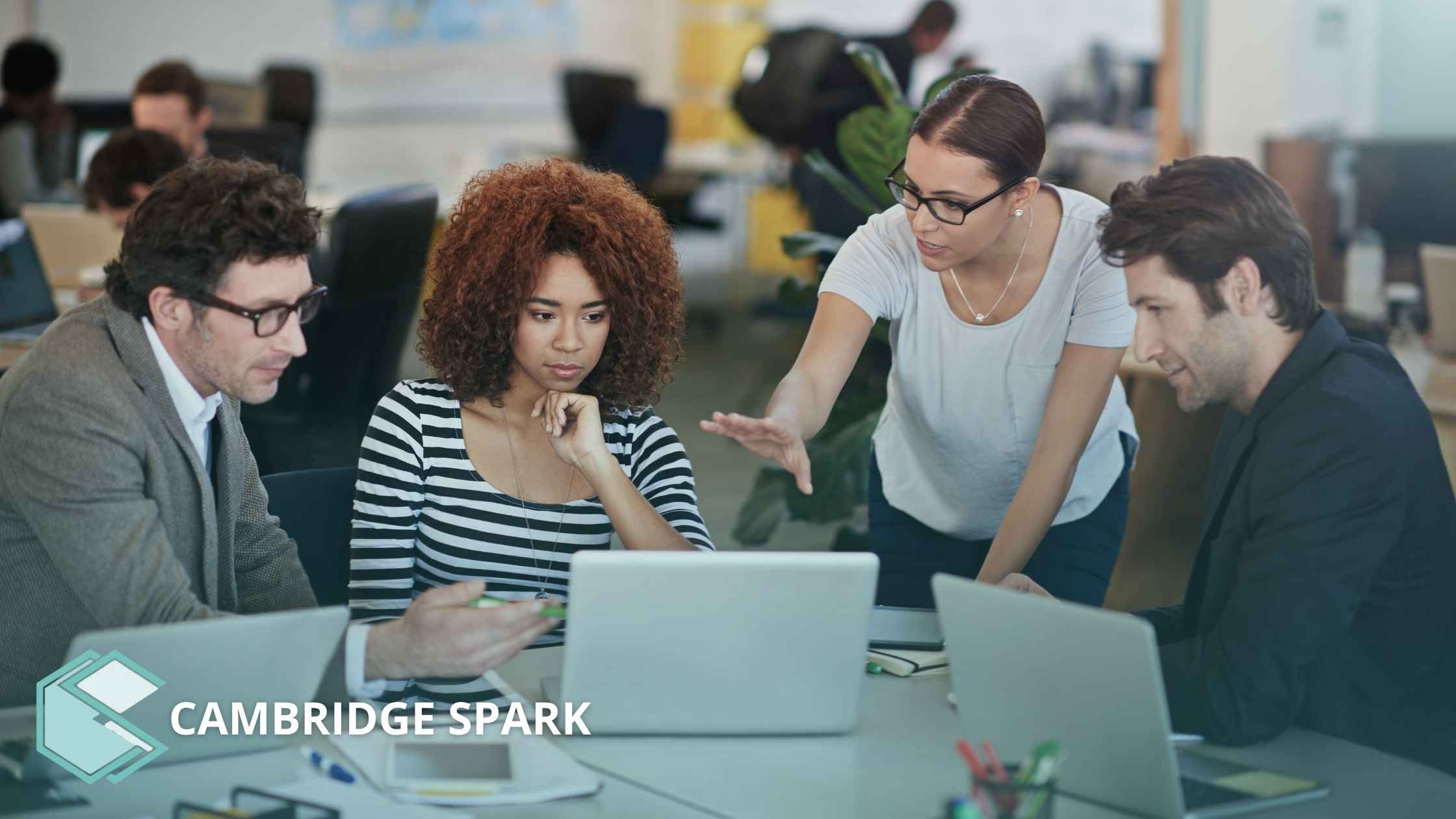 Last year, in a government research report carried out to quantify the UK's data skills gap, the introduction stated that;
Data is now the driving force of the world's modern economies. It fuels innovation in businesses large and small and has been a lifeline during the global coronavirus pandemic. Effective use of data can boost productivity, create new businesses and jobs, improve public services and position the UK as the forerunner of the next wave of innovation."
The national data skills shortage has been growing for some years and this report set out to better understand the demand and supply for data skills, and quantify the extent of the gap. After contacting 1,045 businesses, 5,000 workers and 1,000 students in higher education or training across the UK, the results found that there is significant demand for data skills with UK companies recruiting for 178,000 to 234,000 roles requiring hard data skills.
Almost half of businesses (48%) were recruiting for roles that require hard data skills (analysis skills, programming, data visualisation, machine learning, data communication skills, knowledge of emerging technologies and solutions) but a similar 46% struggled to recruit for these roles over the preceding 2 years before the research was completed.
An explosive growth in the demand for data skills
Another report from Tech Nation exploring tech jobs, careers and transformation in the UK published earlier this year, found that tech roles requiring data skills are becoming increasingly important. Just check out how the number of job vacancies with roles requiring data skills has multiplied over the last 3 years:
Growth in number of advertised job vacancies requiring data skills: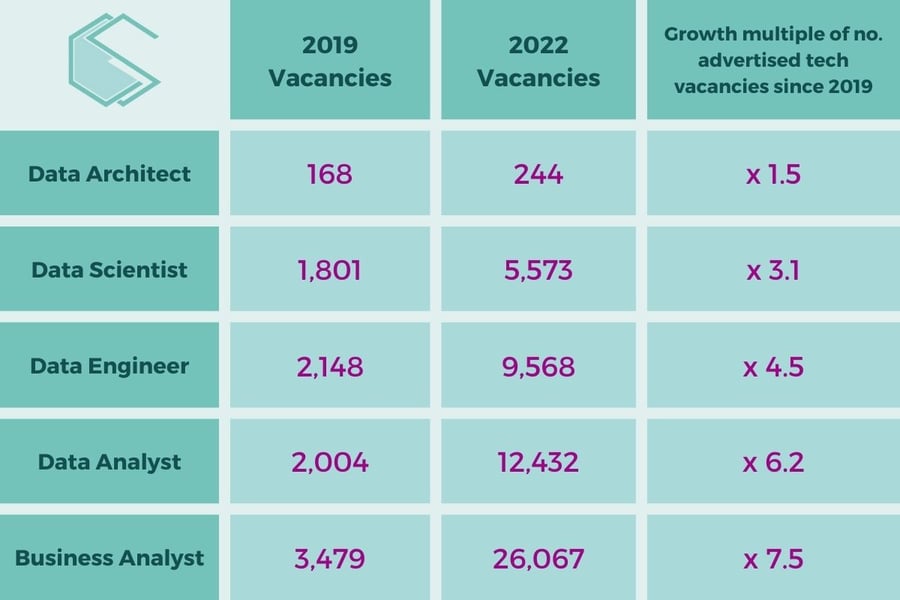 Source: Tech Nation, Adzuna, 2022
Additionally, over the past three years, 'data' has moved from the third to the most in demand skill across all tech jobs, seeing an explosive growth in demand of over 1000% from 2019 to 2021:
Top 5 skills demanded for tech jobs:
Source: Tech Nation, Adzuna, 2022
Digging into our own data at Cambridge Spark
As a specialist AI & data capability partner, helping organisations to achieve their business goals by educating their workforce in data science is Cambridge Spark's bread and butter, and we were curious to see how these dramatic increases in the demand for data skills were being reflected in our own customer data.
Specifically, we wanted to know what kinds of data skills customers are seeking and which are most increasing in demand. The primary way in which Cambridge Spark delivers AI and data science training is via apprenticeship schemes funded by the government through the Apprenticeship Levy. So, to answer our questions, we took a look at some survey data we collected for our popular Level 7 AI and Data Science apprenticeship.
The survey, which questioned Level 7 apprentice line managers, aimed to uncover why they were putting their direct reports forward for the apprenticeship and what types of data skills and outcomes they hoped to achieve by completion. The surveyed group reflects a mix of senior to executive level stakeholders, with many of them working within data themselves.
👉RECOMMENDED READING:
Why invest in data education?
First, let's examine the key reasons apprentice line managers initially chose to approve their employees for the Level 7 AI and Data Science apprenticeship:
Source: Cambridge Spark, 2022
Somewhat unsurprisingly, the biggest reason why line managers approved their direct reports for the apprenticeship was as a method of offering career development opportunities. In an increasingly competitive jobs market, and in the era of "The Great Resignation", it's now more important than ever for employers to find new ways to retain staff and offering promising internal career development opportunities is one way to do it.
The kinds of open-ended responses that were common for this question included*;
"All three of my direct reports have shown great eagerness in personal development, which I fully support and encourage."
"X has been in the same role and team for a long time and has recently shown an interest in moving up the career ladder. It would be great for her to update her skills/knowledge and best practices to give her new opportunities and experience."
"It is a great opportunity for X to grow his skills and knowledge in an area he is very passionate about, and I have no doubt he will be able to apply his learnings to good use for our company."
👉RELATED READING:
Career development was closely followed by a desire from line managers to upskill employees with cutting edge data skills for the benefit of specific teams, departments and the wider organisation as a whole. The kinds of responses that were common speaking to this idea included;
"- Build more advanced competencies around the use of data science and machine learning to support the objectives laid out in our business strategy.
- Ensure the team is current in its thinking and expertise to advise and develop products that utilise data science and machine learning to deliver insight.
-Position the team to provide informed advice and guidance to other teams using these technologies and approaches to generate insight and deliver outcomes to the organisation."
"Our capability in this area is immature and it would be great for X to lead the way in understanding the potential for data science and AI to help us deepen our existing customer understanding as well as help us focus our customer acquisition efforts. Alongside this any learnings that can improve our current processes."
"I want X to attend the programme so that we have the advanced capability within our team to efficiently automate and improve our data manipulation and provide deeper, more useful insights."
*Names have been omitted to protect employer/employee confidentiality.
Top priorities for data skills education
The specific reasons for investing in data education we received are numerous and far-ranging, making it difficult to categorise them in a clear-cut, quantitative fashion. The considerable variety of disparate industries, sectors and job roles meant that the line managers we spoke to have very different objectives when it comes to what they want from their data.
However, one key group of priorities emerged that spoke to all of our clients - everyone was interested in developing advanced data science skills to maximise the impact of insights and predictions that they can gain from their organisation's data, which is certainly reflective of that 1006% increase in demand for data skills we saw in Tech Nation's tech skills report above.
Below, we have also briefly explored some of the particular unifying themes and trends we identified in the survey responses.
Data-driven decision making
When we asked line managers to list the top priorities/focus in their role as well as their team/department with regards to data, many of them expressed the desire to gain sufficient data skill competency to be able to use organisational data to inform or drive decision making for the business. Here are some verbatim examples of responses we received;
"Quick integration of multiple data sets to produce actionable insights. Compliant use of data to drive design and implementation of key projects."
"Enhance data driven decision making in areas that have previously lacked this ability. Use data to better understand levels of customer demand and customer segmentation in ways that are actionable using the key commercial levers we have."
"Using data and intelligence to provide analysis and insights that add value. Developing, implementing and embedding data-led solutions and deploying data science/advanced analytics to help the Division operate effectively and identify and predict and diagnose harm."
Automation of manual processes
Another popular response we saw trending in the data was an appetite to gain the skills to be able to automate routine and often time-intensive manual processes. In doing so, employees are freed up to work on more intellectually stimulating work. Some examples of responses here included;
"In my team we gather, process and analyse a lot of operational data, however this is done using basic spreadsheets and a lot of manual data manipulation. My priorities with this [apprenticeship] are:
- To automate the process as much as possible
- To expand the coverage of control units analysed without multiplying the resource required
- To identify and use further insights that can be made available from the data once better managed and automated."
"A key focus is to be cleverer with our use of data - using machine learning models where appropriate and automation to increase efficiency. It is also important for us to make our analysis/data accessible to clients that don't have the same level of data literacy."
"Skills to automate data capture, data mining, processing and flow; transformational analytic techniques; data presentation formatting to increase ease of use for non-technical end users."
Supporting domain knowledge with data skills
Finally, a third trend we noticed in the respondent data showed that it's not only data specific professionals who are looking to invest in data skills education. We saw many examples of domain/department experts seeking to upskill in data in order to enhance work in their own field, whether that be marketing, HR, finance or any other department. This trends really ties into the maxim that "data is king" proving that data impacts all roles and isn't confined to data-specific professionals.
Some examples of responses evidencing this idea;
"My role is to oversee the analysis of Market Research Data collected by the company. This is primarily from questionnaires deployed by us. Increasingly there is a need to incorporate a data science element into the analysis, for us at the moment this is mainly focused around analysis of textual data. Looking forward, we are hoping to utilise even more aspects in order to speed up production and also to enhance presentation of results."
"Using data to understand the key drivers of customer sales and lapses so we can best focus our resources. Understand and predict customer behaviour at each stage of their lifecycle, for example likely tenure based on different variables, propensity to claim etc. Forecast outcomes of investment activity by sales and marketing, by being able to model the potential sales impact."
"Data driven marketing strategy, supporting the strategic goals & targets of our partners - increasing the data science capability within the team."
Conclusions
The first report we looked at from the government quantifying the UK data skills gap showed us that thousands of companies have found it extremely challenging to fill data roles over the last few years, with financial costs and a lack of talent with the right skills combinations being the biggest barriers. Tech Nation's report showed us the explosive growth in demand we've seen for data skills in that same time frame, and data collected from our own customers showed which specific skills within the realm of data science that companies are increasingly looking for.
That first report closed with the pertinent statement that "Education and training providers have a critical role to play in shaping curricula that looks to address these particular skill gaps and to offer a diversity of training options." This point more or less encapsulates Cambridge Spark's raison d'être. Aside from the Level 7 AI and Data Science apprenticeship referenced in this piece, we offer a range of government-funded apprenticeships as well as commercial training options covering entry level data analysis through to advanced data science practices and techniques.
You can check out all of the programmes we offer by having a browse around our site, or if you'd prefer more specific info on a particular programme that has caught your eye, fill in the form below and one of our Training Consultants will get back to you to answer any and all questions you might have.
Be sure to check the box to receive our data science newsletter too and receive all the latest news and information from Cambridge Spark right to your inbox every other month!

Enquire now
Fill out the following form and we'll contact you within one business day to discuss and answer any questions you have about the programme. We look forward to speaking with you.