Some of the stuff that we were learning about I could apply very, very quickly to a class of problem that I was solving at the time, so the apprenticeship had an impact within just a few months!
Michael Lawson, Level 7 AI and Data Science Apprentice
Experts in gas analysis, Servomex has established itself as the leading provider of reliable, accurate and stable gas measurement solutions to industries across the globe. With a leading edge in R&D and manufacturing, Servomex delivers high‐performance, cost‐effective gas analysis, through a portfolio of dependable products.
Michael Lawson, who specialises in the field of spectroscopy, has worked with Servomex for the last 7 years and has recently completed our Level 7 AI and Data Science apprenticeship to complement his specialist skill set. In the interview below, we catch up with Michael to find out more about how he approached the apprenticeship as a way to round-out the highly specialised skills of his role in order to better understand the large quantities of data that his work creates.
An interview with Michael Lawson, Level 7 AI and Data Science apprentice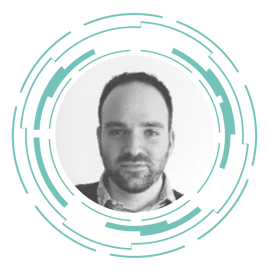 Hi Michael, to get us started, can you tell us a little bit about what you do and how data comes into it?
Sure. So I specialise in spectroscopy, which is the study of how light interacts with matter. When I first started studying spectroscopy for my PhD, that was where I first started generating large amounts of data and where I first came into contact with managing data. About 7 years ago I started working for Servomex, which make sensors for a wide range of industries. The sensors detect gases and they are used by people who make things like ventilators and computer chips.
My work is primarily with lasers. Basically, the laser product kicks out tons of data and when I started working at Servomex, I was still using things like Excel to process the data and I got more into finding more efficient ways of dealing with data from there. About 5 years ago, to try and make myself a little bit better at handling all this stuff, I took a course with Cambridge Spark on how to use Python and then after that, I started to use Python to automate a lot of the processes that we were using to produce these lasers.
So you were already familiar with Cambridge Spark, but what led you to pursue the Level 7 AI and Data Science apprenticeship?
I was keen for the solutions that I produced to be more acceptable to our software engineers and I wanted a little extra professional development, especially because working with lasers and spectroscopy in general is very niche. I've done loads of different jobs and I've moved from Scotland and all around the country and it's nice to do something that's a little more widely accessible.
It was also attractive to me that you have a day of work time each week devoted to your apprenticeship study. When you have young children, especially when your children get a little bit older, they start to notice that you're not paying them as much attention, so it's nice to be able to focus on this stuff during the day and have a little bit more time to yourself in the evening! So doing an apprenticeship was quite fun that way. It's definitely different. So that's why I chose to do it with Cambridge Spark.
👉RELATED READING:
What did you hope to gain from the apprenticeship? Did you have any specific skills in mind that you went in looking for and that you wanted to be able to apply once you finished?
I think the main skill that I wanted to get at the end was to make the data product that I dealt with more professional and to raise our data science standards in general because I already had a background in science and the other thing I wanted to do was learn current best practices. What are the modern tools that are being used? And it was really quite interesting to learn from professionals who were doing it, there were lots of PhD students and some lecturers teaching, so that was appealing
👉RELATED READING:
Can you tell me more about your experience with Cambridge Spark and which modules have you enjoyed the most or have helped you the most at work?
The modules that I really enjoyed were the ones that I absolutely had no exposure to before. For example, the module about processing big data. I didn't think that would be really relevant to what I'm doing here because it's not like I'm working with huge data sets but actually, the tools that we were taught about I did actually need to use in the end for my project and it was really handy knowing about them.
I ended up doing a lot of stuff in the cloud. I didn't actually expect to do any of that when we started out but again, those modules were pretty good. The product management module was also good.
What was your experience of using our learning platform EDUKATE.AI? Did you find that it helped your learning journey more than other ways of learning and were there any particular features that you particularly enjoyed?
Yes, KATE is great. The big feature of KATE is that you get immediate feedback on your work and also an integrated environment so that you don't have to spend as much time trying to install things which you don't actually learn anything from.
I found that even with my completed assignments, the ones that I did, if I forgot what I did and I needed to do something, I could still refer back to those. I had to do that recently for something.
👉RECOMMENDED READING:
Could you tell me about your experiences with your data mentor?
Artur was great! For example, he would contact me on Slack if he had a thought or something that was related to my project, and he would send it along. It was really useful stuff and if I had any issues, because I had quite a lot of issues at the end, I'd be like "Artur! This is terrible!" and it felt good to have someone in my corner, and I felt that a lot with Artur.
How long into your apprenticeship did you start to see a positive impact on your role at Servomex?
Realistically, probably about 2 or 3 months. Some of the stuff that we were learning about in the unsupervised learning module I could apply very, very quickly to a class of problem that I was solving at the time. So, I wouldn't have done that, had I not done that course so you can say it had an impact within a few months!
👉RECOMMENDED READING:
Finally, looking ahead to your future career and professional development, do you think the apprenticeship will have long term benefits? Has it helped you on your career trajectory?
Yes, I think so. I specialise in physics and chemistry and especially spectroscopy. When I'm hired by a company, that's what they want me to do. It's very difficult to break out of that mould. I can do more than just those areas of expertise and having these different sets of skills is actually quite beneficial.
For data science, there's a Venn diagram where you have hacking skills, the knowledge of statistics and then there's the domain knowledge. So, I have quite a lot of domain knowledge, I have knowledge of maths but I was really missing some of the other things, so it's good to be able to demonstrate that I can do more than my specialist areas. I feel quite positive about it.
Find out how you can deepen your AI and Data Science skills
At Cambridge Spark we offer a range of data science and AI apprenticeships funded by the government's Apprenticeship Levy, as well as a number of commercial training options for organisations who don't qualify for Levy funding.
We cater for entry-level learners curious about increasing their knowledge of and how they engage with data, right through to data professionals keen to advance their careers in data science.
Fill out the form at the bottom of the page and one of our consultants will contact you directly to answer any questions you may have about our full range of training options.
Read more Level 7 AI and Date Science apprentice stories
Check out some of our other case studies exploring Level 4 Data Analyst experiences with Cambridge Spark:
Register your interest
Fill out the following form and we'll email you within the next two business days to arrange a quick call to help with any questions about the programme. We look forward to speaking with you.